COVID-19 symptom duration: associations with age, severity and vaccination status in Brunei Darussalam, 2021
COVID-19 symptom duration in Brunei Darussalam
Keywords:
COVID-19, disease severity, symptoms, age groups, COVID-19 vaccines, Brunei
Abstract
Objective: This retrospective, cross-sectional, observational study assessed the duration of coronavirus disease 2019 (COVID-19) symptoms during the second wave in Brunei Darussalam.
Methods: Data from COVID-19 cases admitted to the National Isolation Centre during 7–30 August 2021 were included in the study. Symptom onset and daily symptom assessments were entered into a database during hospitalization and disease was categorized by severity. The time between symptom onset and hospital admission, the duration of symptoms and length of hospitalization were assessed separately by age group, disease severity and vaccination status using one-way analysis of variance with Bonferroni post hoc corrections.
Results: Data from 548 cases were included in the study: 55.7% (305) of cases were male, and cases had a mean age of 33.7 years. Overall, 81.3% (446) reported symptoms at admission (mean number of symptoms and standard deviation: 2.8 ± 1.6), with cough (59.1%; 324), fever (38.9%; 213) and sore throat (18.4%; 101) being the most common. Being older, having more severe disease and being unvaccinated were significantly associated with the time between symptom onset and hospital admission, symptom duration and length of hospitalization.
Discussion: Knowing which factors predict the duration of COVID-19 symptoms can help in planning management strategies, such as the duration of isolation, predict the length of hospitalization and treatment, and provide more accurate counselling to patients regarding their illness.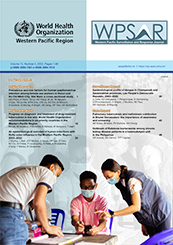 Downloads
How to Cite
1.
Tan SY, Teo SP, Abdullah MS, Chong PL, Asli R, Mani BI, Momin NR, Lim ACA, Rahman NA, Chong CF, Chong VH. COVID-19 symptom duration: associations with age, severity and vaccination status in Brunei Darussalam, 2021: COVID-19 symptom duration in Brunei Darussalam. Western Pac Surveill Response J [Internet]. 2022 Nov. 7 [cited 2023 Dec. 7];13(4):9. Available from: https://ojs.wpro.who.int/ojs/index.php/wpsar/article/view/941
Section
COVID-19: Original Research