Challenges during the second wave of COVID-19 in Brunei Darussalam: National Isolation Centre to National COVID-19 Hospital
National Isolation Centre to National COVID-19 Hospital
Keywords:
second wave, challenges, facilities, community isolation centres
Abstract
Problem: Soon after the start of the second wave of coronavirus disease 2019 (COVID-19) in Brunei Darussalam, which was confirmed to be due to the more infectious Delta strain of severe acute respiratory syndrome coronavirus 2 (SARS-CoV-2),
it became apparent that the National Isolation Centre (NIC) was not coping.
Context: The NIC was the only isolation and treatment centre for COVID-19 in Brunei Darussalam. During the first wave and the first 11 days of the second wave, all confirmed cases were admitted to the NIC for isolation and treatment in line with the management strategy to isolate all confirmed cases to control the outbreak.
Action: The Ministry of Health opened five community isolation centres and two quarantine centres to divert asymptomatic and mild cases from the NIC. The community isolation centres also functioned as triage centres for the NIC, and the quarantine centres accommodated recovered patients who did not have their own quarantine facilities.
Outcome: The community isolation and quarantine centres diverted cases from the NIC and enabled recovered cases to be transferred to these step-down facilities. This reduced the NIC's occupancy to a safe level and enabled the reorganization of the NIC to function as a treatment centre and a national COVID-19 hospital.
Discussion: During any disease outbreak, health facilities must be prepared to adapt to changing situations. Strong leadership, stakeholder commitments, teamwork and constant communication are important in this process.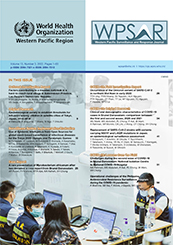 Downloads
How to Cite
1.
Rahman NA, Abdullah MS, Asli R, Chong PL, Mani BI, Chong VH. Challenges during the second wave of COVID-19 in Brunei Darussalam: National Isolation Centre to National COVID-19 Hospital: National Isolation Centre to National COVID-19 Hospital. Western Pac Surveill Response J [Internet]. 2022 Jul. 22 [cited 2023 Dec. 7];13(3):7. Available from: https://ojs.wpro.who.int/ojs/index.php/wpsar/article/view/913
Section
COVID-19: Lessons from the Field