Clinical and demographic characteristics of COVID-19 cases in Brunei Darussalam: comparison between the first and second waves, 2020 and 2021
Characteristics of patients with COVID-19 in Brunei Darussalam
Keywords:
SARS-CoV-2, COVID-19, demographics, signs and symptoms, retrospective study, Brunei
Abstract
Objective: Differences in clinical manifestations between strains of severe acute respiratory syndrome coronavirus 2 (SARS-CoV-2) have been reported. This retrospective descriptive study compares the clinical and demographic characteristics of all confirmed coronavirus disease (COVID-19) cases admitted to the National Isolation Centre (NIC) in the first wave and at the beginning of the second wave of the pandemic in Brunei Darussalam.
Methods: All COVID-19 cases admitted to the NIC between 9 March and 6 May 2020 (first wave) and 7–17 August 2021 (second wave) were included. Data were obtained from NIC databases and case characteristics compared using Student's t-tests and chi-squared tests, as appropriate.
Results: Cases from the first wave were significantly older than those from the second wave (mean 37.2 vs 29.7 years, P<0.001), and a higher proportion reported comorbidities (30.5% vs 20.3%, P=0.019). Cases from the second wave were more likely to be symptomatic at admission (77.7% vs 63.1%, P<0.001), with a higher proportion reporting cough, anosmia, sore throat and ageusia/dysgeusia; however, myalgia and nausea/vomiting were more common among symptomatic first wave cases (all P<0.05). There was no difference in the mean number of reported symptoms (2.6 vs 2.4, P=0.890).
Discussion: Our study showed clear differences in the profile of COVID-19 cases in Brunei Darussalam between the first and second waves, reflecting a shift in the predominating SARS-CoV-2 strain. Awareness of changes in COVID-19 disease manifestation can help guide adjustments to management policies such as duration of isolation, testing strategies, and criteria for admission and treatment.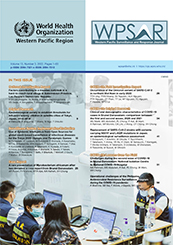 Downloads
How to Cite
1.
Malik MU, Abdullah MS, Chong PL, Asli R, Mani BI, Rahman N, Momin NR, Lim CA, Wong J, Chong CF, Chong VH. Clinical and demographic characteristics of COVID-19 cases in Brunei Darussalam: comparison between the first and second waves, 2020 and 2021: Characteristics of patients with COVID-19 in Brunei Darussalam. Western Pac Surveill Response J [Internet]. 2022 Aug. 25 [cited 2023 Sep. 22];13(3):7. Available from: https://ojs.wpro.who.int/ojs/index.php/wpsar/article/view/925
Section
COVID-19: Original Research