Screening of hospital admissions for COVID-19 in Brunei Darussalam
Abstract
From late December 2019, an outbreak of coronavirus disease 2019 (COVID-19), caused by severe acute respiratory syndrome coronavirus 2 (SARS-CoV-2) occurred in Wuhan, China and has spread globally resulting in a pandemic. Brunei Darussalam reported its first case of COVID-19 on 9 March 2020. Several measures were implemented to prevent a national outbreak. We report our experience with surveillance of patients requiring admission in all government hospitals. We detected one positive case, and through contact tracing two further cases were detected. Therefore, without this screening programme, these cases would likely have been missed, leading to further nosocomial and community spread.
References
Coronavirus disease (COVID-19). Situation Report-102. 1 May 2020. World Health Organization.. https://www.who.int/emergencies/diseases/novel-coronavirus-2019/situation-reports (retrieved 2nd May 2020)
Coronavirus Disease 2019 (COVID-19); 30 April 2020, Media statement on the current COVID-19 infection in Brunei Darussalam. Ministry of Health, Brunei Darussalam.. http://www.moh.gov.bn/SitePages/pressreleaseCOVID-19.aspx (retrieved 2nd May 2020).
Wu Z, McGoogan JM. Characteristics of and important lessons from the coronavirus disease 2019 (covid-19) outbreak in China: summary of a report of 72 314 cases from the Chinese Center for Disease Control and Prevention. JAMA2020; doi:10.1001/jama.2020.2648. pmid:32091533
Chustecka Z. Medscape. More than 60 doctors in Italy have died in COVID-19 pandemic. May 2, 2020. https://www.medscape.com/viewarticle/927753 (Retrieved 2nd May 2020).
Zhan M, Qin Y, Xue X, Zhu S. Death from Covid-19 of 23 Health Care Workers in China. N Engl J Med. 2020 Apr 15. doi: 10.1056/NEJMc2005696.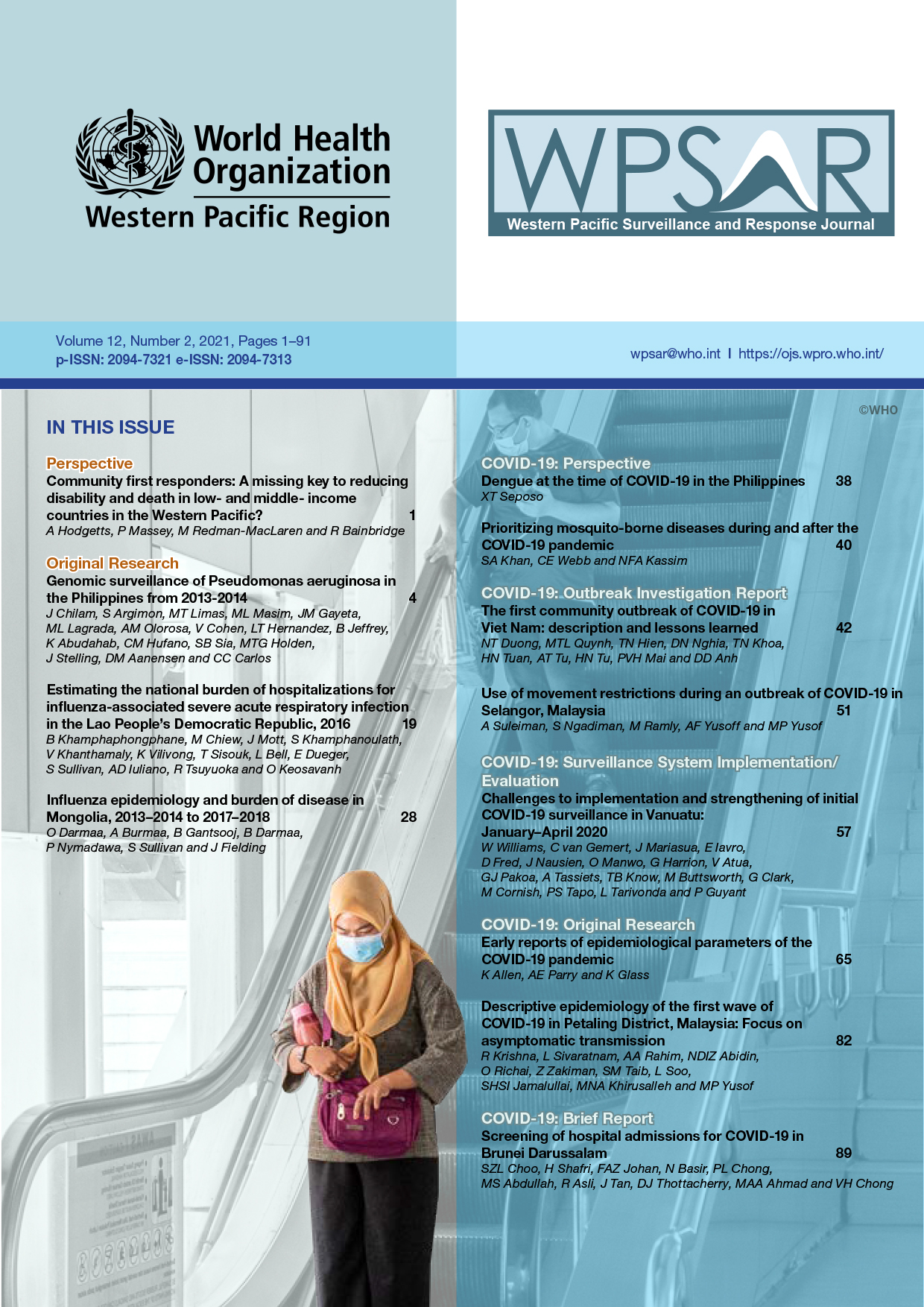 Downloads
How to Cite
1.
Choo SZL, Shafri H, Johan FA-Z, Basir N, Chong PL, Abdullah MS, Asli R, Tan J, Thottacherry DJ, Ahmad MAA, Chong VH. Screening of hospital admissions for COVID-19 in Brunei Darussalam. Western Pac Surveill Response J [Internet]. 2021 Apr. 21 [cited 2023 Sep. 22];12(2):3. Available from: https://ojs.wpro.who.int/ojs/index.php/wpsar/article/view/761
Section
COVID-19: Brief Report