COVID-19 patients with negative results on initial screening: Experience of Brunei Darussalam
Abstract
In any infectious disease outbreak, early diagnosis, isolation of cases and quarantine of contacts are central to disease containment. In Brunei Darussalam, suspected cases of coronavirus disease 2019 (COVID-19) were quarantined either at home or at designated centres and were tested immediately for severe acute respiratory syndrome coronavirus 2. We report on 10 cases of COVID-19 that initially tested negative for COVID-19 and were positive on re-testing after becoming symptomatic. These cases comprised 3.8% of the 266 total confirmed COVID-19 cases in Brunei Darussalam as of 9 July 2021, when this study was conducted. All the cases were in quarantine at home and were tested early during their quarantine period. Since then, home quarantine has been replaced by quarantine at designated centres only, with testing on the 12th day of quarantine.
References
: Salathé M, Althaus CL, Neher R, Stringhini S, Hodcroft E, Fellay J, et al. COVID-19 epidemic in Switzerland: on the importance of testing, contact tracing and isolation. Swiss Med Wkly. 2020;150:w20225. doi: 10.4414/smw.2020.20225.
: Hellewell J, Abbott S, Gimma A, Bosse NI, Jarvis CI, Russell TW, et al; Centre for the Mathematical Modelling of Infectious Diseases COVID-19 Working Group, Funk S, Eggo RM. Feasibility of controlling COVID-19 outbreaks by isolation of cases and contacts. Lancet Glob Health. 2020; 8:e488-e96.
: Cheng MP, Papenburg J, Desjardins M, Kanjilal S, Quach C, Libman M, et al. Diagnostic Testing for Severe Acute Respiratory Syndrome-Related Coronavirus-2: A Narrative Review. Ann Intern Med. 2020 Apr 13. doi: 10.7326/M20-1301.
: Kelly JC, Dombrowksi M, O'neil-Callahan M, Kernberg AS, Frolova AI, Stout MJ. False-Negative COVID-19 Testing: Considerations in Obstetrical Care. Am J Obstet Gynecol MFM. 2020 Apr 28:100130. doi: 10.1016/j.ajogmf.2020.100130.
: Xiao AT, Tong YX, Zhang S. False-negative of RT-PCR and prolonged nucleic acid conversion in COVID-19: Rather than recurrence. J Med Virol. 2020 Apr 9. doi: 10.1002/jmv.25855.
: Wong J, Abdul Aziz ABZ, Chaw L, Mahamud A, Griffith MM, Ying-Ru LO, et al. High proportion of asymptomatic and pre-symptomatic COVID-19 Infections in travelers and returning residents to Brunei. J Travel Med. 2020 May 5:taaa066. doi: 10.1093/jtm/taaa066.
: Chong VH, Chong PL, Metussin D, Asli R, Momin RN, Mani BI, et al. Conduction abnormalities in hydroxychloroquine add on therapy to lopinavir/ritonavir in COVID-19. J Med Virol. 2020 May 13. doi: 10.1002/jmv.26004.
: Zhang J, Tian S, Lou J, Chen Y. Familial cluster of COVID-19 infection from an asymptomatic. Crit Care. 2020; 24:119. doi: 10.1186/s13054-020-2817-7.
: Kimball A, Hatfield KM, Arons M, James A, Taylor J, Spicer K, et al; Public Health – Seattle & King County; CDC COVID-19 Investigation Team. Asymptomatic and Presymptomatic SARS-CoV-2 Infections in Residents of a Long-Term Care Skilled Nursing Facility - King County, Washington, March 2020. MMWR Morb Mortal Wkly Rep. 2020; 69:377-81.
: Tong ZD, Tang A, Li KF, Li P, Wang HL, Yi JP, et al. Potential Presymptomatic Transmission of SARS-CoV-2, Zhejiang Province, China, 2020. Emerg Infect Dis. 2020; 26:1052-54.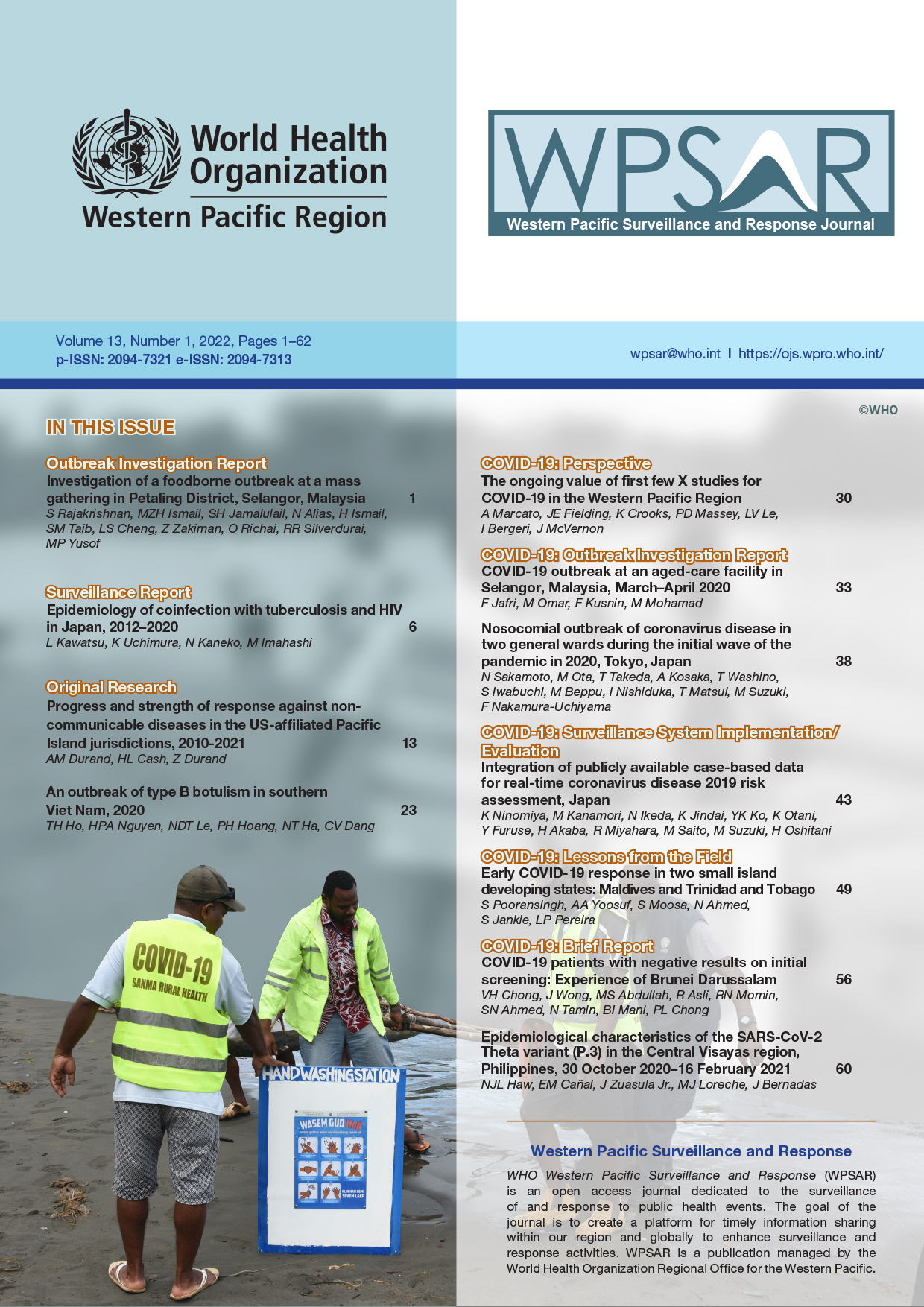 Downloads
How to Cite
Chong, V. H., Wong, J., Abdullah, M. S., Asli, R., Momin, R. N., Ahmed, S. N., Tamin, N., Mani, B. I., & Chong, P. L. (2022). COVID-19 patients with negative results on initial screening: Experience of Brunei Darussalam. Western Pacific Surveillance and Response, 13(1). https://doi.org/10.5365/wpsar.2022.13.1.772
Section
COVID-19: Brief Report