Factors associated with mortality among patients with culture-positive pulmonary tuberculosis in the urban poor population of Osaka City, Japan
Abstract
Objective: To determine the characteristics associated with mortality in patients with culture-positive pulmonary tuberculosis (PTB) in Airin, Osaka City, Japan.
Methods: The characteristics of patients with culture-positive PTB registered between 2015 and 2018 in Airin, Osaka City, Japan, were compared between those who died of all causes before or during treatment and those who completed treatment.
Results: Of the 241 culture-positive PTB patients eligible for this study, 170 completed treatment, with negative sputum culture tests, and 62 died. The all-cause case fatality rate was 26.7% (62/232). Multivariate analysis showed that mortality was associated with age >70 years, having a positive sputum smear, a body mass index of <18.5 and serious comorbidities such as cancer and heart and renal disease. Detection of tuberculosis (TB) by screening or in an outpatient department (OPD) for other diseases was inversely associated with mortality.
Discussion: Detection of PTB by chest X-ray screening and during regular visits to OPDs for other diseases was associated with non-fatal TB and might contribute to early case finding. Therefore, current active TB case finding and health education on regular visits to physicians for other diseases should be strengthened further for the urban poor population of Osaka City, Japan.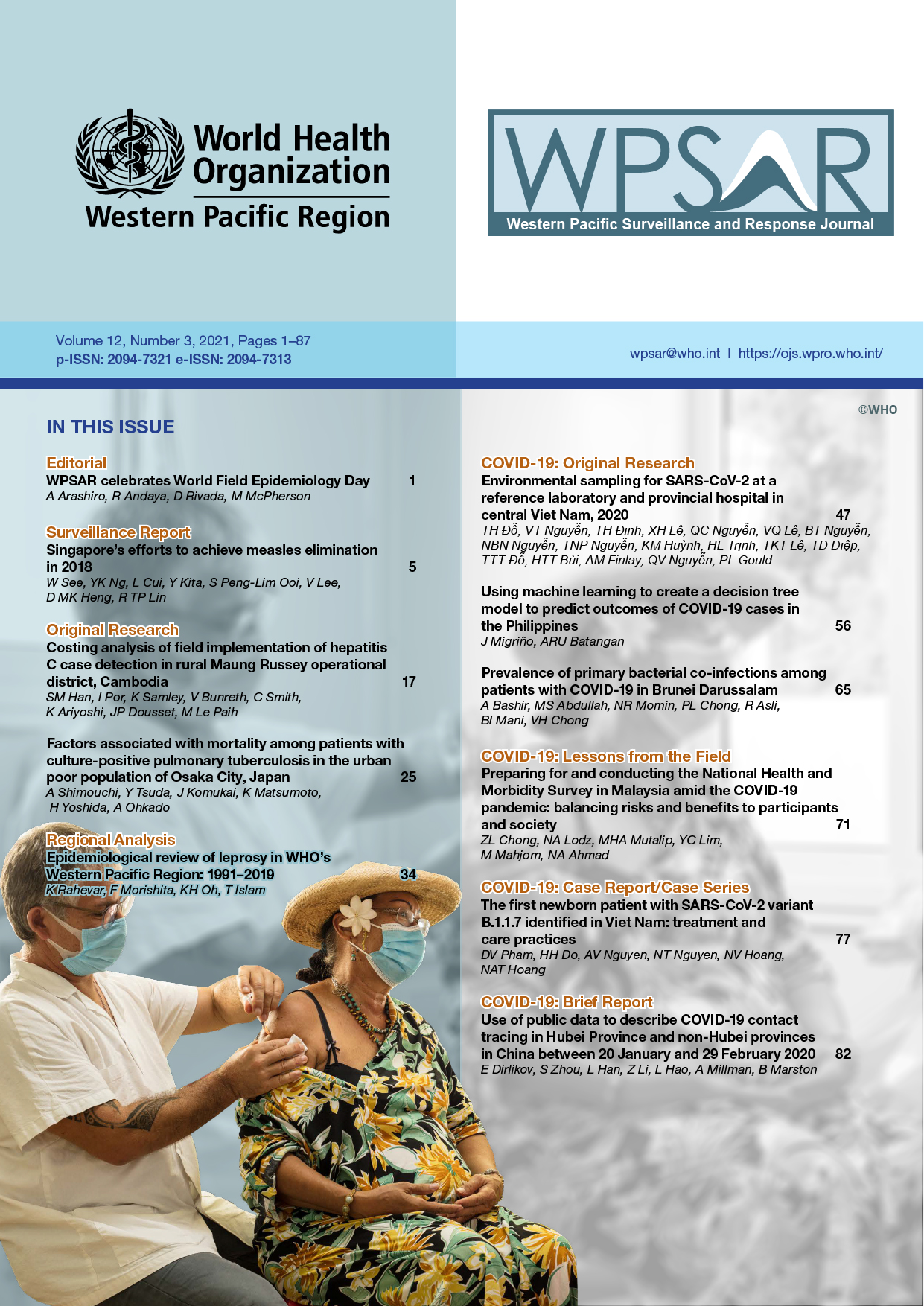 Downloads
How to Cite
Shimouchi, A., Tsuda, Y., Komukai, J., Matsumoto, K., Yoshida, H., & Ohkado, A. (2021). Factors associated with mortality among patients with culture-positive pulmonary tuberculosis in the urban poor population of Osaka City, Japan. Western Pacific Surveillance and Response, 12(3), 8. https://doi.org/10.5365/wpsar.2021.12.3.836
Section
Original Research