Consumption of barracuda in the Caribbean Sea linked to ciguatera fish poisoning among Filipino seafarers
Abstract
Introduction: Ciguatera fish poisoning (CFP) is common in tropical and subtropical waters. On 13 November 2015, eight Filipino seafarers from a cargo ship sailing in the Caribbean Sea experienced a range of symptoms after consuming a barracuda. Upon their return to the Philippines, an investigation was conducted to describe the cases.
Methods: A case-series was conducted. A CFP case was defined as a previously well individual on the ship who developed at least one gastrointestinal symptom and at least one neurologic manifestation after eating barracuda on 13 November 2015. All cases were admitted to hospital in Manila, Philippines and were interviewed using a standard questionnaire. Urine and serum samples of cases were collected for ciguatoxin (CTX) testing by radiological and receptor-binding assay.
Results: Eight of the 25 seafarers on the ship ate the barracuda; all eight met the CFP case definition. The age of cases ranged from 37 to 58 years (median: 47 years) and all were males. Onset of symptoms ranged from 1 to 3 hours (median: 2 hours) from the time of ingestion of the barracuda. All cases experienced gastrointestinal (nausea, vomiting, diarrhoea) and neurologic (temperature allodynia, itchiness) symptoms but no cardiovascular manifestations. Urine and serum specimens of all eight cases showed CTX below the detection limit.
Discussion: The Philippines Epidemiology Bureau recommended that the Philippine Maritime Authority include CTX poisoning and its health risks in seafarers' training to prevent future cases of CFP. The Event-based Surveillance and Response system will continue to provide a mechanism for the reporting and appropriate management of CFP cases.
References
Pottier Ivannah, Vernoux JP, Lewis RJ. Ciguatera Fish Poisoning in the Caribbean Islands and Western Atlantic. SpringerLink. Volume 168. pp 99-141. (http://link.springer.com/chapter/10.1007%2F978-1-4613-0143-1_3 , accessed 21 Feb 2017).
What is Ciguatera Fish Poisoning. Ciguatera-Online.com. 2012. ( http://www.ciguatera-online.com/index.php/en/nos-services/l-intoxication, 21 Dec 2015).
Tante S. Ciguatera Fish Poisoning Outbreak in Navotas, Metro Manila. Epidemiology Bureau Library, 2001; accessed 21 Dec 2015
Arnold TC, Tarabar A. Ciguatera Toxicity, Medscape. Available from (http://emedicine.medscape.com/article/813869-overview, accessed 4 Dec 2015).
Burgess, W, H.R. Axelrod. Pacific Marine Fishes. Book 4. Neptune City, NJ. T.F.H. Publications, Inc. Ltd. 1974; (http://seaworld.org/animal-info/animal-bytes/bony-fish/barracudas/; accessed 4 Dec 2015).
Ansdell, V. Food Poisoning from Marine Toxin, 2015; (http://www.cdc.gov/travel/yellowbook/2016/the-pre-travel-consultation/food-poisoning-from-marine-toxins , accessed 6 Dec 2015).
Lehane L, Lewis RJ. Ciguatera: recent advances but the risk remains. Pubmed.gov. Int J Food Microbiol. 2000 Nov 1;61(2-3):91-125. [cited 20 February 2017]. Available from https://www.ncbi.nlm.nih.gov/pubmed/11078162/
Ciguatera Fish poisoning, Questions and Answers. Geneva; World Health Organization. 2015. (http://www.searo.who.int/entity/emergencies/documents/guidelines_for_health_emergency_ciguatera_qa.pdf, accessed 4 Dec 2015).
Mendoza CO, Rabanes AC, Jimenez EC, Azanza RV, Cortez-Akhunzadah J, Cruz LJ. Detection of ciguatera fish poisoning in the Philippines, Journal of Environmental Science and Management. 2013. 50-55 (Special Issue 1-2013).
Marine Toxins. ; Atlanta; Centers for Disease Control and Prevention. 2016. (http://www.cdc.gov/nczved/divisions/dfbmd/diseases/marine_toxins/, accessed 4 Dec 2015).
Schlaich C, Hagelstein JG, Burchard GD, Schmiedel S. Outbreak of ciguatera fish poisoning on a cargo ship in the port of hamburg. J Travel Med. 2012 Jul;19(4):238-42. doi:10.1111/j.1708-8305.2012.00619.x. (http://www.ncbi.nlm.nih.gov/pubmed/22776385, accessed 4 Dec 2015).
Senthilkumara Subramanian, Meenakshisundaram R, Michaels AD,Suresh P, Thirumalaikolundusubramanian P.Cardiovascular Complications in Ciguatera Fish Poisoning: A Wake-up Call. Heart Views. 2011 Oct;12(4):166-8. doi: 10.4103/1995-705X.90905 (https://www.ncbi.nlm.nih.gov/pmc/articles/PMC3345153/, accessed 210 Feb 2017).
Friedman MA, Fleming LE, Fernandez M, Bienfang P, Schrank K, Dickey R, et.al. Ciguatera Fish Poisoning: Treatment, Prevention and Management. Marine Drugs. 2008;6(3):456-479. doi:10.3390/md20080022.( https://www.ncbi.nlm.nih.gov/pmc/articles/PMC2579736/, accessed 4 Dec 2015).
Ciguatera fish poisoning predicted to increase with rising ocean temperatures. United States; United States Department of Commerce. National Oceanic and Atmospheric Administration. 2015; (http://www.noaanews.noaa.gov/stories2015/120215-ciguatera-fish-poisoning-predicted-to-increase-with-rising-ocean-temperatures.html, accessed 20 Feb 2017).
Gingold Daniel B, Strickland MJ, Hess JJ. Ciguatera Fish Poisoning and Climate Change: Analysis of National Poison Center Data in the United States, 2001–2011. Environ Health Perspect. Jun; 122(6): 580–586. 2014; Jun. (https://www.ncbi.nlm.nih.gov/pmc/articles/PMC4050511/, accessed 20 Feb 2017)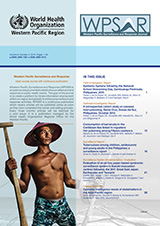 Downloads
How to Cite
Rebato, N. D., de los Reyes, V. C., Sucaldito, M. N., Gallardo, F. D., Ballera, J. E., Asuncion, I., & Hartigan-Go, K. (2018). Consumption of barracuda in the Caribbean Sea linked to ciguatera fish poisoning among Filipino seafarers. Western Pacific Surveillance and Response, 9(4). https://doi.org/10.5365/wpsar.2016.7.2.004
Section
Outbreak Investigation Report
License
© World Health Organization (WHO) 2022. Some rights reserved.
The articles in this publication are published by the World Health Organization and contain contributions by individual authors. The articles are available under the Creative Commons Attribution 3.0 IGO license (CC BY 3.0 IGO http://creativecommons.org/licenses/by/3.0/igo/legalcode), which permits unrestricted use, distribution and reproduction in any medium, provided the original work is properly cited. In any use of these articles, there should be no suggestion that WHO endorses any specific organization, products or services. The use of the WHO logo is not permitted.
Attribution
The World Health Organization does not necessarily own each component of the content contained within these articles and does not therefore warrant that the use of any third-party-owned individual component or part contained in the articles will not infringe on the rights of those third parties. The risk of claims resulting from such infringement rests solely with you. If you wish to re-use a component of the articles attributed to a third party, it is your responsibility to determine whether permission is needed for that re-use and to obtain permission from the copyright owner. Examples of components can include, but are not limited to, tables, figures or images.
Any mediation relating to disputes arising under this license shall be conducted in accordance with the WIPO Mediation Rules (www.wipo.int/amc/en/mediation/rules). Any inquiries should be addressed to publications@wpro.who.int.
License to publish
Western Pacific Surveillance and Response is an open access journal and requires each author of a contribution to grant the World Health Organization (the Publisher) a non-exclusive, worldwide, royalty-free license under the terms of the Creative Commons Attribution IGO License (http://creativecommons.org/licenses/by/3.0/igo/legalcode) for the term of copyright and any extensions thereof. This includes to publish, re-publish, transmit, sell, distribute and otherwise use the article in the Journal, in whole or as a part. This is done by signing the WPSAR License to publish form.
Disclaimer
The designations employed and the presentation of the information on this website do not imply the expression of any opinion whatsoever on the part of the World Health Organization concerning the legal status of any country, territory, city or area or of its authorities, or concerning the delimitation of its frontiers or boundaries.
The mention of specific companies or of certain manufacturers' products does not imply that they are endorsed or recommended by the World Health Organization in preference to others of a similar nature that are not mentioned. Errors and omissions excepted, the names of proprietary products are distinguished by initial capital letters.
Links to third-party websites
The World Health Organization does not warrant that the information contained on the website is complete and correct and shall not be liable whatsoever for any damages incurred as a result of its use.