An assessment of the case notification system 16 months after Typhoon Haiyan in Region 8, the Philippines
Abstract
Introduction: The Philippines Department of Health uses the Philippine Integrated Disease Surveillance and Response (PIDSR) system to monitor 25 diseases and syndromes that have the potential to cause outbreaks. The focus of this system is to strengthen the capacity of local government units for early detection and response to outbreaks. After Typhoon Haiyan, routine disease surveillance activities were suspended at the Epidemiology and Surveillance Units (ESUs) at the city and provincial levels, as well as laboratory services; surveillance resumed as soon as local conditions allowed.
Methods: We conducted an assessment of PIDSR in March 2015, 16 months post-Haiyan, in Region 8, the most heavily affected region. We used key informant interviews and a review of data from the system to assess the core surveillance and support functions.
Results: All ESUs reported they were performing all surveillance core functions, although laboratory confirmation needed to be strengthened at the regional reference laboratory. Access to working communication equipment also needed improvement as did timeliness and completeness of reporting.
Discussion: Assessment of surveillance activities, resources and quality should be conducted post-disaster. The strength and operations of the disease surveillance system usually requires support from the local, regional and national governments, especially if there are legal mandates and legislation that includes the system in disaster planning. Regular monitoring of the system is recommended to ensure stability, system development, increased outbreak detection and fewer morbidities and fatalities.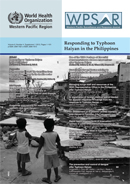 Downloads
How to Cite
1.
Gallardo FDL, de los Reyes VC, Sucaldito MN, Ligon-Imperio L, Peñas J, Rebato N, Tayag E. An assessment of the case notification system 16 months after Typhoon Haiyan in Region 8, the Philippines. Western Pac Surveill Response J [Internet]. 2015 Nov. 6 [cited 2023 Dec. 7];6(5). Available from: https://ojs.wpro.who.int/ojs/index.php/wpsar/article/view/335
Section
Field Investigation Report