Lethal paralytic shellfish poisoning from consumption of green mussel broth, Western Samar, Philippines, August 2013
Abstract
Background
On July 2, 2013, the Philippines' Event-Based Surveillance & Response Unit received Paralytic Shellfish Poisoning (PSP) report from Tarangnan, Western Samar.  This report describes an outbreak investigation in coastal villages known for green mussel production and exportation.
Methods
A case was defined as a previously well individual from Tarangan, Samar who developed any motor, sensory or gastrointestinal symptoms from 29 June - 4 July 2013.   We reviewed medical records of out patient and admitted cases at the local health center and district hospital. We interviewed relatives of deaths.  Sera and urine specimens, green mussel and seawater samples were tested for Saxitoxin levels using High Power Liquid Chromatography.  A case-control study was conducted.
Results
Thirty-one cases with 2 deaths were identified.  Consumption of >1 cup of green mussel broth was the risk factor identified. Interestingly, carbonated beverages were found to be a statistically significant protective factor.  Seawater sample was positive for pyrodinium bahamense var. compressum. Green mussel samples were positive for saxitoxin.  Inspection revealed villagers practice open defecation and improper garbage disposal.
 Conclusion
This PSP outbreak was caused by green mussel consumption contaminated by Saxitoxin.  We established dinoflagellate and saxitoxin surveillance. There have been no HAB events or PSP cases since the outbreak stopped.  A "Save Cambatutay Bay" movement was created and mobilized in the community.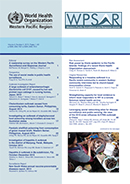 Downloads
How to Cite
1.
Ching PK, Ramos RA, de los Reyes VC, Sucaldito MN, Tayag E. Lethal paralytic shellfish poisoning from consumption of green mussel broth, Western Samar, Philippines, August 2013. Western Pac Surveill Response J [Internet]. 2015 May 8 [cited 2023 May 30];6(2). Available from: https://ojs.wpro.who.int/ojs/index.php/wpsar/article/view/302
Section
Outbreak Investigation Report