Use of Epidemic Intelligence from Open Sources for global event-based surveillance of infectious diseases for the Tokyo 2020 Olympic and Paralympic Games
Keywords:
mass gatherings, public health surveillance, infectious diseases, Tokyo
Abstract
The establishment of enhanced surveillance systems for mass gatherings to detect infectious diseases that may be imported during an event is recommended. The World Health Organization Regional Office for the Western Pacific contributed to enhanced event-based surveillance for the Tokyo 2020 Olympic and Paralympic Games (the Games) by using Epidemic Intelligence from Open Sources (EIOS) to detect potential imported diseases and report them to the National Institute of Infectious Diseases (NIID), Japan. Daily screening of media articles on global infectious diseases was conducted using EIOS, which were systematically assessed to determine the likelihood of disease importation, spread and significant impact to Japan during the Games. Over 81 days of surveillance, 103 830 articles were screened by EIOS, of which 5441 (5.2%) met the selection criteria for initial assessment, with 587 (0.6%) assessed as signals and reported to NIID. None of the signals were considered to pose a significant risk to the Games based on three risk assessment criteria. While EIOS successfully captured media articles on infectious diseases with a likelihood of importation to and spread in Japan, a significant manual effort was required to assess the articles for duplicates and against the risk assessment criteria. Continued improvement of artificial intelligence is recommended to reduce this effort.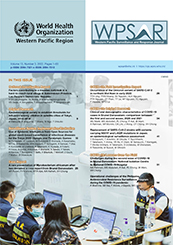 Downloads
How to Cite
1.
Yanagawa M, Lorenzo JC, Fukusumi M, Shimada T, Kasamatsu A, Ota M, Nakashita M, Kobayashi M, Yamagishi T, Samuel A, Ukai T, Kurosawa K, Urakawa M, Takahashi K, Tsukada K, Futami A, Inoue H, Omori S, Komiya H, Shimada T, Tabata S, Yahata Y, Kamiya H, Sunagawa T, Saito T, Biaukula V, Metcalf T, Saulo D, Matsui T, Olowokure B. Use of Epidemic Intelligence from Open Sources for global event-based surveillance of infectious diseases for the Tokyo 2020 Olympic and Paralympic Games. Western Pac Surveill Response J [Internet]. 2022 Sep. 15 [cited 2023 Dec. 7];13(3):7. Available from: https://ojs.wpro.who.int/ojs/index.php/wpsar/article/view/959
Section
Surveillance System Implementation / Evaluation