A large outbreak of enterohemorrhagic Escherichia coli O157, caused by low-salt pickled napa cabbage in nursing homes, Japan, 2012
Abstract
Objective: In August 2012, Sapporo City and Hokkaido Prefectural Government announced an outbreak of 94 enterohemorrhagic Escherichia coli (EHEC) cases, including a fatal case, in ten nursing homes. The objective of this study was to identify the risk factors and preventive measures.

Methods: A suspected EHEC case was defined as anyone with a gastrointestinal illness from July 10 to September 10, 2012 among nursing home residents in Sapporo City and Hokkaido. A confirmed case was defined as a suspected case displaying the same Pulsed-Field Gel Electrophoresis (PFGE) pattern as EHEC O157. We conducted a retrospective cohort study, a trace back investigation, and an inspection of the pickle processing company. Bacterial cultures and the PFGE tests were conducted by Sapporo City and Hokkaido Prefectural Institute of Public Health.

Results: Reports of 54 confirmed and 54 suspected cases were obtained from 12 nursing homes; 7 cases were fatal. In two of the nursing homes, Shiga-toxin (stx)-1-and-2-producing EHEC O157 was isolated from samples of low-salt pickled napa cabbage (pickles) distributed by the same processing company. Strains found in stool samples and the pickles shared the same PFGE pattern. Epidemiological investigation revealed that the pickles were the common food. The processing company used inadequate techniques to wash and sterilize the vegetables.

Discussion: Contaminated pickles were the cause of this outbreak. We recommended that the processing company should improve their methods of washing and sterilizing raw vegetables. After this outbreak, the Ministry of Health, Labor and Welfare revised the sanitation requirements for processing pickles.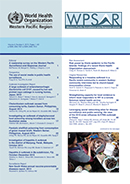 Downloads
How to Cite
1.
Tabuchi A, Wakui T, Yahata Y, Yano K, Azuma K, Yamagishi T, Nakashima K, Sunagawa T, Matsui T, Oishi K. A large outbreak of enterohemorrhagic Escherichia coli O157, caused by low-salt pickled napa cabbage in nursing homes, Japan, 2012. Western Pac Surveill Response J [Internet]. 2015 Apr. 15 [cited 2023 Dec. 7];6(2). Available from: https://ojs.wpro.who.int/ojs/index.php/wpsar/article/view/245
Section
Outbreak Investigation Report