Preparation for mass gathering events from the perspective of a non-host country: the experience of Japan during the 2018 PyeongChang Olympics and Paralympic Winter Games
Abstract
We conducted ad-hoc event screening and risk assessment of public health events during the 2018 Pyongchang Olympic-Paralympic Winter Games from the perspective of a non-host country. In this report, we described the process of our experiences and the lessons learned.
References
World Health Organization. Public health for mass gatherings: Key considerations. 2015; (http://apps.who.int/iris/bitstream/10665/162109/1/WHO_HSE_GCR_2015.5_eng.pdf, accessed 15 March 2018).
Abubakar I, Gautret P, Brunette GW, Blumberg L, Johnson D, Poumerol G, et al. Global perspectives for prevention of infectious diseases associated with mass gatherings. The Lancet. Infectious Diseases. 2012;12(1):66–74. doi: 10.1016/S1473-3099(11)70246-8.
Korea Centers for Disease Control and Prevention. Infectious Disease Statistics System. (https://is.cdc.go.kr/dstat/index.jsp, accessed 10 February 2018).
Infectious Disease Surveillance Center-National Institute of Infectious Diseases, Infectious Disease Surveillance System in Japan. 2018; (https://http://www.niid.go.jp/niid/images/epi/nesid/nesid_en.pdf, accessed 3 March 2018).
World Health Organization. Regional Office for the Western Pacific. Asia Pacific strategy for emerging diseases and public health emergencies (APSED III) : advancing implementation of the International Health Regulations (2005) : working together towards health security. 2017; (http://iris.wpro.who.int/handle/10665.1/13654,accessed 31 March 2018).
Patil S, Davies P. Use of Google Translate in medical communication: evaluation of accuracy. BMJ. 2014;349:g7392. doi: 10.1136/bmj.g7392.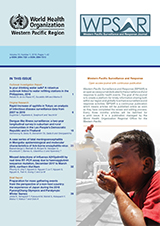 Downloads
How to Cite
1.
Jindai K, Yamagishi T, Fukusumi M, Nishiki S, Kobayashi Y, Matsui Y, Matsui T, Oishi K. Preparation for mass gathering events from the perspective of a non-host country: the experience of Japan during the 2018 PyeongChang Olympics and Paralympic Winter Games. Western Pac Surveill Response J [Internet]. 2019 Feb. 8 [cited 2023 Sep. 22];10(1). Available from: https://ojs.wpro.who.int/ojs/index.php/wpsar/article/view/632