Virological characteristics of cases of COVID-19 in northern Viet Nam, January–May 2020
Abstract
Background: Viet Nam confirmed its first case of severe acute respiratory syndrome coronavirus 2 (SARS-CoV-2) infection on 23 January 2020 among travellers from Wuhan, China, and experienced several clusters of community transmission until September. Viet Nam implemented an aggressive testing, isolation, contact tracing and quarantine strategy in response to all laboratory-confirmed cases. We report the results of SARS-CoV-2 testing during the first half of 2020 in northern Viet Nam.
Methods: Between January and May 2020, 15 650 upper respiratory tract specimens were collected from 14 470 suspected cases and contacts in northern Viet Nam. All were tested for SARS-CoV-2 by real-time RT-PCR. Individuals with positive specimens were tested every three days until two tests were negative. Positive specimens from 81 individuals were cultured.
Results: Among 14 470 tested individuals, 158 (1.1%) cases of SARS-CoV-2 infection were confirmed; 89 were imported and 69 were associated with community transmission. Most patients (122, 77%) had negative results after two tests, while 11 and 4 still tested positive when sampled a third and fourth time, respectively. SARS-CoV-2 was isolated from 29 of 81 specimens (36%) with a cycle threshold (Ct) value <30. Seven patients who tested positive again after testing negative had Ct values >30 and negative cultures.
Conclusion: Early, widespread testing for SARS-CoV-2 in northern Viet Nam identified very few cases, which, when combined with other aggressive strategies, may have dramatically contained the epidemic. We observed rapid viral clearance and very few positive results after clearance. Large-scale molecular diagnostic testing is a critical part of early detection and containment of COVID-19 in Viet Nam and will remain necessary until vaccination is widely implemented.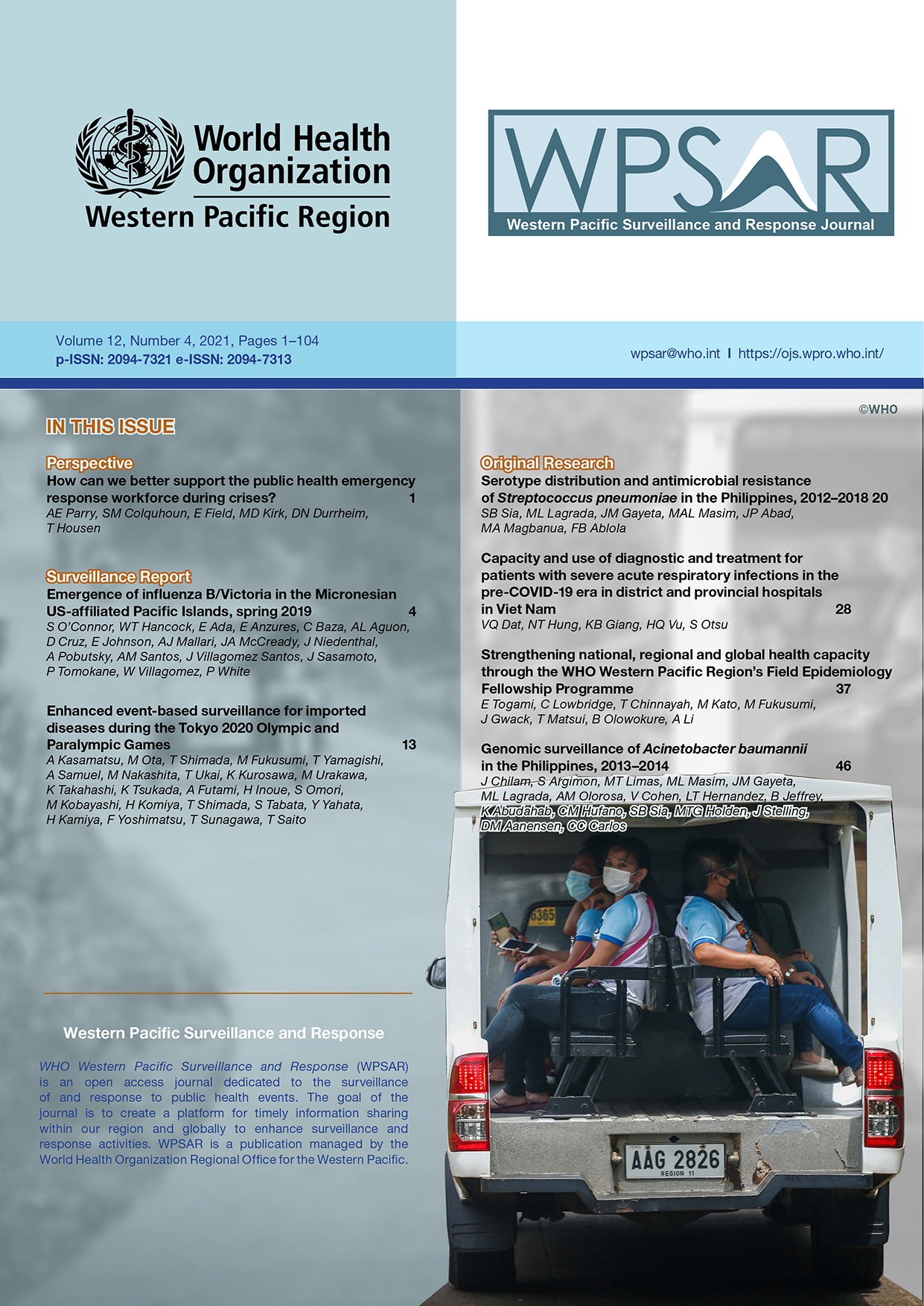 Downloads
How to Cite
Nguyen, H. K. L., Nguyen, S. V., Hoang, P. M. V., Le, T. T., Tran, H. thi T., Nguyen, L. H. P., Pham, T. Q., Nguyen, T. T., Dang, A. D., Nguyen, A. P., & Le, M. thi Q. (2021). Virological characteristics of cases of COVID-19 in northern Viet Nam, January–May 2020. Western Pacific Surveillance and Response, 12(4), 6. https://doi.org/10.5365/wpsar.2021.12.4.833
Section
COVID-19: Original Research