Re-positive testing, clinical evolution and clearance of infection: results from COVID-19 cases in isolation in Viet Nam
Re-positive testing, clinical evolution and clearance of SARS-CoV-2 infection
Abstract
Objectives: Asymptomatic infection with severe acute respiratory syndrome coronavirus 2 (SARS-CoV-2) and test re-positivity after a negative test have raised concerns about the ability to effectively control the coronavirus disease 2019 (COVID-19) pandemic. We aimed to investigate the prevalence of COVID-19 asymptomatic and pre-symptomatic infections during the second wave of COVID-19 in Viet Nam, and to better understand the duration of SARS-CoV-2 infection and the dynamics between the evolution of clinical symptoms and SARS-CoV-2 test positivity among confirmed COVID-19 cases.

Methods: We conducted a cohort analysis on the first 50 confirmed cases during the second COVID-19 wave in Viet Nam using clinical, laboratory and epidemiological data collected from 9 March to 30 April 2020. Kaplan-Meier estimates were used to assess time to clearance of SARS-CoV-2 infection, and log-rank tests were used to explore factors related to time to SARS-CoV-2 infection clearance.

Results: Most cases (58%) had no typical signs or symptoms of COVID-19 at the time of diagnosis. Ten cases (20%) were re-positive for SARS-CoV-2 during infection. Eight cases (16%) experienced COVID-19 symptoms after testing negative for SARS-CoV-2. The median duration from symptom onset until clearance of infection was 14 days (range: 6–31); it was longer in re-positive and older patients and those with pre-existing conditions.

Conclusion: Asymptomatic and pre-symptomatic infections were common during the second wave of COVID-19 in Viet Nam. Re-positivity was frequent during hospitalization and led to a long duration of SARS-CoV-2 infection.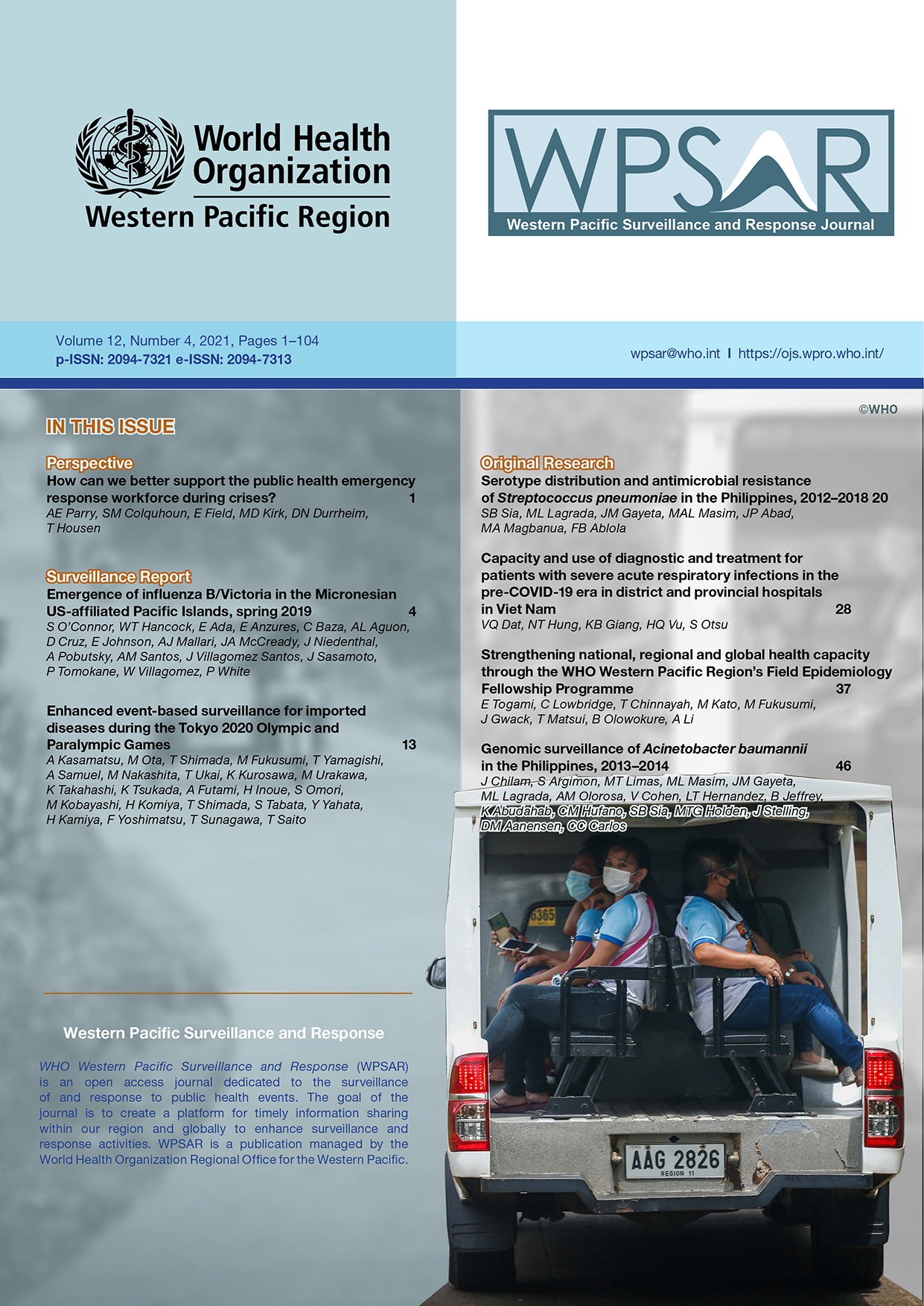 Downloads
How to Cite
Hoang, N.-A., Pham, T. Q., Quach, H.-L., Nguyen, K. C., Colquhoun, S., Lambert, S., Duong, H. L., Tran, D. Q., Phung, C. D., Tran, N. D., Ngu, D. N., Tran, A. T., Nguyen, H. B. T., Dang, D.-A., & Vogt, F. (2021). Re-positive testing, clinical evolution and clearance of infection: results from COVID-19 cases in isolation in Viet Nam: Re-positive testing, clinical evolution and clearance of SARS-CoV-2 infection. Western Pacific Surveillance and Response, 12(4). https://doi.org/10.5365/wpsar.2021.12.4.857
Section
COVID-19: Original Research