The first community outbreak of COVID-19 in Viet Nam: description and lessons learned
Abstract
Objective: At the time of this study, the prevention of novel coronavirus disease 2019 (COVID-19) relied solely on
nonpharmaceutical interventions. Implementation of these interventions is not always optimal and, consequently,
several cases were imported into non-epidemic areas and led to large community outbreaks. This report describes the
characteristics of the first community outbreak of COVID-19 in Viet Nam and the intensive preventive measures taken in
response.
Methods: Cases were detected and tested for SARS-CoV-2 by real-time reverse transcriptase polymerase chain reaction.
Contact tracing and active surveillance were conducted to identify suspected cases and individuals at risk. Clinical
symptoms were recorded using a standardized questionnaire.
Results: In Vinh Phuc province from 20 January to 3 March 2020, there were 11 confirmed cases among 158 suspected
cases and 663 contacts. Nine of the confirmed cases (81.8%) had mild symptoms at the time of detection and two
(18.2%) were asymptomatic; none required admission to an intensive care unit. Five prevention and control measures
were implemented, including quarantining a community of 10 645 individuals for 20 days. The outbreak was successfully
contained as of 13 February 2020.
Discussion: In the absence of specific interventions, the intensive use of combined preventive measures can mitigate the
spread of COVID-19. The lessons learned may be useful for other communities.
References
Wei WE, Li Z, Chiew CJ, Yong SE, Toh MP, Lee VJ. Presymptomatic Transmission of SARS-CoV-2 - Singapore, January 23-March 16, 2020. MMWR Morb Mortal Wkly Rep 2020;
He X, Lau EHY, Wu P, Deng X, Wang J, Hao X, et al. Temporal dynamics in viral shedding and transmissibility of COVID-19. Nat Med 2020;
Cheng H-Y, Jian S-W, Liu D-P, Ng T-C, Huang W-T, team TC-19 outbreak investigation, et al. High transmissibility of COVID-19 near symptom onset. medRxiv 2020;
Use of quarantine to prevent transmission of severe acute respiratory syndrome -Taiwan, 2003Morbidity and Mortality Weekly Report. 2003.
Lasry A, Kidder D, Hast M, Poovey J, Sunshine G, Winglee K, et al. Timing of Community Mitigation and Changes in Reported COVID-19 and Community Mobility ― Four U.S. Metropolitan Areas, February 26–April 1, 2020. MMWR Morb Mortal Wkly Rep 2020;
Brooks SK, Webster RK, Smith LE, Woodland L, Wessely S, Greenberg N, et al. The psychological impact of quarantine and how to reduce it: rapid review of the evidenceVol. 395, The Lancet. Lancet Publishing Group; 2020. p. 912–20.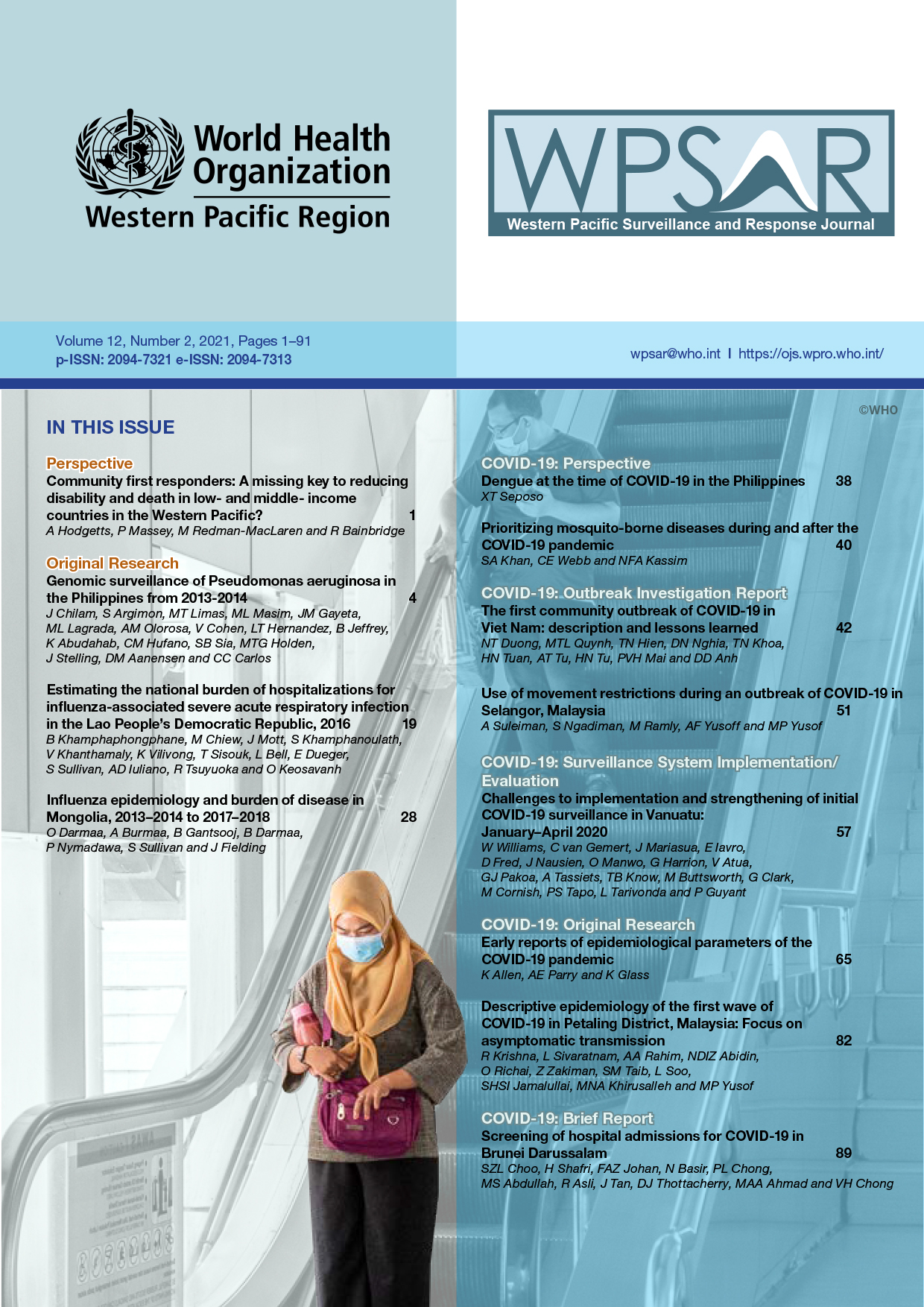 Downloads
How to Cite
1.
Tran DN, Le QMT, Nguyen HT, Ngu ND, Nguyen KT, Nguyen TH, Tran TA, Ngo TH, Hoang MPV, Dang AD. The first community outbreak of COVID-19 in Viet Nam: description and lessons learned. Western Pac Surveill Response J [Internet]. 2021 Apr. 27 [cited 2023 Dec. 7];12(2):9. Available from: https://ojs.wpro.who.int/ojs/index.php/wpsar/article/view/769
Section
COVID-19: Outbreak Investigation Report