A retrospective cohort study on cassava food poisoning, Santa Cruz, Davao del Sur, Philippines, October 2015
Abstract
Objective: On 2 October 2015, the Event-Based Surveillance and Response Unit of the Department of Health (DOH), Philippines received a report of foodborne illness cases in Santa Cruz, Davao del Sur. A team from DOH was sent to conduct an investigation to identify the implicated source and determine risk factors.
Methods: A retrospective cohort study was done. A suspect case was defined as a previously well individual in Compound A, Santa Cruz who developed abdominal pain, headache, dizziness, diarrhoea or vomiting on either 1 or 2 October 2015. A confirmed case was a suspect case positive for cyanide in urine. Family members who prepared the food were interviewed. Urine specimens were collected to test for thiocyanate, and cassava tuber and soil samples were tested for cyanide and other chemicals.
Results: Fourteen cases with two deaths were identified (case fatality ratio: 14%). All cases consumed cassava on 1 October 2015 except for one child who spat it out. Urine samples were all negative (36, 100%) for thiocyanate so there were no confirmed cases. The cassava sample had a cyanide level of 68.94 ug/g and was identified as bitter cassava, also known as a potentially dangerous kind. Insufficient food preparation was noted. In the retrospective cohort study, intake of cassava (RR = 208, 95% CI: 19.94–2169.32) was associated with the illness.
Discussion: This study identified insufficiently processed cassava root crop as the source of the foodborne illness. The cassava consumed was the bitter variety that contains greater than 50 ug/g of hydrogen cyanide and requires thorough preparation before consumption. Community education was provided on identifying and preparing cassava appropriately.
References
de Oliveira E J, Aud F F, Morales C F G, de Oliveira S A S, Santos V. Non-hierarchical clustering of Manihot esculenta Crantz germplasm based on quantitative traits. Rev. Ciênc. Agron. July/Sept. 2016; 47 (3)
Why cassava. Rome: Food and Agriculture Organization of the United Nations, 2008 (http://www.fao.org/ag/agp/agpc/gcds/index_en.html, accessed 9 October 2015).
Philippine National Standard, Code of practice for the reduction of hydrocyanic acid (HCN) in cassava and cassava products. Manila: Bureau of Agriculture and Fisheries Standards, 2015. (http://www.asianfoodreg.com/dynamicAssets/standardDoc/1431325965_PNSCOP-Reduction-of-Hydrocyanic-Acid-in-Cassava-Cassava-Products2015.pdf, accessed 9 October 2015).
Akintonwa A, Tunwashe O L. Fatal Cyanide Poisoning from Cassava-Based Meal. Human & Experimental Toxicology. 1992 February; 11(1):47-9 (https://www.researchgate.net/publication/21800170_Fatal_Cyanide_Poisoning_from_Cassava-Based_Meal, accessed 4 March 4 2016).
Cassava Poisoning In Sagam Hospital. Siaya: Sagam Community Hospiral, 9 March 2014(http://www.sagamhealth.com/recent-news/cassava-poisoning-in-sagam-hospital/, accesed 4 March 2016).
Mlingi N L V, Poulter N H, Rosling H. An outbreak of acute intoxication from insufficiently processed cassava in Tanzania. Nutrition Research. 1992 June; 12 (6): 677-687 (https://www.researchgate.net/publication/223673107_An_outbreak_of_acute_intoxication_from_insufficiently_processed_cassava_in_Tanzania, accessed 4 March 2016).
Ariffin W A, Choo K E, Kamanneedi S. Cassava (Ubi Kayu) Poisoning in Children. Med. J. Malaysia. 3 September 1992; 47 (3): 231 – 234 (http://www.e-mjm.org/1992/v47n3/Cassava_Poisoning.pdf, accessed 4 March 2016).
Bradbury J H, Cliff J, Banea J P. Making cassava flour safe using the wetting method. South Sudan Medical Journal. February 2015; 8 (1): 4 – 7 (http://www.southsudanmedicaljournal.com/assets/files/Journals/vol_8_iss_1_feb_15/SSMJ_8_1_Cassava_Processing.pdf, accessed 4 March 2016).
Konzo Disease - Zambia: Cassava Poisoning. Brookline: International Society for Infectious Diseases, 2001, 2008 (http://promedmail.org/post/20150811.3570038, accessed 9 October 2015).
Bakayoko S, Soro D, Nindjin C, Dao D, Tschannen A, Girardin O, et al. Evaluation of cyanogenic potential and organoleptic properties in cassava (Manihot esculenta Crantz) roots of improved varieties in Côte d'Ivoire. African Journal of Food Science. 2 September 2009; 3(11):328-333 (http://www.academicjournals.org/journal/AJFS/article-full-text-pdf/41FB72820587, accessed 9 October 2015).
Kwok J. Cyanide Poisoning and Cassava. Food Safety Focus. February 2008; 19 (http://www.cfs.gov.hk/english/multimedia/multimedia_pub/multimedia_pub_fsf_19_01.html, accessed 9 October 2015).
Haque M R, Bradbury J H. Simple Method for Determination of Thiocyanate in Urine. Drug Monitoring and Toxicology. September 1999; 45(9) (http://clinchem.aaccjnls.org/content/45/9/1459, accessed 22 February 2017)
Cassava. Hawaii: University of Hawaii at Manoa (http://www.ctahr.hawaii.edu/sustainag/extn_pub/veggie%20pubs/Cassava.pdf, accessed 9 October 2015)
Cassava Processing. Rome: Food and Agriculture Organization of the United Nations. 1977 (http://www.fao.org/docrep/x5032e/x5032E01.htm, accessed 9 October 2015)
Public Health Statement Cyanide, Cyanide. Atlanta: Agency for toxic substances and disease registry. July 2006 (http://www.atsdr.cdc.gov/ToxProfiles/tp8-c1-b.pdf, accessed 8 October 2015)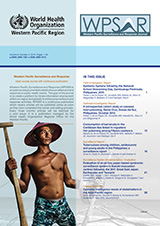 Downloads
How to Cite
Peñas, J. A., de los Reyes, V. C., Sucaldito, M. N., Manalili, D. L., Hizon, H., & Magpantay, R. (2018). A retrospective cohort study on cassava food poisoning, Santa Cruz, Davao del Sur, Philippines, October 2015. Western Pacific Surveillance and Response, 9(4). https://doi.org/10.5365/wpsar.2017.8.1.010
Section
Outbreak Investigation Report
License
© World Health Organization (WHO) 2022. Some rights reserved.
The articles in this publication are published by the World Health Organization and contain contributions by individual authors. The articles are available under the Creative Commons Attribution 3.0 IGO license (CC BY 3.0 IGO http://creativecommons.org/licenses/by/3.0/igo/legalcode), which permits unrestricted use, distribution and reproduction in any medium, provided the original work is properly cited. In any use of these articles, there should be no suggestion that WHO endorses any specific organization, products or services. The use of the WHO logo is not permitted.
Attribution
The World Health Organization does not necessarily own each component of the content contained within these articles and does not therefore warrant that the use of any third-party-owned individual component or part contained in the articles will not infringe on the rights of those third parties. The risk of claims resulting from such infringement rests solely with you. If you wish to re-use a component of the articles attributed to a third party, it is your responsibility to determine whether permission is needed for that re-use and to obtain permission from the copyright owner. Examples of components can include, but are not limited to, tables, figures or images.
Any mediation relating to disputes arising under this license shall be conducted in accordance with the WIPO Mediation Rules (www.wipo.int/amc/en/mediation/rules). Any inquiries should be addressed to publications@wpro.who.int.
License to publish
Western Pacific Surveillance and Response is an open access journal and requires each author of a contribution to grant the World Health Organization (the Publisher) a non-exclusive, worldwide, royalty-free license under the terms of the Creative Commons Attribution IGO License (http://creativecommons.org/licenses/by/3.0/igo/legalcode) for the term of copyright and any extensions thereof. This includes to publish, re-publish, transmit, sell, distribute and otherwise use the article in the Journal, in whole or as a part. This is done by signing the WPSAR License to publish form.
Disclaimer
The designations employed and the presentation of the information on this website do not imply the expression of any opinion whatsoever on the part of the World Health Organization concerning the legal status of any country, territory, city or area or of its authorities, or concerning the delimitation of its frontiers or boundaries.
The mention of specific companies or of certain manufacturers' products does not imply that they are endorsed or recommended by the World Health Organization in preference to others of a similar nature that are not mentioned. Errors and omissions excepted, the names of proprietary products are distinguished by initial capital letters.
Links to third-party websites
The World Health Organization does not warrant that the information contained on the website is complete and correct and shall not be liable whatsoever for any damages incurred as a result of its use.