Chelonitoxism outbreak: Sorsogon, Philippines, October 2014
Abstract
Background

By Philippine Law, it is illegal to hunt, sell or consume sea turtles. Turtle meat poisoning events in the Philippines are intermittently captured under Event-Based Surveillance and Response. Officials from Philippines public health Region V reported a suspect foodborne illness in Sorsogon province. We investigated in order to determine etiology and scope of the outbreak.

 

Methods

A descriptive study was done.  We reviewed medical records and a line list was developed. We Interviewed cases using a standard questionnaire which included their demographic profile and history of food intake, with special emphasis on timing of food intake.

 A case was defined as a previously well individual who developed any of the following signs and symptoms: epigastric pain, nausea, vomiting, or diarrheain the village of Liang, Irosin, Sorsogon from October 8 to 10, 2014. Data were analyzed by age, familial unit, food items and incubation period.

Results

A total of 6 cases of chelonitoxism were identified among 33 people who ingested turtle meat (attack rate 18%). Age of cases ranged from 1 to 48 years (Median=19 years). Three were children ages 1 to 5 years and four were males. Five (83%) of the cases came from the same family and household. Case fatality proportion was 50%.

Conclusion

 We recommend that the Philippine Government provide financial resources necessary to develop the capacity for RITM to do toxin testing in chelonitoxism outbreaks. Also, stricter enforcement of existing laws against hunting and eating sea turtles could limit morbidity and mortality of chelonitoxism in the Philippines.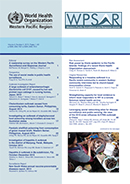 Downloads
How to Cite
1.
Deveraturda I, Ventura RJ, de los Reyes VC, Sucaldito MN, O'Reilly M, Tayag E. Chelonitoxism outbreak: Sorsogon, Philippines, October 2014. Western Pac Surveill Response J [Internet]. 2015 Jun. 11 [cited 2023 Sep. 22];6(2). Available from: https://ojs.wpro.who.int/ojs/index.php/wpsar/article/view/327
Section
Letter to the Editor