Investigation of chikungunya fever outbreak in Laguna, Philippines, 2012
Abstract
Background: In July 2012, the Philippines National Epidemiology Center received a report of a suspected chikungunya fever outbreak in San Pablo City, Laguna Province, the first chikungunya cases reported from the city since surveillance started in 2007. We conducted an outbreak investigation to identify risk factors associated with chikungunya.
Methods: A case was defined as any resident of Concepcion Village in San Pablo City who had fever of at least two days duration and either joint pains or rash between 23 June and 6 August 2012. Cases were ascertained by conducting house-to-house canvassing and medical records review. An unmatched case-control study was conducted and analysed using a multivariate logistic regression. An environmental investigation was conducted by observing water and sanitation practices, and 100 households were surveyed to determine House and Breteau Indices. Human serum samples were collected for confirmation for chikungunya IgM through enzyme-linked immunosorbent assay.
Results: There were 98 cases identified. Multivariate analysis revealed that having a chikungunya case in the household (adjusted odds ratio [aOR]: 6.2; 95% confidence interval [CI]: 3.0–12.9) and disposing of garbage haphazardly (aOR: 2.7; 95% CI: 1.4–5.4) were associated with illness. House and Breteau Indices were 27% and 28%, respectively. Fifty-eight of 84 (69%) serum samples were positive for chikungunya IgM.
Conclusion: It was not surprising that having a chikungunya case in a household was associated with illness in this outbreak. However, haphazard garbage disposal is not an established risk factor for the disease, although this could be linked to increased breeding sites for mosquitoes.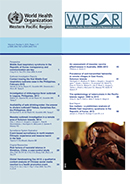 Downloads
How to Cite
Ballera, J. E., Zapanta, M. J., de los Reyes, V. C., Sucaldito, M. N., & Tayag, E. (2015). Investigation of chikungunya fever outbreak in Laguna, Philippines, 2012. Western Pacific Surveillance and Response, 6(3). https://doi.org/10.5365/wpsar.2015.6.1.006
Section
Outbreak Investigation Report
License
© World Health Organization (WHO) 2022. Some rights reserved.
The articles in this publication are published by the World Health Organization and contain contributions by individual authors. The articles are available under the Creative Commons Attribution 3.0 IGO license (CC BY 3.0 IGO http://creativecommons.org/licenses/by/3.0/igo/legalcode), which permits unrestricted use, distribution and reproduction in any medium, provided the original work is properly cited. In any use of these articles, there should be no suggestion that WHO endorses any specific organization, products or services. The use of the WHO logo is not permitted.
Attribution
The World Health Organization does not necessarily own each component of the content contained within these articles and does not therefore warrant that the use of any third-party-owned individual component or part contained in the articles will not infringe on the rights of those third parties. The risk of claims resulting from such infringement rests solely with you. If you wish to re-use a component of the articles attributed to a third party, it is your responsibility to determine whether permission is needed for that re-use and to obtain permission from the copyright owner. Examples of components can include, but are not limited to, tables, figures or images.
Any mediation relating to disputes arising under this license shall be conducted in accordance with the WIPO Mediation Rules (www.wipo.int/amc/en/mediation/rules). Any inquiries should be addressed to publications@wpro.who.int.
License to publish
Western Pacific Surveillance and Response is an open access journal and requires each author of a contribution to grant the World Health Organization (the Publisher) a non-exclusive, worldwide, royalty-free license under the terms of the Creative Commons Attribution IGO License (http://creativecommons.org/licenses/by/3.0/igo/legalcode) for the term of copyright and any extensions thereof. This includes to publish, re-publish, transmit, sell, distribute and otherwise use the article in the Journal, in whole or as a part. This is done by signing the WPSAR License to publish form.
Disclaimer
The designations employed and the presentation of the information on this website do not imply the expression of any opinion whatsoever on the part of the World Health Organization concerning the legal status of any country, territory, city or area or of its authorities, or concerning the delimitation of its frontiers or boundaries.
The mention of specific companies or of certain manufacturers' products does not imply that they are endorsed or recommended by the World Health Organization in preference to others of a similar nature that are not mentioned. Errors and omissions excepted, the names of proprietary products are distinguished by initial capital letters.
Links to third-party websites
The World Health Organization does not warrant that the information contained on the website is complete and correct and shall not be liable whatsoever for any damages incurred as a result of its use.