Comparison of strategies for daily surveillance of international travellers quarantined in Vanuatu, October–December 2020
Using SMS for COVID-19 quarantine monitoring in Vanuatu
Abstract
Objective: To prevent importation of coronavirus disease 2019 (COVID-19) to Vanuatu, since March 2020, all travellers to the country have been required to complete a 14-day quarantine in a government-designated facility. A short message service (SMS, or "text message") system was developed to collect information on symptoms of COVID-19 among travellers in quarantine. A trial within a cohort study was conducted among travellers arriving to Vanuatu by air from 27 October to 7 December 2020 to assess SMS acceptability, efficiency and utility and whether SMS-based health monitoring was as effective as in-person monitoring in identifying people with COVID-19 symptoms.
Methods: Control group participants received standard monitoring (daily in-person visits) and participants in the intervention group received a daily SMS text requesting a response coded for symptom development. Differences between the two groups were determined using chi-squared tests.
Results: Of the 495 eligible travellers, 423 participated; 170 were allocated to the control group and 253 to the intervention group. At least one return SMS text was received from 50% (107/212) of participants who were confirmed to have received an SMS text. Less than 2% (4/253) of the intervention group and 0% of the control group reported symptoms.
Discussion: The SMS intervention had a high level of acceptability. SMS is a useful tool to monitor symptom development among people in quarantine and for broader public health programmes that require follow up.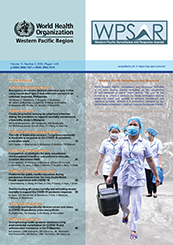 Downloads
How to Cite
1.
van Gemert C, Williams W, Mariasua J, Fred D, Cornish M, Tarivonda L, Tapo PS, Atua V, Manwo O, Guyant P, Iavro L, Clark G. Comparison of strategies for daily surveillance of international travellers quarantined in Vanuatu, October–December 2020: Using SMS for COVID-19 quarantine monitoring in Vanuatu. Western Pac Surveill Response J [Internet]. 2022 Jul. 1 [cited 2023 Sep. 22];13(2):7. Available from: https://ojs.wpro.who.int/ojs/index.php/wpsar/article/view/918
Section
COVID-19: Original Research