Lessons from COVID-19-free Vanuatu: intensive health operations for Phase 1 of repatriation and quarantine, May–July 2020
Abstract
International borders to Vanuatu closed on 23 March 2020 due to the global COVID-19 pandemic. In May–July 2020, the Government of Vanuatu focused on the safe and timely return of citizens and residents while ensuring Vanuatu remained COVID-19 free. Under Phase 1 of repatriation, between 27 May and 23 June 2020, 1522 people arrived in the capital, Port Vila, and were placed in compulsory government-mandated 14-day quarantine in 15 hotels. Pre-arrival health operations included collection of repatriate information, quarantine facility assessments, training for personnel supporting the process, and tabletop and functional exercises with live scenario simulations. During quarantine, health monitoring, mental health assessments and psychosocial support were provided. All repatriates completed 14 days of quarantine. One person developed symptoms consistent with COVID-19 during quarantine but tested negative. Overall health operations were considered a success despite logistical and resource challenges.
Lessons learnt were documented during a health sector after-action review held on 22 July 2020. Key recommendations for improvement were to obtain timely receipt of repatriate information before travel, limit the number of repatriates received and avoid the mixing of "travel cohorts", ensure sufficient human resources are available to support operations while maintaining other essential services, establish a command and control structure for health operations, develop training packages and deliver them to all personnel supporting operations, and coordinate better with other sectors to ensure health aspects are considered. These recommendations were applied to further improve health operations for subsequent repatriation and quarantine, with Phase 2 commencing on 1 August 2020.
References
World Health Organization. 2020a. Coronavirus disease (COVID-19) Situation Report 194 (01 August 2020).
World Health Organization. 2020b. Surveillance strategies for COVID-19 human infection (10 May 2020).
Vanuatu Health Technical Advisory Group. 2020. Recommendations on measures to prevent, contain and respond to COVID-19 in Vanuatu, version 5.1 (21 July 2020).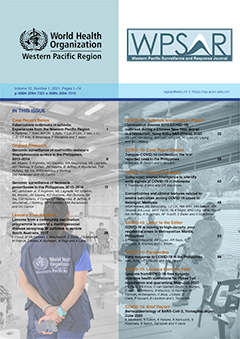 Downloads
Section
COVID-19: Lesson from the Field
License
© World Health Organization (WHO) 2018. Some rights reserved.
The articles in this publication are published by the World Health Organization and contain contributions by individual authors. The articles are available under the Creative Commons Attribution 3.0 IGO license (CC BY 3.0 IGO http://creativecommons.org/licenses/by/3.0/igo/legalcode), which permits unrestricted use, distribution and reproduction in any medium, provided the original work is properly cited. In any use of these articles, there should be no suggestion that WHO endorses any specific organization, products or services. The use of the WHO logo is not permitted.
Attribution
Please cite the articles as follows: [Author names]. [Article title]. Western Pac Surveill Response J. [Year]; [Volume] ([Issue]). [doi number] [pmid number]
For example, Hoy D, Saketa ST, Maraka RR, Sio A, Wanyeki I, Frison P, et al. Enhanced syndromic surveillance for mass gatherings in the Pacific: a case study of the 11th Festival of Pacific Arts in Solomon Islands, 2012. Western Pac Surveill Response J. 2016;7:3. doi:10.5365/wpsar.2016.7.1.004 pmid:27766181
License: Creative Commons BY 3.0 IGO
The World Health Organization does not necessarily own each component of the content contained within these articles and does not therefore warrant that the use of any third-party-owned individual component or part contained in the articles will not infringe on the rights of those third parties. The risk of claims resulting from such infringement rests solely with you. If you wish to re-use a component of the articles attributed to a third party, it is your responsibility to determine whether permission is needed for that re-use and to obtain permission from the copyright owner. Examples of components can include, but are not limited to, tables, figures or images.
Any mediation relating to disputes arising under this license shall be conducted in accordance with the WIPO Mediation Rules (www.wipo.int/amc/en/mediation/rules). Any inquiries should be addressed to publications@wpro.who.int.
License to publish
Western Pacific Surveillance and Response is an open access journal and requires each author of a contribution to grant the World Health Organization (the Publisher) a non-exclusive, worldwide, royalty-free license under the terms of the Creative Commons Attribution IGO License (http://creativecommons.org/licenses/by/3.0/igo/legalcode) for the term of copyright and any extensions thereof. This includes to publish, re-publish, transmit, sell, distribute and otherwise use the article in the Journal, in whole or as a part. This is done by signing the WPSAR License to publish form.
Disclaimer
The designations employed and the presentation of the information on this website do not imply the expression of any opinion whatsoever on the part of the World Health Organization concerning the legal status of any country, territory, city or area or of its authorities, or concerning the delimitation of its frontiers or boundaries.
The mention of specific companies or of certain manufacturers' products does not imply that they are endorsed or recommended by the World Health Organization in preference to others of a similar nature that are not mentioned. Errors and omissions excepted, the names of proprietary products are distinguished by initial capital letters.
Links to third-party websites
The World Health Organization does not warrant that the information contained on the website is complete and correct and shall not be liable whatsoever for any damages incurred as a result of its use.