Strengthening national, regional and global health capacity through the WHO Western Pacific Region's Field Epidemiology Fellowship Programme
Strengthening health capacity though the WHO Field Epidemiology Fellowship Programme
Abstract
Objective: The World Health Organization's (WHO's) Field Epidemiology Fellowship Programme in the Western Pacific Region aims to strengthen countries' capacities for surveillance and risk assessment and build a workforce to tackle public health emergencies. A survey was conducted to assess the on-the-job training experience of the Regional Fellows, evaluate the strengths of the Programme and gain feedback on areas for improvement.
Methods: Between 25 September and 25 October 2018, an online survey was sent to Regional Fellows who had participated in the Programme between July 2006 and September 2018. The survey was shared with WHO country offices in the Western Pacific Region and directly with graduates of the Programme. Responses were recorded electronically and analysed.
Results: A total of 53 former Regional Fellows responded (54% response rate; 53/98). At the time of Programme participation, the Fellows' median age was 35, 62% (33/53) were female and 72% (38/53) were affiliated with a national or subnational health department. Fellows gained experience in event-based surveillance and risk assessment and worked among a diverse group of professionals in various Member States. Altogether, 77% (41/53) of respondents believed that the Programme had helped them move into a better career position with greater responsibility. Ninety-four percent (50/53) would recommend the Programme to their colleagues.
Discussion: Alumni from the Western Pacific Region's Field Epidemiology Fellowship Programme perform key health security roles, particularly within governmental systems, and directly contribute to managing health emergencies in their countries, in the Region and globally. The Programme is building a workforce with surge capacity to ensure that public health events in the Region can be addressed. Furthermore, connections developed through the Programme are helping to develop an alumni network, and enhance communications among Member States and between Member States and WHO.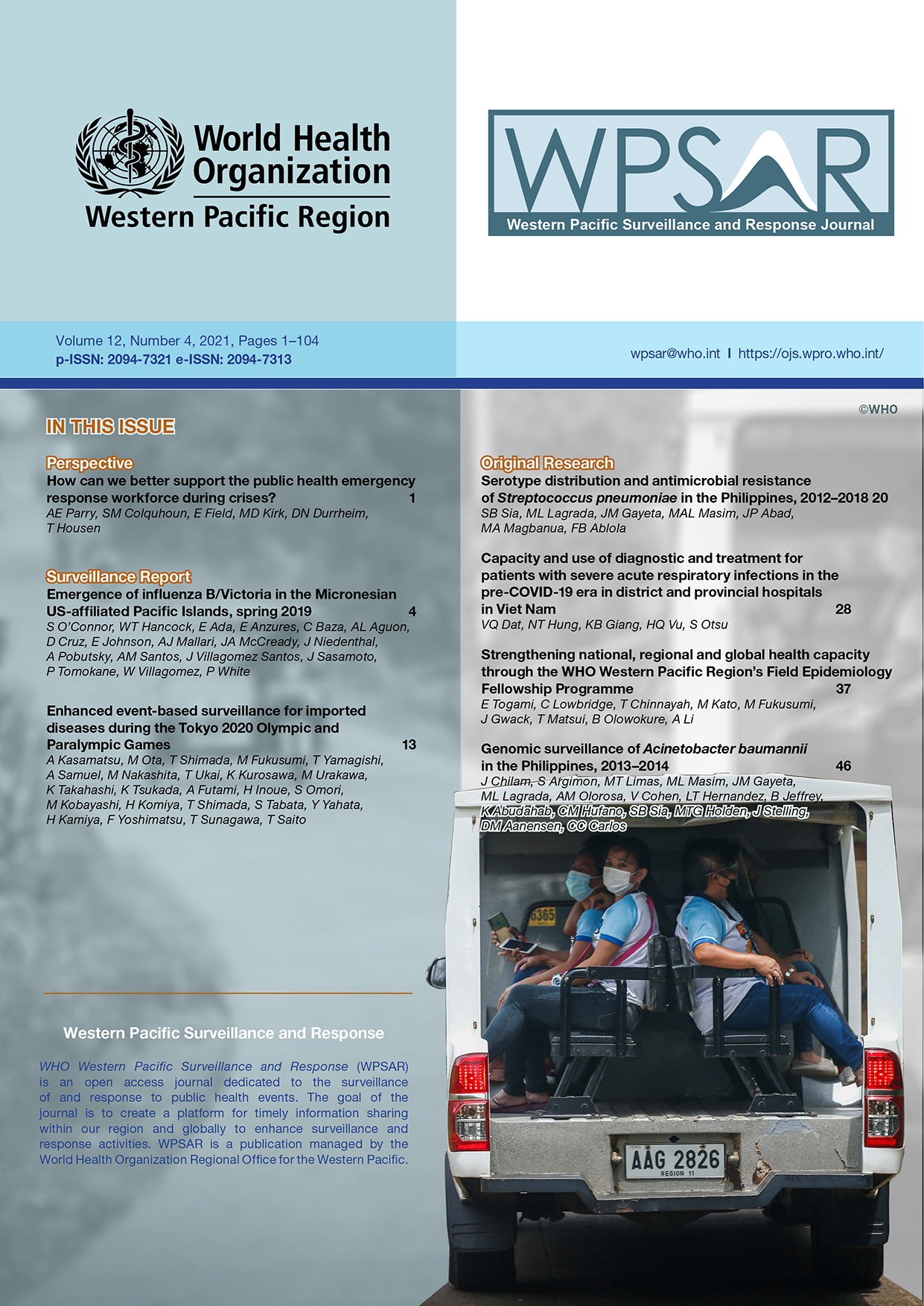 Downloads
How to Cite
Togami, E., Lowbridge, C., Chinnayah, T., Kato, M., Fukusumi, M., Gwack, J., Matsui, T., Olowokure, B., & Li, A. (2021). Strengthening national, regional and global health capacity through the WHO Western Pacific Region's Field Epidemiology Fellowship Programme: Strengthening health capacity though the WHO Field Epidemiology Fellowship Programme. Western Pacific Surveillance and Response, 12(4), 9. https://doi.org/10.5365/wpsar.2021.12.4.844
Section
Original Research