Case-control study of risk factors for incident syphilis infection among men who have sex with men in Tokyo, Japan
Abstract
Introduction: In Japan, syphilis notifications have increased. Men who have sex with men (MSM) in Tokyo have contributed substantially to the increase in syphilis notifications. We thus aimed to determine the correlates of incident syphilis among them.
Methods: MSM who attended a Tokyo clinic that serves sexual minorities were recruited in a case-control study in 2015. A case was seropositive for primary/secondary/asymptomatic syphilis at enrolment visit and seronegative at prior visit or had oral ulcers positive for Treponema pallidum DNA at enrolment. For each case, two controls seronegative at enrolment and prior visit were selected. Using logistic regression, odds ratios (ORs) and 95% confidence intervals (CIs) were estimated to assess for correlates of case status.
Results: Among 35 cases, the median age was 37 (range = 21–63) years and was similar to the 71 controls. Among HIV-positive participants (26 cases and 67 controls), cases were independently associated with higher frequency of anal or oral sex (OR = 3.4; 95% CI = 1.4–8.6; increase per category from < 1/month, >= 1/month but < 1/week, to >= 1/week) and no or inconsistent condom use during anal or oral sex (OR = 3.0; 95% CI = 1.1–8.3; increase per category from using every time, occasionally, to never), adjusted for residency and time between visits.
Discussion: Modifiable behaviours were associated with incident syphilis, and dissemination of prevention messages are needed.
References
National Institute of Infectious Diseases. Syphilis in Japan 2008-2014. Infectious Agents Surveillance Report 2014; 35: 79-80.
Sugishita Y, Yamagishi T, Arima Y, et al. Increase in primary and secondary syphilis notifications in men in Tokyo, 2007-2013. Jpn J Infect Dis 2016; 69: 154-157.
Patton ME, Su JR, Nelson R, et al. Primary and secondary syphilis – United States, 2005-2013. MMWR Morb Mortal Wkly Rep 2014; 63: 402-406.
European Centre for Disease Prevention and Control (ECDC). Sexually Transmitted Infections in Europe, 1990-2010. Stockholm: ECDC; 2012, https://ecdc.europa.eu/en/publications-data/sexually-transmitted-infections-europe-1990-2010 (2012, accessed 9 March 2017).
Takahashi T, Arima Y, Yamagishi T, et al. Rapid Increase in Reports of Syphilis Associated With Men Who Have Sex With Women and Women Who Have Sex With Men, Japan, 2012 to 2016. Sex Transm Dis. 2018; 45: 139-143.
National Institute of Infectious Diseases in Japan. Infectious Agents Surveillance Report, http://www.nih.go.jp/niid/ja/iasr.html (2016, accessed 9 March 2017).
Cao Z, Xu J, Zhang H, et al. Risk factors for syphilis among married men who have sex with men in China. Sex Transm Dis 2014; 41: 98-102.
Champenois K, Cousien A, Ndiaye B, et al. Risk factors for syphilis infection in men who have sex with men: results of a case-control study in Lille, France. Sex Transm Infect 2013; 89: 128-132.
Jansen K, Schmidt AJ, Drewes J, et al. Increased incidence of syphilis in men who have sex with men and risk management strategies, Germany, 2015. Euro Surveill 2016; 21: doi: 10.2807/1560-7917.ES.2016.21.43.30382.
Shilaih M, Marzel A, Braun DL, et al. Factors associated with syphilis incidence in the HIV-infected in the era of highly active antiretrovirals. Medicine (Baltimore) 2017; 96: e5849. doi: 10.1097/MD.0000000000005849.
Phillips G 2nd, Magnus M, Kuo I, et al. Use of geosocial networking (GSN) mobile phone applications to find men for sex by men who have sex with men (MSM) in Washington, DC. AIDS Behav 2014; 18: 1630-1637.
Wei C, Lim SH, Guadamuz TE, et al. Virtual versus physical spaces: which facilitates greater HIV risk taking among men who have sex with men in East and South-East Asia? AIDS Behav 2014; 18: 1428-1435.
DeSilva M, Hedberg K, Robinson B, et al. A case-control study evaluating the role of internet meet-up sites and mobile telephone applications in influencing a syphilis outbreak: Multnomah County, Oregon, USA 2014. Sex Transm Infect 2016; 92: 353-358.
Nishijima T, Teruya K, Shibata S, et al. Incidence and Risk Factors for Incident Syphilis among HIV-1-Infected Men Who Have Sex with Men in a Large Urban HIV Clinic in Tokyo, 2008-2015. PLoS One 2016; 11: e0168642. doi: 10.1371/journal.pone.0168642. eCollection.
Janier M, Hegyi V, Dupin N, et al. 2014 European guideline on the management of syphilis. J Eur Acad Dermatol Venereol 2014; 28: 1581-1593.
Workowski KA and Bolan GA; Centers for Disease Control and Prevention. Sexually transmitted diseases treatment guidelines, 2015. MMWR Recomm Rep 2015; 64(RR-03): 1-137.
Orle KA, Gates CA, Martin DH, et al. Simultaneous PCR detection of Haemophilus ducreyi, Treponema pallidum, and herpes simplex virus types 1 and 2 from genital ulcers. J Clin Microbiol 1996; 34: 49-54.
Liu H, Rodes B, Chen CY, et al. New tests for syphilis: rational design of a PCR method for detection of Treponema pallidum in clinical specimens using unique regions of the DNA polymerase I Gene. J Clin Microbiol 2001; 39: 1941-1946.
Ishikane M, Arima Y, Itoda I, et al. Responding to the syphilis outbreak in Japan: piloting a questionnaire to evaluate potential risk factors for incident syphilis infection among men who have sex with men in Tokyo, Japan, 2015. Western Pac Surveill Response J 2016; 7: 36-39.
Kenyon C, Lynen L, Florence E, et al. Syphilis reinfections pose problems for syphilis diagnosis in Antwerp, Belgium - 1992 to 2012. Euro Surveill 2014; 19: 20958.
Winer RL, Lee SK, Hughes JP, et al. Genital human papillomavirus infection: incidence and risk factors in a cohort of female university students. Am J Epidemiol 2003; 157: 218-226.
Ichiro I. How much is the syphilis increasing (in Japanese)? The 28th Annual Meeting of the Japanese Society for AIDS Research; 2014 Dec 3; Osaka, Japan.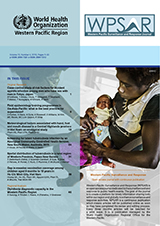 Downloads
Section
Original Research
License
© World Health Organization (WHO) 2018. Some rights reserved.
The articles in this publication are published by the World Health Organization and contain contributions by individual authors. The articles are available under the Creative Commons Attribution 3.0 IGO license (CC BY 3.0 IGO http://creativecommons.org/licenses/by/3.0/igo/legalcode), which permits unrestricted use, distribution and reproduction in any medium, provided the original work is properly cited. In any use of these articles, there should be no suggestion that WHO endorses any specific organization, products or services. The use of the WHO logo is not permitted.
Attribution
Please cite the articles as follows: [Author names]. [Article title]. Western Pac Surveill Response J. [Year]; [Volume] ([Issue]). [doi number] [pmid number]
For example, Hoy D, Saketa ST, Maraka RR, Sio A, Wanyeki I, Frison P, et al. Enhanced syndromic surveillance for mass gatherings in the Pacific: a case study of the 11th Festival of Pacific Arts in Solomon Islands, 2012. Western Pac Surveill Response J. 2016;7:3. doi:10.5365/wpsar.2016.7.1.004 pmid:27766181
License: Creative Commons BY 3.0 IGO
The World Health Organization does not necessarily own each component of the content contained within these articles and does not therefore warrant that the use of any third-party-owned individual component or part contained in the articles will not infringe on the rights of those third parties. The risk of claims resulting from such infringement rests solely with you. If you wish to re-use a component of the articles attributed to a third party, it is your responsibility to determine whether permission is needed for that re-use and to obtain permission from the copyright owner. Examples of components can include, but are not limited to, tables, figures or images.
Any mediation relating to disputes arising under this license shall be conducted in accordance with the WIPO Mediation Rules (www.wipo.int/amc/en/mediation/rules). Any inquiries should be addressed to publications@wpro.who.int.
License to publish
Western Pacific Surveillance and Response is an open access journal and requires each author of a contribution to grant the World Health Organization (the Publisher) a non-exclusive, worldwide, royalty-free license under the terms of the Creative Commons Attribution IGO License (http://creativecommons.org/licenses/by/3.0/igo/legalcode) for the term of copyright and any extensions thereof. This includes to publish, re-publish, transmit, sell, distribute and otherwise use the article in the Journal, in whole or as a part. This is done by signing the WPSAR License to publish form.
Disclaimer
The designations employed and the presentation of the information on this website do not imply the expression of any opinion whatsoever on the part of the World Health Organization concerning the legal status of any country, territory, city or area or of its authorities, or concerning the delimitation of its frontiers or boundaries.
The mention of specific companies or of certain manufacturers' products does not imply that they are endorsed or recommended by the World Health Organization in preference to others of a similar nature that are not mentioned. Errors and omissions excepted, the names of proprietary products are distinguished by initial capital letters.
Links to third-party websites
The World Health Organization does not warrant that the information contained on the website is complete and correct and shall not be liable whatsoever for any damages incurred as a result of its use.