Fieldwork for public health responses during pandemics: lessons from the New South Wales Health experience with COVID-19
Lessons from fieldwork for COVID-19
Abstract
Problem: Fieldwork is a vital component of public health emergency response, yet little has been published on undertaking fieldwork safely. Safety is of particular importance with emerging pandemic viruses, which can pose additional risks to public health fieldwork staff.
Context: During a pandemic, surge health staff may be drawn from diverse professional backgrounds; they may have limited experience in fieldwork or be unfamiliar with the risks posed by a novel virus. Novel pathogens pose dangers to fieldwork staff, particularly when there are global or local shortages of personal protective equipment.
Action: During the coronavirus disease 2019 (COVID-19) pandemic, New South Wales (NSW) Health's Public Health Emergency Operations Centre (PHEOC) deployed staff for fieldwork in a range of settings. The PHEOC developed a protocol to systematize planning, risk assessment and management for COVID-19 fieldwork. The protocol was accompanied by training, discussion exercises and debriefs to support PHEOC fieldwork staff.
Lessons learned: Effective fieldwork is an essential component of outbreak investigation and management, including stakeholder management. Here, we share and discuss key elements of the NSW Health protocol to support fieldwork during outbreak responses for emerging communicable diseases across various resource contexts. Limited understanding of novel viruses, particularly in the early phases of a pandemic, must be considered in decisions to deploy fieldwork staff and implement precautionary risk mitigation approaches. Planning is essential to protect staff and ensure ethical allocation of resources. Through appropriate selection of teams and training, surge staff can be supported to effectively conduct fieldwork.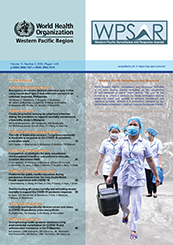 Downloads
How to Cite
1.
Govindasamy L, Zheng A, Chen M, Chia D, Garcia P, Yapa C, Smith T. Fieldwork for public health responses during pandemics: lessons from the New South Wales Health experience with COVID-19: Lessons from fieldwork for COVID-19. Western Pac Surveill Response J [Internet]. 2022 Apr. 8 [cited 2023 Dec. 7];13(2):8. Available from: https://ojs.wpro.who.int/ojs/index.php/wpsar/article/view/871
Section
COVID-19: Lessons from the Field