Capacity and use of diagnostics and treatment for patients with severe acute respiratory infections in the pre-COVID-19 era in district and provincial hospitals in Viet Nam
Capacity of SARI management in Viet Nam
Abstract
Objective: To describe the burden of severe acute respiratory infection (SARI) and the infrastructure and current practices of SARI management in hospitals in Viet Nam.
Methods: We conducted a short observational study at critical care units (CCUs) in 32 district hospitals and 16 provincial hospitals in five provinces in Viet Nam from March to July 2019. We collected data on hospital equipment and medicines used in SARI management. At the patient level, data were collected for 14 consecutive days on all patients presenting to CCUs, including information on demographics, intervention and treatment within 24 hours of CCU admission and 7-day outcome.
Results: There were significant differences between district and provincial hospitals in the availability of microbial culture, rapid influenza diagnostic tests, inflammatory markers and mechanical ventilation. Among 1722 eligible patients admitted to CCUs, there were 395 (22.9%) patients with SARI. The median age of SARI patients was 74 (interquartile range: 58–84) years; 49.1% were male. Although systemic antibiotics were available in all hospitals and were empirically given to 93.4% of patients, oseltamivir was available in 25% of hospitals, and only 0.5% of patients received empiric oseltamivir within 24 hours of admission. The 7-day mortality was 6.6% (26/395). Independent factors associated with 7-day mortality were septic shock and requiring respiratory support within 24 hours of admission.
Discussion: SARI is a major burden on CCUs in Viet Nam. Barriers to delivering quality care include the limited availability of diagnostics and medication and non-protocolized management of SARI in CCUs.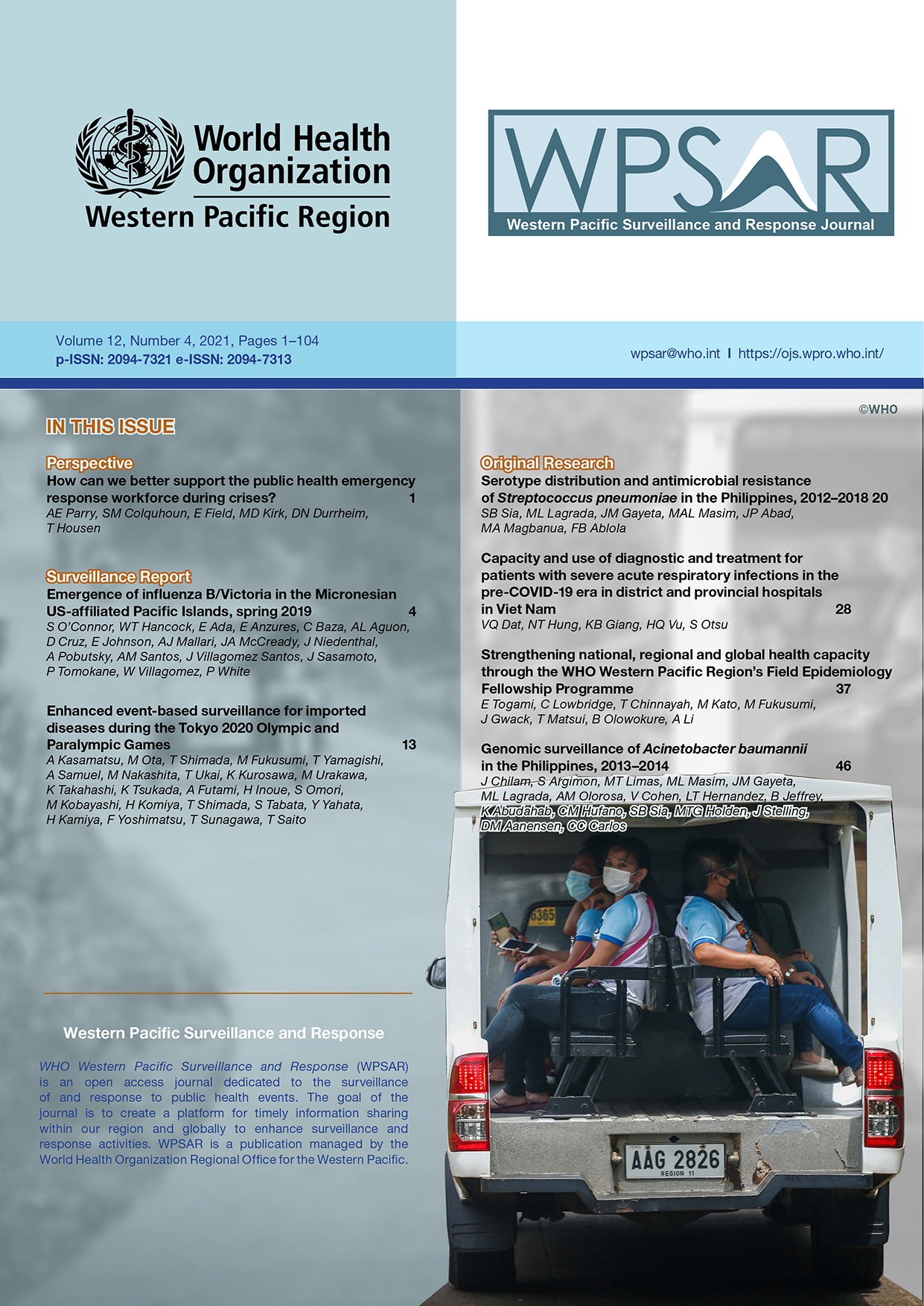 Downloads
How to Cite
Dat, V. Q., Hung, N. T., Giang, K. B., Vu, H. Q., & Otsu, S. (2021). Capacity and use of diagnostics and treatment for patients with severe acute respiratory infections in the pre-COVID-19 era in district and provincial hospitals in Viet Nam: Capacity of SARI management in Viet Nam. Western Pacific Surveillance and Response, 12(4), 9. https://doi.org/10.5365/wpsar.2021.12.4.835
Section
Original Research