Use of public data to describe COVID-19 contact tracing in Hubei Province and non-Hubei provinces in China between 20 January and 29 February 2020
Abstract
Objective: Contact tracing has been used in China and several other countries in the WHO Western Pacific Region as part of the COVID-19 response. We describe COVID-19 cases and the number of contacts traced and quarantined per case as part of COVID-19 emergency public health response activities in China.
Methods: We abstracted publicly available, online aggregated data published in daily COVID-19 situational reports by China's National Health Commission and provincial health commissions between 20 January and 29 February 2020. The number of new contacts traced by report date was computed as the difference between total contacts traced in consecutive reports. A proxy for the number of contacts traced per case was computed as the number of new contacts traced divided by the number of new cases.
Results: During the study period, China reported 80 968 new COVID-19 cases and 659 899 contacts. In Hubei Province, there were 67 608 cases and 264 878 contacts, representing 83% and 40% of the total, respectively. Non-Hubei provinces reported tracing 1.5 times more contacts than Hubei Province; the weekly number of contacts traced per case was also higher in non-Hubei provinces than in Hubei Province and increased from 17.2 in epidemiological week 4 to 115.7 in epidemiological week 9.
Discussion: More contacts per case were reported from areas and periods with lower COVID-19 case counts. With other non-pharmaceutical interventions used in China, contact tracing and quarantining large numbers of potentially infected contacts probably contributed to reducing SARS-CoV-2 transmission.
References
Pan A, Liu L, Wang C, Guo H, Hao X, Wang Q, et al. Association of Public Health Interventions with the Epidemiology of the COVID-19 Outbreak in Wuhan, China. JAMA. 2020;323(19):1915–23. doi: 10.1001/jama.2020.6130.
China National Health Commission. Tracking the Epidemic. 2020 [cited May 7, 2020]; Available from: http://weekly.chinacdc.cn/news/TrackingtheEpidemic.htm
Qualls N, Levitt A, Kanade N, Wright-Jegede N, Dopson S, Biggerstaff M, et al. Community Mitigation Guidelines to Prevent Pandemic Influenza — United States, 2017. MMWR Recomm Rep. 2017 Apr 21;66(1):1–34. doi: 10.15585/mmwr.rr6601a1.
Fong MW, Gao H, Wong J, Y., Xiao J, Shiu EYC, Ryu S, et al. Nonpharmaceutical Measures for Pandemic Influenza in Nonhealthcare Settings — Social Distancing Measures. Emerg Infect Dis. 2020;26(5):976–84. doi: 10.3201/eid2605.190995.
Cheng H, Jian S, Liu D, Ng T, Huang W, Lin H, et al. Contact Tracing Assessment of COVID-19 Transmission Dynamics in Taiwan and Risk at Different Exposure Periods Before and After Symptom Onset. JAMA Intern Med. 2020:E1–E8. doi: 10.1001/jamainternmed.2020.2020.
Ng Y, Li Z, Chua Y, Chaw W, Zhao Z, Er B, et al. Evaluation of the Effectiveness of Surveillance and Containment Measures for the First 100 Patients with COVID-19 in Singapore — January 2–February 29, 2020. MMWR Morb Mortal Wkly Rep. 2020 Mar 20;69(11):307–11.
Covid-19 National Emergency Response Center E, Case Management Team KCDC. Coronavirus Disease-19: Summary of 2,370 Contact Investigations of the First 30 Cases in the Republic of Korea. Osong Public Health Res Perspect. 2020;11(2):81–4. doi: 10.24171/j.phrp.2020.11.2.04.
WHO-China Joint Mission. Report of the WHO-China Joint Mission on Coronavirus Disease 2019 (COVID-19). Geneva: WHO; 2020.
Lai S, Ruktanonchai NW, Zhou L, Prosper O, Luo W, Floyd JR, et al. Effect of non-pharmaceutical interventions to contain COVID-19 in China. Nature. 2020 2020/05/04.
Novel Coronavirus Pneumonia Emergency Response Epidemiology Team. The Epidemiological Characteristics of an Outbreak of 2019 Novel Coronavirus Diseases (COVID-19) — China, 2020. China CDC Weekly. 2020;2(8):113–22. doi: 10.1038/s41586-020-2293-x.
Chinese Center for Disease Control and Prevention. Guidelines for COVID-19 Epidemiological Investigations. China CDC Weekly. 2020;2(19):327–8.
Chinese Center for Disease Control and Prevention. Guideline for Investigation and Management of Close Contacts of COVID-19 Cases. China CDC Weekly. 2020;2(19):329–31.
Bi Q, Wu Y, Mei S, Ye C, Zou X, Zhang Z, et al. Epidemiology and transmission of COVID-19 in 391 cases and 1286 of their close contacts in Shenzhen, China: a retrospective cohort study. Lancet Infect Dis. 2020:1–9. doi: 10.1016/S1473-3099(20)30287-5.
Luo L, Liu D, Liao X, Wu X, Jing Q, Zheng J, et al. Modes of contact and risk of transmission in COVID-19 among close contacts. medRxiv. 2020. doi: https://doi.org/10.1101/2020.03.24.20042606
Zhang H, Ji Z, CHeng Z, Zeng L, Mi B, Cheng F, et al. [Epidemiological characteristics of close contact in Xi'an]. J of Xi'an Jiaotong University (Medical Sciences). 2020:1–7. ISSN:1671-8259/CN:61-1399/R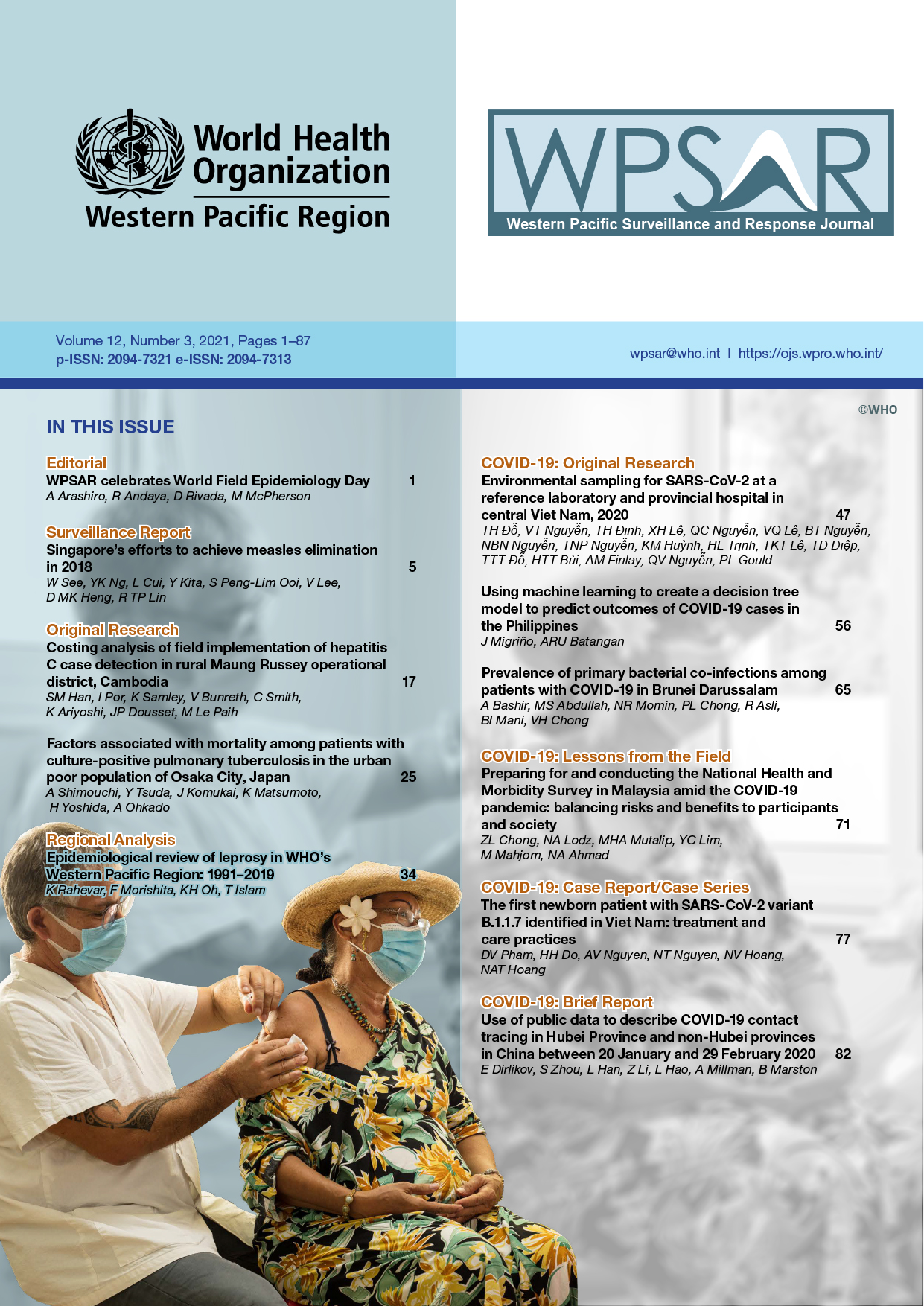 Downloads
Additional Files
How to Cite
Dirlikov, E., Zhou, S., Han, L., Li, Z., Hao, L., Millman, A., & Marston, B. (2021). Use of public data to describe COVID-19 contact tracing in Hubei Province and non-Hubei provinces in China between 20 January and 29 February 2020. Western Pacific Surveillance and Response, 12(3), 6. https://doi.org/10.5365/wpsar.2021.12.3.808
Section
COVID-19: Brief Report
License
© World Health Organization (WHO) 2022. Some rights reserved.
The articles in this publication are published by the World Health Organization and contain contributions by individual authors. The articles are available under the Creative Commons Attribution 3.0 IGO license (CC BY 3.0 IGO http://creativecommons.org/licenses/by/3.0/igo/legalcode), which permits unrestricted use, distribution and reproduction in any medium, provided the original work is properly cited. In any use of these articles, there should be no suggestion that WHO endorses any specific organization, products or services. The use of the WHO logo is not permitted.
Attribution
The World Health Organization does not necessarily own each component of the content contained within these articles and does not therefore warrant that the use of any third-party-owned individual component or part contained in the articles will not infringe on the rights of those third parties. The risk of claims resulting from such infringement rests solely with you. If you wish to re-use a component of the articles attributed to a third party, it is your responsibility to determine whether permission is needed for that re-use and to obtain permission from the copyright owner. Examples of components can include, but are not limited to, tables, figures or images.
Any mediation relating to disputes arising under this license shall be conducted in accordance with the WIPO Mediation Rules (www.wipo.int/amc/en/mediation/rules). Any inquiries should be addressed to publications@wpro.who.int.
License to publish
Western Pacific Surveillance and Response is an open access journal and requires each author of a contribution to grant the World Health Organization (the Publisher) a non-exclusive, worldwide, royalty-free license under the terms of the Creative Commons Attribution IGO License (http://creativecommons.org/licenses/by/3.0/igo/legalcode) for the term of copyright and any extensions thereof. This includes to publish, re-publish, transmit, sell, distribute and otherwise use the article in the Journal, in whole or as a part. This is done by signing the WPSAR License to publish form.
Disclaimer
The designations employed and the presentation of the information on this website do not imply the expression of any opinion whatsoever on the part of the World Health Organization concerning the legal status of any country, territory, city or area or of its authorities, or concerning the delimitation of its frontiers or boundaries.
The mention of specific companies or of certain manufacturers' products does not imply that they are endorsed or recommended by the World Health Organization in preference to others of a similar nature that are not mentioned. Errors and omissions excepted, the names of proprietary products are distinguished by initial capital letters.
Links to third-party websites
The World Health Organization does not warrant that the information contained on the website is complete and correct and shall not be liable whatsoever for any damages incurred as a result of its use.