Costing analysis of field implementation of hepatitis C case detection in rural Maung Russey operational district, Cambodia
Abstract
Background: When a new health programme is introduced, it is crucial to estimate the costs for rational health policy decision-making. The aim of this study was to determine the costs of implementing two strategies for hepatitis C virus (HCV) screening in rural Cambodia.
Methods: We retrospectively analysed clinical and cost data that were collected routinely for a demonstration project for scaling up HCV screening and testing in Cambodia. The programme data were collected between March and December 2018 in Maung Russey operational district in Battambang Province, Cambodia.
Findings: During the study period, 24 230 people were screened; 1194 (5%) were HCV seropositive, of whom 793 (66%) were confirmed to be viraemic. During the study period, 18% of the estimated population of the operational district were screened, of whom 45% were estimated to be seropositive and 41% to be viraemic. With passive screening alone, 8% of the estimated population were screened, of whom 29% were estimated to be seropositive and 28% viraemic. The cost per detected viraemic case was US$ 194 for passive screening alone and US$ 283 for passive and active screening combined. Labour costs (31%) and tests and materials (29%) comprised the largest proportions of the cost.
Conclusion: Combined active and passive screening per viraemic case detected was US$ 89 more expensive than passive screening alone but provided a higher yield (41% versus 28%) of viraemic cases. Therefore, adding active screening to passive screening is beneficial. Selective active screening strategies, such as targeting people over 45 years and other higher-risk groups, added value for HCV diagnosis.
Key words: hepatitis C, screening, cost
References
Polaris Observatory HCVC. Global prevalence and genotype distribution of hepatitis C virus infection in 2015: a modelling study. Lancet Gastroenterol Hepatol. 2017;2(3):161-76.
Frontieres MS. A population-based survey of hepatitis C prevalence and risk factrs in three rural districts in Western Cambodia 2019.
Sreng B, Kimcheng H, Sovann LY, Huot E. Epidemiology of Viral Hepatitis and Liver Diseases in Cambodia. Euroasian J Hepatogastroenterol. 2015;5(1):30-3.
Nouhin J, Iwamoto M, Prak S, Dousset JP, Phon K, Heng S, et al. Molecular epidemiology of hepatitis C virus in Cambodia during 2016-2017. Sci Rep. 2019;9(1):7314.
Piseth Narin., Nobuyuki Hamajima., Samnang Kouy., Tomoya Hirosawa., Sokha Eav. Characteristics of Liver Cancer at Khmer-Soviet Friendship Hospital in Phnom Penh, Cambodia. Asian Pacific Journal of Cancer Prevention. 2015;16.
Chassagne F, Rojas Rojas T, Bertani S, Bourdy G, Eav S, Ruiz E, et al. A 13-Year Retrospective Study on Primary Liver Cancer in Cambodia: A Strikingly High Hepatitis C Occurrence among Hepatocellular Carcinoma Cases. Oncology. 2016;91(2):106-16.
Ministry of Health C. National Strategic Plan for Viral Hepatitis B and C ( NSP 2020-2024), Cambodia 2020.
Schroeder SE, Pedrana A, Scott N, Wilson D, Kuschel C, Aufegger L, et al. Innovative strategies for the elimination of viral hepatitis at a national level: A country case series. Liver Int. 2019;39(10):1818-36.
Umutesi J, Liu CY, Penkunas MJ, Makuza JD, Ntihabose CK, Umuraza S, et al. Screening a nation for hepatitis C virus elimination: a cross-sectional study on prevalence of hepatitis C and associated risk factors in the Rwandan general population. BMJ Open. 2019;9(7):e029743.
Médecins Sans Frontières OCPO. A POPULATION-BASED SURVEY OF HEPATITIS C PREVALENCE AND RISK FACTORS IN THREE RURAL DISTRICTS IN WESTERN CAMBODIA. Médecins Sans Frontières, Operational Center Paris (OCP); 2019 18 December 2018.
Viner K, Kuncio D, Newbern EC, Johnson CC. The continuum of hepatitis C testing and care. Hepatology. 2015;61(3):783-9.
Organization WH. WHO guidelines on hepatitis B and C testing.: World Health Organization; 2017.
Yi S, Mun P, Chhoun P, Chann N, Tuot S, Mburu G. Prevalence of and risk factors for hepatitis C virus antibody among people who inject drugs in Cambodia: a national biological and behavioral survey. Harm Reduct J. 2019;16(1):29.
De Weggheleire A, An S, De Baetselier I, Soeung P, Keath H, So V, et al. A cross-sectional study of hepatitis C among people living with HIV in Cambodia: Prevalence, risk factors, and potential for targeted screening. PLoS One. 2017;12(8):e0183530.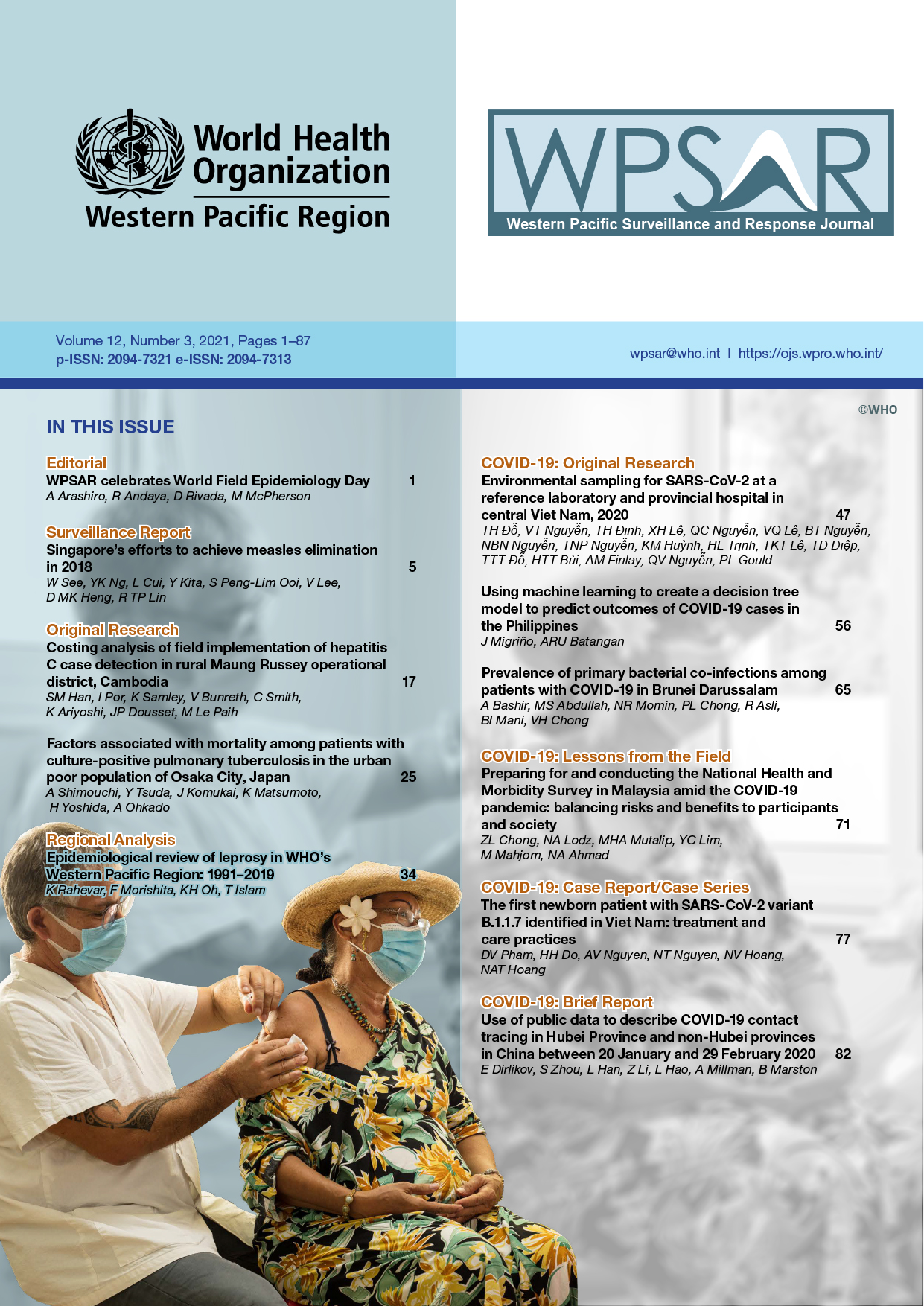 Downloads
Section
Original Research
License
© World Health Organization (WHO) 2018. Some rights reserved.
The articles in this publication are published by the World Health Organization and contain contributions by individual authors. The articles are available under the Creative Commons Attribution 3.0 IGO license (CC BY 3.0 IGO http://creativecommons.org/licenses/by/3.0/igo/legalcode), which permits unrestricted use, distribution and reproduction in any medium, provided the original work is properly cited. In any use of these articles, there should be no suggestion that WHO endorses any specific organization, products or services. The use of the WHO logo is not permitted.
Attribution
Please cite the articles as follows: [Author names]. [Article title]. Western Pac Surveill Response J. [Year]; [Volume] ([Issue]). [doi number] [pmid number]
For example, Hoy D, Saketa ST, Maraka RR, Sio A, Wanyeki I, Frison P, et al. Enhanced syndromic surveillance for mass gatherings in the Pacific: a case study of the 11th Festival of Pacific Arts in Solomon Islands, 2012. Western Pac Surveill Response J. 2016;7:3. doi:10.5365/wpsar.2016.7.1.004 pmid:27766181
License: Creative Commons BY 3.0 IGO
The World Health Organization does not necessarily own each component of the content contained within these articles and does not therefore warrant that the use of any third-party-owned individual component or part contained in the articles will not infringe on the rights of those third parties. The risk of claims resulting from such infringement rests solely with you. If you wish to re-use a component of the articles attributed to a third party, it is your responsibility to determine whether permission is needed for that re-use and to obtain permission from the copyright owner. Examples of components can include, but are not limited to, tables, figures or images.
Any mediation relating to disputes arising under this license shall be conducted in accordance with the WIPO Mediation Rules (www.wipo.int/amc/en/mediation/rules). Any inquiries should be addressed to publications@wpro.who.int.
License to publish
Western Pacific Surveillance and Response is an open access journal and requires each author of a contribution to grant the World Health Organization (the Publisher) a non-exclusive, worldwide, royalty-free license under the terms of the Creative Commons Attribution IGO License (http://creativecommons.org/licenses/by/3.0/igo/legalcode) for the term of copyright and any extensions thereof. This includes to publish, re-publish, transmit, sell, distribute and otherwise use the article in the Journal, in whole or as a part. This is done by signing the WPSAR License to publish form.
Disclaimer
The designations employed and the presentation of the information on this website do not imply the expression of any opinion whatsoever on the part of the World Health Organization concerning the legal status of any country, territory, city or area or of its authorities, or concerning the delimitation of its frontiers or boundaries.
The mention of specific companies or of certain manufacturers' products does not imply that they are endorsed or recommended by the World Health Organization in preference to others of a similar nature that are not mentioned. Errors and omissions excepted, the names of proprietary products are distinguished by initial capital letters.
Links to third-party websites
The World Health Organization does not warrant that the information contained on the website is complete and correct and shall not be liable whatsoever for any damages incurred as a result of its use.