Use of movement restrictions during an outbreak of COVID-19 in Selangor, Malaysia
Abstract
Objective: Various public health and social measures have been used during the COVID-19 outbreak, including lockdowns, contact-tracing, isolation and quarantine. The objective of this manuscript is to describe outbreaks of COVID-19 in Selangor, Malaysia, the public health strategies used and the observed impact of the measures on the epidemic curve.
Methods: Information on all confirmed COVID-19 cases in Selangor between 25 January and 28 April 2020 was obtained. Clusters were identified, and cases were disaggregated into linked, unlinked and imported cases. Epidemic curves were constructed, and the timing of movement control orders was compared with the numbers of cases reported.
Results: During the study period, 1395 confirmed COVID-19 cases were reported to the Selangor Health Department, of which 15.8% were imported, 79.5% were linked and 4.7% were unlinked cases. For two main clusters, the number of cases decreased after control measures were instituted, by contact-tracing followed by isolation and home quarantine for the first cluster (n = 126), and with the addition of the movement control order for the second, much larger cluster (n = 559).
Discussion: The findings suggest that appropriate, timely public health interventions and movement control measures have a synergistic effect on controlling COVID-19 outbreaks.
References
(WHO) WHO. Novel Coronavirus (2019-nCoV) Situation Report -1. 2020 21 January 2020. Report No.
Xu Z, Shi L, Wang Y, Zhang J, Huang L, Zhang C, et al. Pathological findings of COVID-19 associated with acute respiratory distress syndrome. The Lancet Respiratory medicine. 2020;8(4):420-2.
(WHO) WHO. World Health Organization; 2020 [cited 2020 22 April]. Available from: https://www.who.int/news-room/q-a-detail/q-a-coronavirus.
Li Q, Guan X, Wu P, Wang X, Zhou L, Tong Y, et al. Early Transmission Dynamics in Wuhan, China, of Novel Coronavirus-Infected Pneumonia. 2020;382(13):1199-207.
Linton NM, Kobayashi T, Yang Y, Hayashi K, Akhmetzhanov AR. Incubation Period and Other Epidemiological Characteristics of 2019 Novel Coronavirus Infections with Right Truncation: A Statistical Analysis of Publicly Available Case Data. 2020;9(2).
ACAPS. COVID-19: Governments Measures 2020 [cited 2020 3 June]. Available from: https://www.acaps.org/special-report/covid-19-government-measures.
Tobías A. Evaluation of the lockdowns for the SARS-CoV-2 epidemic in Italy and Spain after one month follow up. The Science of the total environment. 2020;725:138539.
Roy S. COVID-19 pandemic: Impact of lockdown, contact and non-contact transmissions on infection dynamics. medRxiv. 2020:2020.04.04.20050328.
Keeling MJ, Hollingsworth TD, Read JM. The Efficacy of Contact Tracing for the Containment of the 2019 Novel Coronavirus (COVID-19). medRxiv. 020:2020.02.14.20023036.
Furukawa NW, Brooks JT, Sobel J. Evidence Supporting Transmission of Severe Acute Respiratory Syndrome Coronavirus 2 While Presymptomatic or Asymptomatic. Emerging infectious diseases. 2020;26(7).
Quilty BJ, Clifford S, Flasche S, Eggo RM. Effectiveness of airport screening at detecting travellers infected with novel coronavirus (2019-nCoV). Euro surveillance : bulletin Europeen sur les maladies transmissibles = European communicable disease bulletin. 2020;25(5).
Nishiura H, Kamiya K. Fever screening during the influenza (H1N1-2009) pandemic at Narita International Airport, Japan. BMC infectious diseases. 2011;11:111.
Figueiredo A, Codina A, Marculino de Figueiredo DC, Saez M, León A. Impact of lockdown on COVID-19 incidence and mortality in China: an interrupted time series study2020.
Salim N, Chan WH, Mansor S, Bazin NEN, Amaran S, Mohd Faudzi AA, et al. COVID-19 epidemic in Malaysia: Impact of lock-down on infection dynamics. medRxiv. 2020:2020.04.08.20057463.
Flanders S, Nungsari M, Chuah HY. The COVID-19 Hardship Survey: An Evaluation of the Prihatin Rakyat Economic Stimulus Package2020.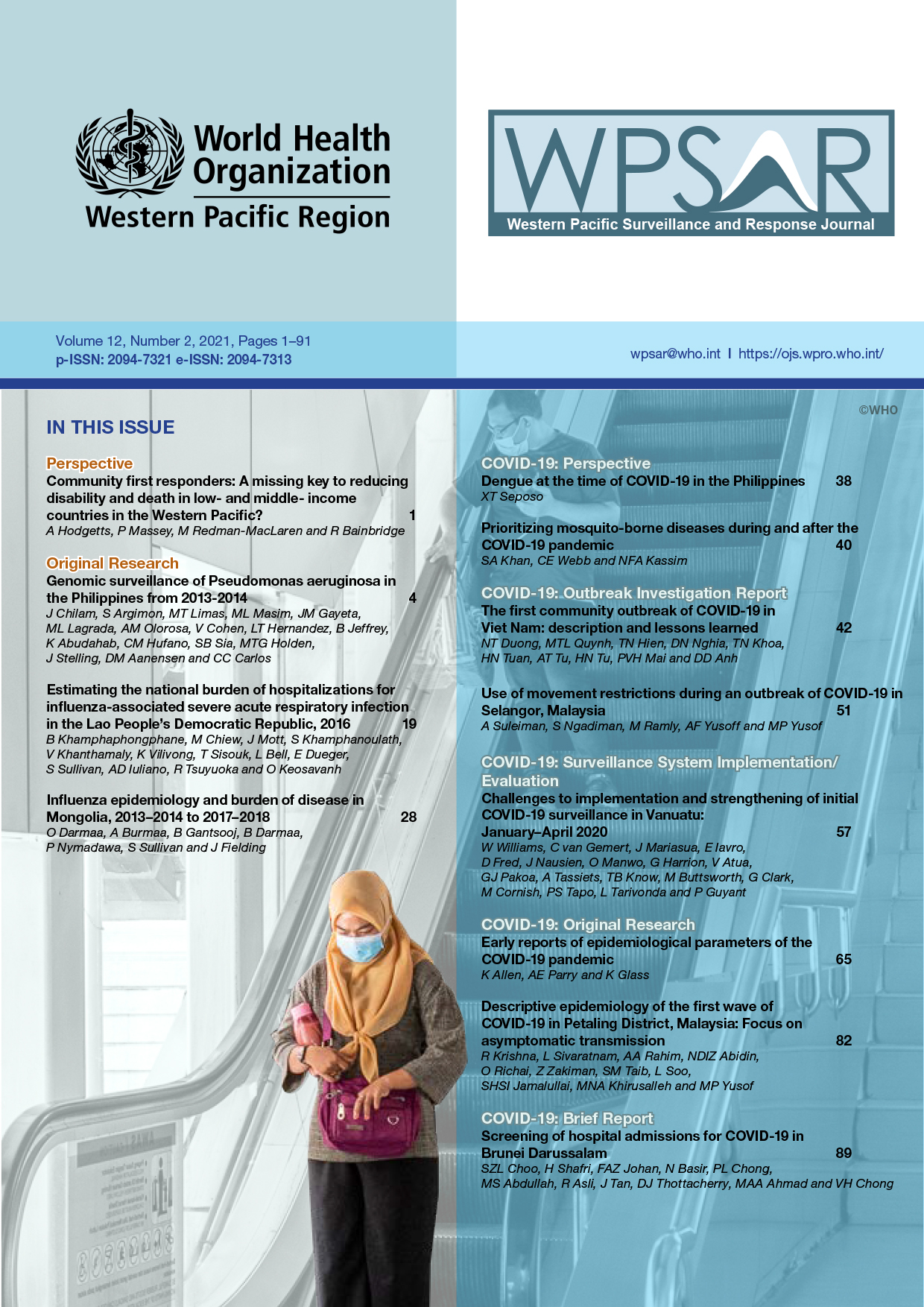 Downloads
Section
COVID-19: Outbreak Investigation Report
License
© World Health Organization (WHO) 2018. Some rights reserved.
The articles in this publication are published by the World Health Organization and contain contributions by individual authors. The articles are available under the Creative Commons Attribution 3.0 IGO license (CC BY 3.0 IGO http://creativecommons.org/licenses/by/3.0/igo/legalcode), which permits unrestricted use, distribution and reproduction in any medium, provided the original work is properly cited. In any use of these articles, there should be no suggestion that WHO endorses any specific organization, products or services. The use of the WHO logo is not permitted.
Attribution
Please cite the articles as follows: [Author names]. [Article title]. Western Pac Surveill Response J. [Year]; [Volume] ([Issue]). [doi number] [pmid number]
For example, Hoy D, Saketa ST, Maraka RR, Sio A, Wanyeki I, Frison P, et al. Enhanced syndromic surveillance for mass gatherings in the Pacific: a case study of the 11th Festival of Pacific Arts in Solomon Islands, 2012. Western Pac Surveill Response J. 2016;7:3. doi:10.5365/wpsar.2016.7.1.004 pmid:27766181
License: Creative Commons BY 3.0 IGO
The World Health Organization does not necessarily own each component of the content contained within these articles and does not therefore warrant that the use of any third-party-owned individual component or part contained in the articles will not infringe on the rights of those third parties. The risk of claims resulting from such infringement rests solely with you. If you wish to re-use a component of the articles attributed to a third party, it is your responsibility to determine whether permission is needed for that re-use and to obtain permission from the copyright owner. Examples of components can include, but are not limited to, tables, figures or images.
Any mediation relating to disputes arising under this license shall be conducted in accordance with the WIPO Mediation Rules (www.wipo.int/amc/en/mediation/rules). Any inquiries should be addressed to publications@wpro.who.int.
License to publish
Western Pacific Surveillance and Response is an open access journal and requires each author of a contribution to grant the World Health Organization (the Publisher) a non-exclusive, worldwide, royalty-free license under the terms of the Creative Commons Attribution IGO License (http://creativecommons.org/licenses/by/3.0/igo/legalcode) for the term of copyright and any extensions thereof. This includes to publish, re-publish, transmit, sell, distribute and otherwise use the article in the Journal, in whole or as a part. This is done by signing the WPSAR License to publish form.
Disclaimer
The designations employed and the presentation of the information on this website do not imply the expression of any opinion whatsoever on the part of the World Health Organization concerning the legal status of any country, territory, city or area or of its authorities, or concerning the delimitation of its frontiers or boundaries.
The mention of specific companies or of certain manufacturers' products does not imply that they are endorsed or recommended by the World Health Organization in preference to others of a similar nature that are not mentioned. Errors and omissions excepted, the names of proprietary products are distinguished by initial capital letters.
Links to third-party websites
The World Health Organization does not warrant that the information contained on the website is complete and correct and shall not be liable whatsoever for any damages incurred as a result of its use.