A superspreading event involving a cluster of 14 coronavirus disease 2019 (COVID-19) infections from a family gathering in Hong Kong SAR (China)
Abstract
Objective: An outbreak of coronavirus disease 2019 (COVID-19) caused by severe acute respiratory syndrome coronavirus 2 (SARS-CoV-2) was first reported in Wuhan, China, in December 2019, with subsequent spread around the world. Hong Kong Special Administrative Region SAR (China) recorded its first confirmed cases on 23 January 2020. In this report, we describe a family cluster of 12 confirmed cases, with two additional confirmed cases from secondary transmission.
Methods: We reported the epidemiological, clinical and laboratory findings of the family cluster, as well as the public health measures instituted.
Results: All 12 confirmed COVID-19 cases were among the 19 attendees of a three-hour Chinese New Year family dinner consisting of hotpot and barbecue dishes. Environmental sampling of the gathering venue was negative. Two additional confirmed cases, who were co-workers of two confirmed cases, were later identified, indicating secondary transmission. Contact tracing, quarantine and environmental disinfection were instituted to contain further spread.
Discussion: Our findings were highly suggestive of a superspreading event during the family gathering. The source was likely one of the cases during the pre-symptomatic phase. The event attested to the high infectivity of SARS-CoV-2 through human-to-human transmission from social activities and argued for the necessity of social distancing in curtailing the disease spread.
References
Gorbalenya AE, Baker SC, Baric RS, et al. Severe acute respiratory syndrome-related coronavirus: the species and its viruses—a statement of the Coronavirus Study Group. bioRxiv. 2020; (published online Feb 11. DOI: 2020.02.07.937862 (preprint).)
Chan JF, Yuan S, Kok KH, To KK, Chu H, Yang J, et al. A familial cluster of pneumonia associated with the 2019 novel coronavirus indicating person-to-person transmission: a study of a family cluster. Lancet. 2020 Feb 15;395(10223):514-523. doi: 10.1016/S0140-6736(20)30154-9. Epub 2020 Jan 24.
Tuite AR, Fisman DN. Reporting, Epidemic Growth, and Reproduction Numbers for the 2019 Novel Coronavirus (2019-nCoV) Epidemic. Annals of Internal Medicine. 2020 Feb 5. doi: 10.7326/M20-0358.
Wu JT, Leung K, Leung GM. Nowcasting and forecasting the potential domestic and international spread of the 2019-nCoV outbreak originating in Wuhan, China: a modelling study. Lancet. 2020 Jan 31. pii: S0140-6736(20)30260-9. doi: 10.1016/S0140-6736(20)30260-9.
World Health Organization. Q&A on infection prevention and control for health care workers caring for patients with suspected or confirmed 2019-nCoV. 16 February 2020. Available from: https://www.who.int/news-room/q-a-detail/q-a-on-infection-prevention-and-control-for-health-care-workers-caring-for-patients-with-suspected-or-confirmed-2019-ncov
Pao J. Hotpot diners 'caught Wuhan virus via droplets, not aerosols'. Asia Times. 2020 February 10. Available from: https://asiatimes.com/2020/02/hotpot-diners-caught-wuhan-virus-via-droplets-not-aerosols
Rothe C, Schunk M, Sothmann P. Transmission of 2019-nCoV Infection from an Asymptomatic Contact in Germany. The New England Journal of Medicine. 2020 Jan 30. doi: 10.1056/NEJMc2001468.
Backer JA, Klinkenberg D, Wallinga J. Incubation period of 2019 novel coronavirus (2019-nCoV) infections among travellers from Wuhan, China, 20–28 January 2020. Euro Surveillance. 2020 Feb;25(5). doi: 10.2807/1560-7917.ES.2020.25.5.2000062.
Ahmed F, Zviedrite N, Uzicanin A. Effectiveness of workplace social distancing measures in reducing influenza transmission: a systematic review. BMC Public Health. 2018 Apr 18;18(1):518. doi: 10.1186/s12889-018-5446-1.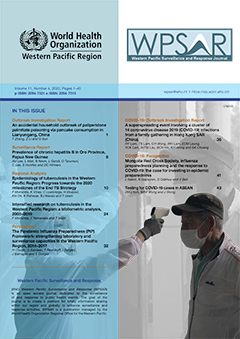 Downloads
Section
COVID-19: Outbreak Investigation Report
License
© World Health Organization (WHO) 2018. Some rights reserved.
The articles in this publication are published by the World Health Organization and contain contributions by individual authors. The articles are available under the Creative Commons Attribution 3.0 IGO license (CC BY 3.0 IGO http://creativecommons.org/licenses/by/3.0/igo/legalcode), which permits unrestricted use, distribution and reproduction in any medium, provided the original work is properly cited. In any use of these articles, there should be no suggestion that WHO endorses any specific organization, products or services. The use of the WHO logo is not permitted.
Attribution
Please cite the articles as follows: [Author names]. [Article title]. Western Pac Surveill Response J. [Year]; [Volume] ([Issue]). [doi number] [pmid number]
For example, Hoy D, Saketa ST, Maraka RR, Sio A, Wanyeki I, Frison P, et al. Enhanced syndromic surveillance for mass gatherings in the Pacific: a case study of the 11th Festival of Pacific Arts in Solomon Islands, 2012. Western Pac Surveill Response J. 2016;7:3. doi:10.5365/wpsar.2016.7.1.004 pmid:27766181
License: Creative Commons BY 3.0 IGO
The World Health Organization does not necessarily own each component of the content contained within these articles and does not therefore warrant that the use of any third-party-owned individual component or part contained in the articles will not infringe on the rights of those third parties. The risk of claims resulting from such infringement rests solely with you. If you wish to re-use a component of the articles attributed to a third party, it is your responsibility to determine whether permission is needed for that re-use and to obtain permission from the copyright owner. Examples of components can include, but are not limited to, tables, figures or images.
Any mediation relating to disputes arising under this license shall be conducted in accordance with the WIPO Mediation Rules (www.wipo.int/amc/en/mediation/rules). Any inquiries should be addressed to publications@wpro.who.int.
License to publish
Western Pacific Surveillance and Response is an open access journal and requires each author of a contribution to grant the World Health Organization (the Publisher) a non-exclusive, worldwide, royalty-free license under the terms of the Creative Commons Attribution IGO License (http://creativecommons.org/licenses/by/3.0/igo/legalcode) for the term of copyright and any extensions thereof. This includes to publish, re-publish, transmit, sell, distribute and otherwise use the article in the Journal, in whole or as a part. This is done by signing the WPSAR License to publish form.
Disclaimer
The designations employed and the presentation of the information on this website do not imply the expression of any opinion whatsoever on the part of the World Health Organization concerning the legal status of any country, territory, city or area or of its authorities, or concerning the delimitation of its frontiers or boundaries.
The mention of specific companies or of certain manufacturers' products does not imply that they are endorsed or recommended by the World Health Organization in preference to others of a similar nature that are not mentioned. Errors and omissions excepted, the names of proprietary products are distinguished by initial capital letters.
Links to third-party websites
The World Health Organization does not warrant that the information contained on the website is complete and correct and shall not be liable whatsoever for any damages incurred as a result of its use.