Investigation and control of a measles outbreak at the Hong Kong Special Administrative Region International Airport, 2019
Abstract
Introduction: Hong Kong Special Administrative Region SAR (China) achieved measles elimination status in 2016, and the incidence of measles infection had been low over the past few years. However, the Centre for Health Protection (CHP) at the Department of Health was notified on 22 March 2019 of an outbreak of three cases of measles infection among workers at the Hong Kong Special Administrative Region International Airport (HKIA).
Methods: We reviewed notifications of measles received by CHP from 1 January to 17 May 2019. We defined a confirmed case of measles as having laboratory evidence of measles infection. All confirmed cases among airport workers or those with epidemiological information suggesting they had been infected by contact with airport workers were included in the review. We described the epidemiological features and reviewed the control measures against the outbreak.
Results: We identified 33 cases, 29 of which were among airport workers. They comprised 22 men and 11 women, aged 20–49 years (median 25 years). The majority of people with confirmed measles presented with fever and rash. All required hospitalization. None developed complications. Control measures, including enhanced environmental hygiene and improved ventilation at HKIA and vaccinations for the airport community, were implemented. Vaccinations were provided to 8501 eligible airport workers, and the outbreak was declared over on 17 May 2019.
Discussion: Early recognition of the outbreak and prompt control measures, especially targeted vaccination of the exposed population, effectively controlled the outbreak in just two weeks.
References
Nishiura Hiroshi, Mizumoto Kenji, Asai, Yusuke. Assessing the transmission dynamics of measles in Japan, 2016. Epidemics. 2017; 20:67-72.
https://www.ncbi.nlm.nih.gov/pubmed/28359662
Shimizu K, Kinoshita R, Yoshii K, et al. An investigation of a measles outbreak in Japan and China, Taiwan, China, March-May 2018. Western Pac Surveill Response J. 2018;9(3):25–31.
https://www.ncbi.nlm.nih.gov/pmc/articles/PMC6194226/
Measles transmission. Centre for Disease Control and Prevention.
https://www.cdc.gov/measles/about/transmission.html
Mizumoto K, Kobayashi T, Chowell G. Transmission potential of modified measles during an outbreak, Japan, March‒May 2018. Euro surveillance. 2018; 23(24).
https://www.eurosurveillance.org/content/10.2807/1560-7917.ES.2018.23.24.1800239
WHO Position Paper on measles (April 2017). World Health Organization.
http://origin.who.int/immunization/policy/position_papers/measles/en/
Mossong J, Muller CP. Modeling measles re-emergence as a result of waning of immunity in vaccinated populations. Vaccine. 2003;21(31):4597-603. https://www.ncbi.nlm.nih.gov/pubmed/14575773
Bitzegeio Julia, Majowicz Shannon, Matysiak-Klose Dorothea, Sagebiel Daniel,
Werber Dirk. Estimating age-specific vaccine effectiveness using data from a large
measles outbreak in Berlin, Germany, 2014/15: evidence for waning immunity. Euro
Surveill. 2019;24(17)
https://doi.org/10.2807/1560-7917.ES.2019.24.17.1800529
https://www.eurosurveillance.org/content/10.2807/1560-7917.ES.2019.24.17.1800529
Chen CJ, Lee PI, Hsieh YC, Chen PY, Ho YH, Chang CJ, et al. Waning population immunity to measles in Taiwan. Vaccine. 2012;30(47):6721-7
https://www.sciencedirect.com/science/article/pii/S0264410X12007207?via%3Dihub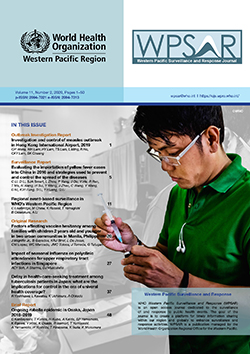 Downloads
How to Cite
1.
Wong CH, Chuang SK, Lam WH, Lam HY, Lam TS, Ho LMR, Leung YH, Lam CKY. Investigation and control of a measles outbreak at the Hong Kong Special Administrative Region International Airport, 2019. Western Pac Surveill Response J [Internet]. 2020 Jun. 29 [cited 2023 May 30];11(2). Available from: https://ojs.wpro.who.int/ojs/index.php/wpsar/article/view/693
Section
Outbreak Investigation Report