Investigation and control of a measles outbreak at the Hong Kong Special Administrative Region International Airport, 2019
Abstract
Introduction: Hong Kong Special Administrative Region SAR (China) achieved measles elimination status in 2016, and the incidence of measles infection had been low over the past few years. However, the Centre for Health Protection (CHP) at the Department of Health was notified on 22 March 2019 of an outbreak of three cases of measles infection among workers at the Hong Kong Special Administrative Region International Airport (HKIA).
Methods: We reviewed notifications of measles received by CHP from 1 January to 17 May 2019. We defined a confirmed case of measles as having laboratory evidence of measles infection. All confirmed cases among airport workers or those with epidemiological information suggesting they had been infected by contact with airport workers were included in the review. We described the epidemiological features and reviewed the control measures against the outbreak.
Results: We identified 33 cases, 29 of which were among airport workers. They comprised 22 men and 11 women, aged 20–49 years (median 25 years). The majority of people with confirmed measles presented with fever and rash. All required hospitalization. None developed complications. Control measures, including enhanced environmental hygiene and improved ventilation at HKIA and vaccinations for the airport community, were implemented. Vaccinations were provided to 8501 eligible airport workers, and the outbreak was declared over on 17 May 2019.
Discussion: Early recognition of the outbreak and prompt control measures, especially targeted vaccination of the exposed population, effectively controlled the outbreak in just two weeks.
References
Nishiura Hiroshi, Mizumoto Kenji, Asai, Yusuke. Assessing the transmission dynamics of measles in Japan, 2016. Epidemics. 2017; 20:67-72.
https://www.ncbi.nlm.nih.gov/pubmed/28359662
Shimizu K, Kinoshita R, Yoshii K, et al. An investigation of a measles outbreak in Japan and China, Taiwan, China, March-May 2018. Western Pac Surveill Response J. 2018;9(3):25–31.
https://www.ncbi.nlm.nih.gov/pmc/articles/PMC6194226/
Measles transmission. Centre for Disease Control and Prevention.
https://www.cdc.gov/measles/about/transmission.html
Mizumoto K, Kobayashi T, Chowell G. Transmission potential of modified measles during an outbreak, Japan, March‒May 2018. Euro surveillance. 2018; 23(24).
https://www.eurosurveillance.org/content/10.2807/1560-7917.ES.2018.23.24.1800239
WHO Position Paper on measles (April 2017). World Health Organization.
http://origin.who.int/immunization/policy/position_papers/measles/en/
Mossong J, Muller CP. Modeling measles re-emergence as a result of waning of immunity in vaccinated populations. Vaccine. 2003;21(31):4597-603. https://www.ncbi.nlm.nih.gov/pubmed/14575773
Bitzegeio Julia, Majowicz Shannon, Matysiak-Klose Dorothea, Sagebiel Daniel,
Werber Dirk. Estimating age-specific vaccine effectiveness using data from a large
measles outbreak in Berlin, Germany, 2014/15: evidence for waning immunity. Euro
Surveill. 2019;24(17)
https://doi.org/10.2807/1560-7917.ES.2019.24.17.1800529
https://www.eurosurveillance.org/content/10.2807/1560-7917.ES.2019.24.17.1800529
Chen CJ, Lee PI, Hsieh YC, Chen PY, Ho YH, Chang CJ, et al. Waning population immunity to measles in Taiwan. Vaccine. 2012;30(47):6721-7
https://www.sciencedirect.com/science/article/pii/S0264410X12007207?via%3Dihub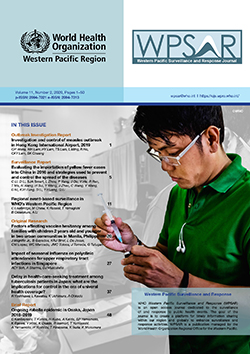 Downloads
Section
Outbreak Investigation Report
License
© World Health Organization (WHO) 2018. Some rights reserved.
The articles in this publication are published by the World Health Organization and contain contributions by individual authors. The articles are available under the Creative Commons Attribution 3.0 IGO license (CC BY 3.0 IGO http://creativecommons.org/licenses/by/3.0/igo/legalcode), which permits unrestricted use, distribution and reproduction in any medium, provided the original work is properly cited. In any use of these articles, there should be no suggestion that WHO endorses any specific organization, products or services. The use of the WHO logo is not permitted.
Attribution
Please cite the articles as follows: [Author names]. [Article title]. Western Pac Surveill Response J. [Year]; [Volume] ([Issue]). [doi number] [pmid number]
For example, Hoy D, Saketa ST, Maraka RR, Sio A, Wanyeki I, Frison P, et al. Enhanced syndromic surveillance for mass gatherings in the Pacific: a case study of the 11th Festival of Pacific Arts in Solomon Islands, 2012. Western Pac Surveill Response J. 2016;7:3. doi:10.5365/wpsar.2016.7.1.004 pmid:27766181
License: Creative Commons BY 3.0 IGO
The World Health Organization does not necessarily own each component of the content contained within these articles and does not therefore warrant that the use of any third-party-owned individual component or part contained in the articles will not infringe on the rights of those third parties. The risk of claims resulting from such infringement rests solely with you. If you wish to re-use a component of the articles attributed to a third party, it is your responsibility to determine whether permission is needed for that re-use and to obtain permission from the copyright owner. Examples of components can include, but are not limited to, tables, figures or images.
Any mediation relating to disputes arising under this license shall be conducted in accordance with the WIPO Mediation Rules (www.wipo.int/amc/en/mediation/rules). Any inquiries should be addressed to publications@wpro.who.int.
License to publish
Western Pacific Surveillance and Response is an open access journal and requires each author of a contribution to grant the World Health Organization (the Publisher) a non-exclusive, worldwide, royalty-free license under the terms of the Creative Commons Attribution IGO License (http://creativecommons.org/licenses/by/3.0/igo/legalcode) for the term of copyright and any extensions thereof. This includes to publish, re-publish, transmit, sell, distribute and otherwise use the article in the Journal, in whole or as a part. This is done by signing the WPSAR License to publish form.
Disclaimer
The designations employed and the presentation of the information on this website do not imply the expression of any opinion whatsoever on the part of the World Health Organization concerning the legal status of any country, territory, city or area or of its authorities, or concerning the delimitation of its frontiers or boundaries.
The mention of specific companies or of certain manufacturers' products does not imply that they are endorsed or recommended by the World Health Organization in preference to others of a similar nature that are not mentioned. Errors and omissions excepted, the names of proprietary products are distinguished by initial capital letters.
Links to third-party websites
The World Health Organization does not warrant that the information contained on the website is complete and correct and shall not be liable whatsoever for any damages incurred as a result of its use.