Field epidemiology training programmes in the Asia-Pacific: what is best practice for supervision?
Abstract
Introduction: Field epidemiology training programmes (FETPs) emphasize competency-based training and learning by doing. Supervision of FETP trainees is critical for programmes to achieve learning outcomes. We sought to address a knowledge gap regarding what constitutes effective FETP supervision.
Methods: We investigated FETP supervision using a mixed-methods approach. Quantitative data were collected through a survey of FETP directors. Qualitative data included written feedback from the survey and a focus group discussion (FGD) conducted with FETP supervisors at the 8th South-East Asia and Western Pacific Bi-regional TEPHINET Conference. FGD questions focused on effective supervisory qualities and activities and challenges to effective supervision. We calculated descriptive statistics for quantitative data and analysed qualitative data using a deductive content analysis approach.
Results: Eleven FETP directors responded to the survey and 23 participated in the FGD. Overall, supervision was seen as very important for trainee outcomes. Participants identified the different roles of academic and field supervisors but emphasized the importance of an enabling and supporting attitude towards trainees. Soft skills and interpersonal abilities were among the most important qualities identified for effective supervision. Key challenges identified included a lack of consistency in supervisors' technical knowledge and the difficulty of finding candidate supervisors with sufficient interest, availability and motivation for supervision.
Discussion: Several practical recommendations arose from this study for supervision in FETPs, including recruiting and training supervisors with a more holistic range of skills. Our findings also provide key points for current FETP supervisors to consider to improve their own practice.
References
Gregg MB. Field epidemiology. Second ed: Oxford University Press, USA; 2002.
World Health Organization. International Health Regulations (2005): IHR monitoring and evaluation framework. World Health Organization; 2018.
United States Centers for Disease Control and Prevention. Field Epidemiology Training Program Development Handbook. Georgia, United States of America; 2006.
Thacker SB, Dannenberg AL, Hamilton DH. Epidemic intelligence service of the Centers for Disease Control and Prevention: 50 years of training and service in applied epidemiology. American Journal of Epidemiology. 2001;154(11):985-92.
Training Programs in Epidemiology and Public Health Inteventions Network (TEPHINET). Welcome to TEPHINET 2018 [Available from: http://www.tephinet.org/].
Ethiopia Field Epidemiology Training Program. Manual for Field Supervisors and Mentors. Addis Ababa, Ethiopia; 2012.
Davila EP, Suleiman Z, Mghamba J, Rolle I, Ahluwalia I, Mmbuji P, et al. Non-communicable disease training for public health workers in low-and middle-income countries: lessons learned from a pilot training in Tanzania. International health. 2014;7(5):339-47.
World Health Organization Regional Office for the Western Pacific. Third Workshop on Field Epidemiology Training Programmes: Opportunities to Strengthen International Collaboration. Manila, Philippines; 2012.
Kilminster S, Cottrell D, Grant J, Jolly B. AMEE Guide No. 27: Effective educational and clinical supervision. Medical teacher. 2007;29(1):2-19.
Kilminster S, Jolly B, Vleuten Cvd. A framework for effective training for supervisors. Medical teacher. 2002;24(4):385-9.
Tynjälä P. Perspectives into learning at the workplace. Educational research review. 2008;3(2):130-54.
Liamputtong P, Ezzy D. Qualitative research methods: Oxford university press Melbourne; 2005.
Kilminster S, Jolly B. Effective supervision in clinical practice settings: a literature review. Medical education. 2000;34(10):827-40.
Lee AM. Developing effective supervisors: Concepts of research supervision. South African Journal of Higher Education. 2007;21(4):680-93.
Lee A, Dennis C, Campbell P. Nature's guide for mentors. Nature. 2007;447(7146):791.
Training Programs in Epidemiology and Public Health Interventions Network (TEPHINET). Accreditation of FETPs Minimum Indicators and Standards. 2018.
Kirkpatrick DL. Evaluating training programs: Evidence vs. proof. Training Dev J. 1977.
Soliman AS, Chamberlain RM. Short-and Long-Term Outcomes of Student Field Research Experiences in Special Populations. Journal of Cancer Education. 2016;31(2):328-37.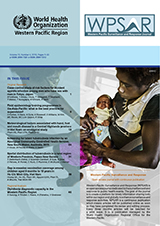 Downloads
How to Cite
Forbes, O., Davis, S., Dyda, A., Rosewell, A., Williams, S., Kirk, M., Roces, M. C., Lim-Quizon, M. C., & Viney, K. (2019). Field epidemiology training programmes in the Asia-Pacific: what is best practice for supervision?. Western Pacific Surveillance and Response, 10(4). https://doi.org/10.5365/wpsar.2019.10.1.007
Section
Original Research
License
© World Health Organization (WHO) 2022. Some rights reserved.
The articles in this publication are published by the World Health Organization and contain contributions by individual authors. The articles are available under the Creative Commons Attribution 3.0 IGO license (CC BY 3.0 IGO http://creativecommons.org/licenses/by/3.0/igo/legalcode), which permits unrestricted use, distribution and reproduction in any medium, provided the original work is properly cited. In any use of these articles, there should be no suggestion that WHO endorses any specific organization, products or services. The use of the WHO logo is not permitted.
Attribution
The World Health Organization does not necessarily own each component of the content contained within these articles and does not therefore warrant that the use of any third-party-owned individual component or part contained in the articles will not infringe on the rights of those third parties. The risk of claims resulting from such infringement rests solely with you. If you wish to re-use a component of the articles attributed to a third party, it is your responsibility to determine whether permission is needed for that re-use and to obtain permission from the copyright owner. Examples of components can include, but are not limited to, tables, figures or images.
Any mediation relating to disputes arising under this license shall be conducted in accordance with the WIPO Mediation Rules (www.wipo.int/amc/en/mediation/rules). Any inquiries should be addressed to publications@wpro.who.int.
License to publish
Western Pacific Surveillance and Response is an open access journal and requires each author of a contribution to grant the World Health Organization (the Publisher) a non-exclusive, worldwide, royalty-free license under the terms of the Creative Commons Attribution IGO License (http://creativecommons.org/licenses/by/3.0/igo/legalcode) for the term of copyright and any extensions thereof. This includes to publish, re-publish, transmit, sell, distribute and otherwise use the article in the Journal, in whole or as a part. This is done by signing the WPSAR License to publish form.
Disclaimer
The designations employed and the presentation of the information on this website do not imply the expression of any opinion whatsoever on the part of the World Health Organization concerning the legal status of any country, territory, city or area or of its authorities, or concerning the delimitation of its frontiers or boundaries.
The mention of specific companies or of certain manufacturers' products does not imply that they are endorsed or recommended by the World Health Organization in preference to others of a similar nature that are not mentioned. Errors and omissions excepted, the names of proprietary products are distinguished by initial capital letters.
Links to third-party websites
The World Health Organization does not warrant that the information contained on the website is complete and correct and shall not be liable whatsoever for any damages incurred as a result of its use.