Vibrio parahaemolyticus enteritis outbreak following a wedding banquet in a rural village – Kampong Speu, Cambodia, April 2012
Abstract
Introduction: Foodborne outbreaks are common in Cambodia, but only a few investigations documenting the etiology and source have been conducted. In April, we learnt of 49 acute diarrhoea cases in a village following a wedding banquet. We undertook an investigation to identify the pathogen, source and mode of transmission.

Methods: We interviewed banquet hosts and food handlers to obtain the menu and guest list. Guests were asked about signs and symptoms and onset of illness, time of meal and food or drinks consumed. Rectal swabs were taken from 13 cases for culture. A case-control study was undertaken; cases were guests who had acute diarrhoea within three days after the wedding and controls were guests who remained well during the same time period.

Results: There were 256 guests. Of 69 interviewees, 52 got sick (attack rate 75%). Aside from diarrhoea, cases had abdominal pain (94%), vomiting (48%), nausea (42%) and fever (25%). Incubation periods ranged from seven to 51 hours (median 16.5). Rectal swabs from three cases grew Vibrio parahaemolyticus. Among the food and drinks served, vegetable salad with raw octopus was the only one associated with illness (odds ratio: 6.6, 95% confidence interval: 1.3–36.1, P = 0.01).

Discussion: Vegetable salad with raw octopus was the suspected vehicle for transmission of this Vibrio parahaemolyticus enteritis outbreak. Messages regarding the risks from eating raw seafood were disseminated, and food handlers were advised to cook seafood to high temperatures. Efforts to improve foodborne disease surveillance and food safety are being undertaken.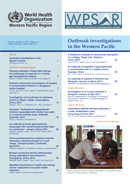 Downloads
How to Cite
1.
Vandy S, Leakhann S, Phalmony H, Denny J, Roces MC. Vibrio parahaemolyticus enteritis outbreak following a wedding banquet in a rural village – Kampong Speu, Cambodia, April 2012. Western Pac Surveill Response J [Internet]. 2013 May 30 [cited 2023 Sep. 22];3(4). Available from: https://ojs.wpro.who.int/ojs/index.php/wpsar/article/view/170
Section
Outbreak investigations in the Western Pacific - Outbreak Investigation Report