An enterohaemorrhagic Escherichia coli outbreak spread through the environment at an institute for people with intellectual disabilities in Japan in 2005
Abstract
Objective: An enterohaemorrhagic Escherichia coli (EHEC) outbreak at an institute with multiple facilities for children and adults with intellectual disabilities was investigated to characterize the cases and identify risk factors for infection.
Methods: A case was defined as a resident, a staff member or a visitor at the institute from 16 May through 30 June 2005 testing positive for type 2 Vero toxin-producing EHEC O157:H7 (confirmed case) or exhibiting bloody diarrhoea for two or more days (probable case). We collected and analysed demographic, clinical, laboratory and individual behaviour data to identify possible risk factors for infection and infection routes.
Results: We recorded 58 confirmed cases, of which 13 were symptomatic. One probable case was also found. The median age of the patients was 37 years (range: 6–59 years). Thirty-six patients (61%) were male. Thirteen patients (93%) had diarrhoea and six (43%) had abdominal pain. Two developed haemolytic-uraemic syndrome but recovered. All the patients were treated with antibiotics and tested negative after treatment. Some residents had problems with personal hygiene. The residents of one of the facilities who cleaned a particular restroom had 18.0 times higher odds of being infected with EHEC (95% confidence interval: 4.0–102.4) than those who did not.
Discussion: The source of the outbreak could not be identified; however, the infection may have spread through environmental sources contaminated with EHEC. We recommend that institutional settings, particularly those that accommodate people with intellectual disabilities, clean restrooms as often as possible to reduce possible infection from contact with infected surfaces.
References
Riley LW, et al. Hemorrhagic colitis associated with a rare Escherichia coli serotype. N Engl J Med 1983;308: 681-5.
Bell BP, et al. A multistate outbreak of Escherichia coli O157:H7-associated bloody diarrhea and hemolytic uremic syndrome from hamburgers. The Washington experience. JAMA 1994; 272: 1349-1353.
Bruneau A et al. Outbreak of E. coli O157:H7 associated with bathing at a public beach in the Montréal-center region. Can Commun Dis Rep 2004; 30: 133-136.
Carter AO, et al. A severe outbreak of Escherichia Coli O157:H7-associated hemorrhagic colitis in a nursing home. N Engl J Med 1987; 317:1496-500.
Centers for Disease Control and Prevention, Outbreaks of Escherichia coli O157:H7 associated with petting zoos—North Carolina, Florida, and Arizona, 2004 and 2005. MMWR Morb Mortal Wkly Rep 2005; 54: 1277-1280.
Muto T, et al. Outbreaks of enterohemorrhagic Escherichia coli O157 infections among children with animal contact at a dairy farm in Yokohama City, Japan. Jpn J Infect Dis 2008, 61:161–162. pmid:18362413
Varma JK, et al. An outbreak of Escherichia coli O157 infection following exposure to a contaminated building. JAMA, 2003; 290:2709-2712.
Michino H, et. al. Massive outbreak of Escherichia coli O157:H7 infection in schoolchildren in Sakai City, Japan associated with consumption of white radish sprouts. Am J Epidemiol, 1999; 150: 787-96.
Terajima J, et al. High genomic diversity of enterohemorrhagic Escherichia coli isolates in Japan and its applicability for the detection of diffuse outbreak. Jpn J Infect Dis 2002, 55:19–22. pmid:11971157
Tuttle J, et al. Lessons from a large outbreak of Escherichia coli O157:H7 infections: insights into the infectious dose and method of widespread contamination of hamburger patties. Epidemiol Infect 1999;122: 185-192.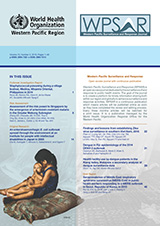 Downloads
How to Cite
Ota, M., Kamigaki, T., Mimura, S., Nakashima, K., & Ogami, T. (2019). An enterohaemorrhagic Escherichia coli outbreak spread through the environment at an institute for people with intellectual disabilities in Japan in 2005. Western Pacific Surveillance and Response, 10(2). https://doi.org/10.5365/wpsar.2017.8.4.010
Section
Original Research
License
© World Health Organization (WHO) 2022. Some rights reserved.
The articles in this publication are published by the World Health Organization and contain contributions by individual authors. The articles are available under the Creative Commons Attribution 3.0 IGO license (CC BY 3.0 IGO http://creativecommons.org/licenses/by/3.0/igo/legalcode), which permits unrestricted use, distribution and reproduction in any medium, provided the original work is properly cited. In any use of these articles, there should be no suggestion that WHO endorses any specific organization, products or services. The use of the WHO logo is not permitted.
Attribution
The World Health Organization does not necessarily own each component of the content contained within these articles and does not therefore warrant that the use of any third-party-owned individual component or part contained in the articles will not infringe on the rights of those third parties. The risk of claims resulting from such infringement rests solely with you. If you wish to re-use a component of the articles attributed to a third party, it is your responsibility to determine whether permission is needed for that re-use and to obtain permission from the copyright owner. Examples of components can include, but are not limited to, tables, figures or images.
Any mediation relating to disputes arising under this license shall be conducted in accordance with the WIPO Mediation Rules (www.wipo.int/amc/en/mediation/rules). Any inquiries should be addressed to publications@wpro.who.int.
License to publish
Western Pacific Surveillance and Response is an open access journal and requires each author of a contribution to grant the World Health Organization (the Publisher) a non-exclusive, worldwide, royalty-free license under the terms of the Creative Commons Attribution IGO License (http://creativecommons.org/licenses/by/3.0/igo/legalcode) for the term of copyright and any extensions thereof. This includes to publish, re-publish, transmit, sell, distribute and otherwise use the article in the Journal, in whole or as a part. This is done by signing the WPSAR License to publish form.
Disclaimer
The designations employed and the presentation of the information on this website do not imply the expression of any opinion whatsoever on the part of the World Health Organization concerning the legal status of any country, territory, city or area or of its authorities, or concerning the delimitation of its frontiers or boundaries.
The mention of specific companies or of certain manufacturers' products does not imply that they are endorsed or recommended by the World Health Organization in preference to others of a similar nature that are not mentioned. Errors and omissions excepted, the names of proprietary products are distinguished by initial capital letters.
Links to third-party websites
The World Health Organization does not warrant that the information contained on the website is complete and correct and shall not be liable whatsoever for any damages incurred as a result of its use.