Increasing syphilis notifications in Mongolia: results from national surveillance for 2001–2011
Abstract
Background: In Western Pacific Region countries, sexually transmitted infections (STI) rates vary but are considered high. In Mongolia, syphilis incidence has increased between 2001 and 2011; therefore, the objective of this study was to describe the epidemiology of syphilis in Mongolia to provide evidence for prevention and control activities.

Methods: A retrospective analysis of syphilis was conducted using STI data from the passive surveillance system. This included demographic and clinical information and laboratory test results. In addition, a test for the trend of syphilis notification rates over time was conducted.

Results: Syphilis notification rates increased by twofold from 71 per 100 000 in 2001 to 152 per 100 000 in 2011 (P < 0.006), and there were significant differences observed between the capital city and the province rates over time (P = 0.011). Generally, notification rates among females were significantly higher than males (P < 0.001) except that male rates increased to 185 per 100 000, higher than female rates of 179 per 100 000 in 2009. The increase of notifications of latent syphilis for males (P < 0.009) and females (P < 0.006) was significant.

Discussion: This is the first analysis of the overall situation of syphilis in Mongolia, and although the years with the largest number of cases corresponded to large-scale screening programmes, we observed a significant increase in syphilis notification rates over time. These results will be useful for evidence-based prevention and control activities such as awareness campaigns for young adults.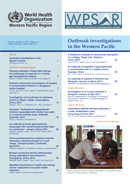 Downloads
How to Cite
1.
Baigalmaa J, Erdenechimeg C, Narantuya J, Bulbul A, Tugsjargal J, Dolgion E, Soyolmaa E, Enkhtuya M, Jugderjav B, Otgonsukh S. Increasing syphilis notifications in Mongolia: results from national surveillance for 2001–2011. Western Pac Surveill Response J [Internet]. 2013 May 30 [cited 2023 Sep. 22];3(4). Available from: https://ojs.wpro.who.int/ojs/index.php/wpsar/article/view/183
Section
Other topic - Surveillance Report