Investigation of a mumps outbreak in Mongolia, January to April 2011
Abstract
Introduction: The Gurvantes district in Omnogovi Province reported a suspected mumps outbreak to the Mongolia Ministry of Health in March 2011. An outbreak investigation team was established to verify the diagnosis and to determine the magnitude of the outbreak.

Methods: The descriptive study comprised retrospective investigation of local hospital medical records and surveillance data, and interviews with school teachers, doctors, probable cases and their close contacts. The World Health Organization standard case definition was used to define mumps cases. Clinical specimens were collected for laboratory confirmation.

Results: There were 153 cases, none under two years of age, with the five- to 14-years-old age group having the highest rates. There was no difference by sex (P = 0.12). A single index case appeared to be the source of the outbreak, and there were four outbreak waves. Of the 129 cases with information on epidemiological links, 94 (72.3%) were linked to other cases at a kindergarten or school, 17 (13%) were from secondary spread of family members, two (1.5%) were from secondary spread of other relatives, and 16 had no established links. Eight cases (5.2%) were confirmed through laboratory investigation.

Conclusion: This was the first high-magnitude mumps outbreak since the introduction of the measles-mumps-rubella vaccine in Mongolia in September 2009. There were no cases among vaccinated children; cases were seen among older children and adults not eligible for the vaccine. This suggests that immunity to mumps is still low in Mongolia. Future outbreaks may occur among this unvaccinated population.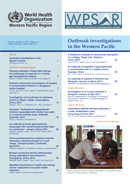 Downloads
How to Cite
1.
Munkhjargal I, Selenge J, Ambaselmaa A, Tuul R, Delgermaa P, Amarzaya S, Baigalmaa J, Byambajav B, Luo D. Investigation of a mumps outbreak in Mongolia, January to April 2011. Western Pac Surveill Response J [Internet]. 2013 May 30 [cited 2023 Dec. 7];3(4). Available from: https://ojs.wpro.who.int/ojs/index.php/wpsar/article/view/176
Section
Outbreak investigations in the Western Pacific - Outbreak Investigation Report