Epidemiological survey to establish thresholds for influenza among children in satellite cities of Tokyo, Japan, 2014–2018
Influenza survey of children near Tokyo, Japan, 2014–2018
Keywords:
epidemiologic surveillance, Japan, child health, influenza, health surveys
Abstract
Objective: We described the characteristics of children reported as having influenza across five consecutive influenza seasons and investigated the usefulness of setting influenza thresholds in two satellite cities of Tokyo, Japan.
Methods: An annual survey was conducted among parents of children at preschools (kindergartens and nursery schools), elementary schools and junior high schools in Toda and Warabi cities, Saitama prefecture, at the end of the 2014–2018 influenza seasons. Using the World Health Organization method, we established seasonal, high and alert thresholds.
Results: There were 64 586 children included in the analysis. Over the five seasons, between 19.1% and 22% of children annually were reported as having tested positive for influenza. Influenza type A was reported as the dominant type, although type B was also reported in more than 40% of cases in the 2015 and 2017 seasons. The median period of the seasonal peak was 3 weeks in mid-January, regardless of school level. Of the five surveyed seasons, the high threshold was reached in 2014 and 2018, with no season exceeding the alert threshold.
Discussion: This study provides insights into the circulation of influenza in children in the study areas of Toda and Warabi, Japan, from 2014 to 2018. Although we were able to utilize these annual surveys to calculate influenza thresholds from five consecutive seasons, the prospective usefulness of these thresholds is limited as the survey is conducted at the end of the influenza season.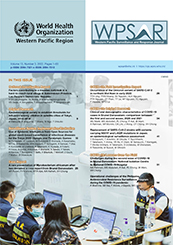 Downloads
Additional Files
How to Cite
1.
Matsuda A, Asayama K, Obara T, Yagi N, Ohkubo T. Epidemiological survey to establish thresholds for influenza among children in satellite cities of Tokyo, Japan, 2014–2018: Influenza survey of children near Tokyo, Japan, 2014–2018. Western Pac Surveill Response J [Internet]. 2022 Aug. 25 [cited 2023 Dec. 7];13(3). Available from: https://ojs.wpro.who.int/ojs/index.php/wpsar/article/view/911
Section
Original Research