Prevalence and risk factors for human papillomavirus infection among female sex workers in Hanoi and Ho Chi Minh City, Viet Nam: a cross-sectional study
Prevalence and risk factors for HPV among FSWs in Viet Nam
Keywords:
human papillomavirus, risk factors, cervical cancer, Vietnam, sex workers
Abstract
Background: Female sex workers (FSWs) are at high risk of human papillomavirus (HPV) infections and cervical cancer due to their high number of sexual partners. The objectives of this study were to determine the prevalence of HPV and identify risk factors for high-risk HPV infection among FSWs in Hanoi and Ho Chi Minh City (HCMC), Viet Nam.
Methods: A cross-sectional study was conducted in Hanoi and HCMC between December 2017 and May 2018. We surveyed and screened 699 FSWs aged >18 years for HPV infection and abnormal cytology. A multivariable modified Cox regression model was used to determine risk factors for high-risk HPV infection.
Results: The overall prevalence of any HPV, high-risk HPV and HPV-16/18 infection in the 699 FSWs was 26.3%, 17.6% and 4.0%, respectively, and were similar in both cities. Multiple infections were identified in 127 participants (69.0%). HPV-52 was the most prevalent (7%), followed by HPV-58 (6%). Abnormal cytology was detected in 91 participants (13.0%). FSWs who are divorced (adjusted prevalence ratio [aPR]: 1.96, 95% confidence interval [CI]: 1.01–3.81), widowed (aPR: 3.26, 95% CI: 1.49–7.12) or living alone (aPR: 1.85, 95% CI: 1.01–3.39) were associated with a higher prevalence of high-risk HPV infection.
Discussion: Almost one in five FSWs in Viet Nam are infected with high-risk HPV. This highlights the importance of prevention strategies such as HPV vaccination and screening in this high-risk group.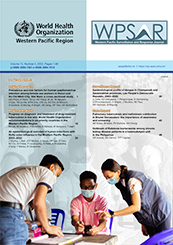 Downloads
How to Cite
1.
Pham QD, Prem K, Le TA, Trang NV, Jit M, Nguyen TA, Cao V, Le-Ha T-D, Chu MTN, Le LTK, Toh ZQ, Brisson M, Garland S, Murray G, Bright K, Dang DA, Tran HP, Mulholland EK. Prevalence and risk factors for human papillomavirus infection among female sex workers in Hanoi and Ho Chi Minh City, Viet Nam: a cross-sectional study: Prevalence and risk factors for HPV among FSWs in Viet Nam. Western Pac Surveill Response J [Internet]. 2022 Nov. 7 [cited 2023 Sep. 22];13(4):11. Available from: https://ojs.wpro.who.int/ojs/index.php/wpsar/article/view/894
Section
Original Research