Early COVID-19 response in two small island developing states: Maldives and Trinidad and Tobago
COVID-19 early response in Maldives and Trinidad and Tobago
Abstract
Problem: Coronavirus disease 2019 (COVID-19) was declared a pandemic on 11 March 2020. Severe illness requires intensive care facilities, which are limited in smaller, resource-constrained settings.
Context: Maldives and Trinidad and Tobago are small island developing states with comparable climates. Similar to island nations in the Western Pacific Region, they are prone to natural disasters and so engage in planning and preparedness activities on an ongoing basis. This paper describes the initial measures taken by both countries during the first wave of COVID-19, from March to May 2020.
Action: In both countries, multisectoral high-level leadership allowed for timely and decisive actions. Early school closures, early border closures and early lockdowns were enforced. Mandatory mask wearing and physical distancing were instituted. Cases and contacts were isolated in facilities away from public sector hospitals, and isolation was implemented at the government's expense. Volunteers were trained to manage dedicated hotlines. Additionally, the governments held daily press briefings.
Outcome: During the first wave, Maldives contained its epidemic to one geographical cluster; Trinidad and Tobago successfully avoided community spread, thus averting an overwhelmed health system.
Discussion: Diligent contact tracing with quarantine implemented at the government's expense successfully minimized spread in both countries. Small countries need volunteers to help with activities such as contact tracing, and recruiting and training volunteers before a health emergency occurs is key. Lessons learned from the experience of Maldives and Trinidad and Tobago could serve as a model for other small island developing states, including those in the Western Pacific Region.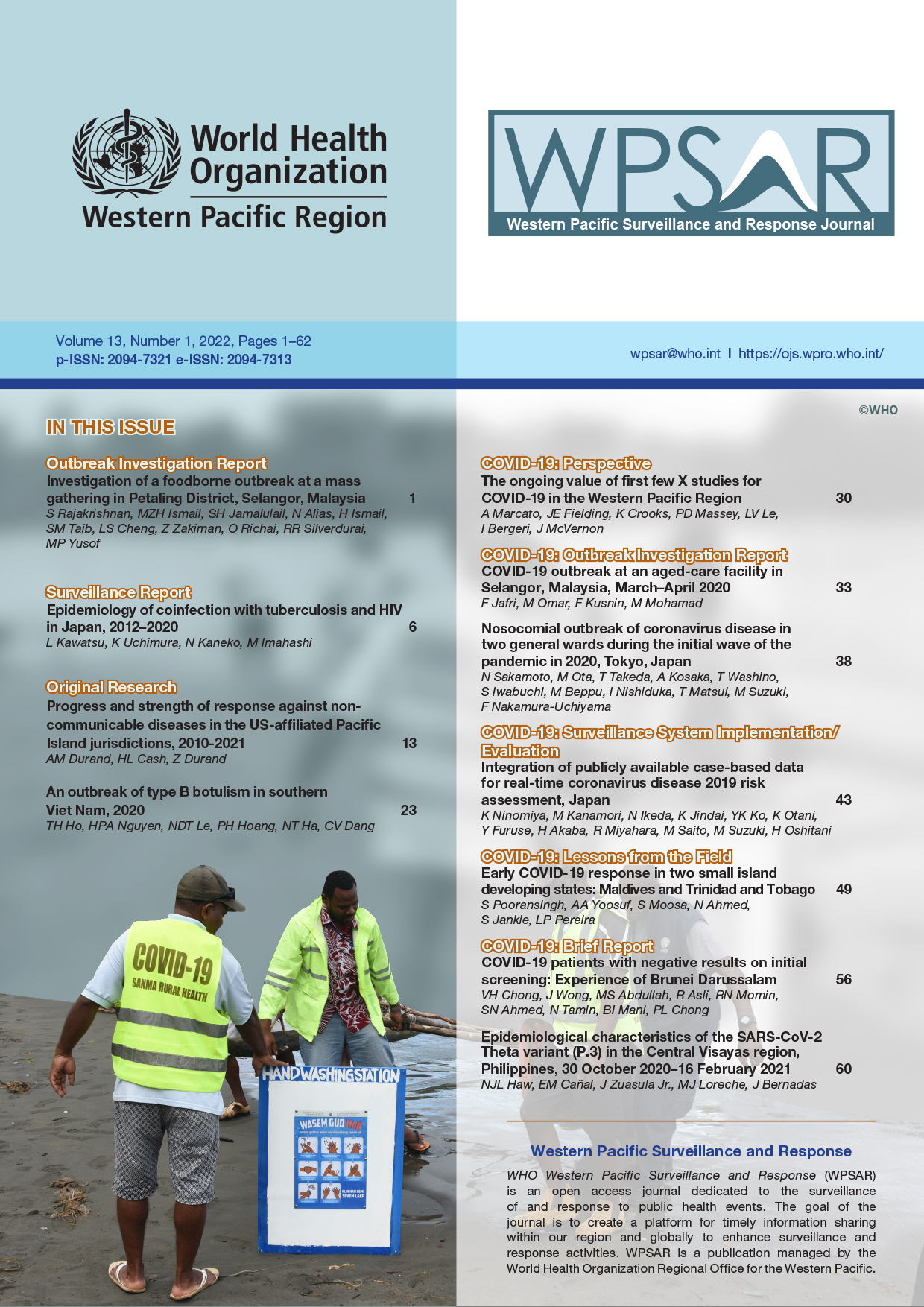 Downloads
How to Cite
1.
Pooransingh S, Yoosuf AA, Moosa S, Ahmed N, Jankie S, Pinto Pereira L. Early COVID-19 response in two small island developing states: Maldives and Trinidad and Tobago: COVID-19 early response in Maldives and Trinidad and Tobago. Western Pac Surveill Response J [Internet]. 2022 Mar. 31 [cited 2023 May 30];13(1):7. Available from: https://ojs.wpro.who.int/ojs/index.php/wpsar/article/view/885
Section
COVID-19: Lessons from the Field