Clinical characteristics and outcomes of COVID-19 patients in a tertiary hospital in Baguio City, Philippines
Abstract
Objective: Coronavirus disease 2019 (COVID-19), caused by severe acute respiratory syndrome coronavirus 2 (SARS-CoV-2), primarily targets the respiratory system. This study describes the characteristics associated with mortality among patients infected with SARS-CoV-2 at a single hospital in Baguio City, Philippines.
Methods: We reviewed medical records (including history, laboratory results and treatment regimen) of 280 confirmed COVID-19 patients admitted to a single hospital during March–October 2020. Clinical characteristics and outcomes (frequency and type of complication, recovery rate and mortality) were evaluated. Multiple logistic regression was used to analyse factors associated with mortality.
Results: The mean age of COVID-19 patients was 48.4 years and the female-to-male ratio was 1.8:1. Hypertension, cardiovascular disease (CVD) and diabetes were the most frequent comorbidities reported. Common presenting symptoms were respiratory and constitutional, with 41% of patients not reporting symptoms on admission. Patients with moderate, severe and critical disease comprised 45%, 8% and 4%, respectively. A total of 15% had complications, health care-associated pneumonia being the most frequent complication. The recovery rate was 95%; 5% of patients died, with multiorgan failure being the most common cause. The presence of CVD, chronic kidney disease, prolonged prothrombin time and elevated lactate dehydrogenase (LDH) were associated with mortality.
Discussion: Most COVID-19 patients in our population had asymptomatic to moderate disease on admission. Mortality from COVID-19 was associated with having CVD, chronic kidney disease, elevated LDH and prolonged prothrombin time. Based on these results, we emphasize that people should take all necessary precautions to avoid infection with SARS-CoV-2.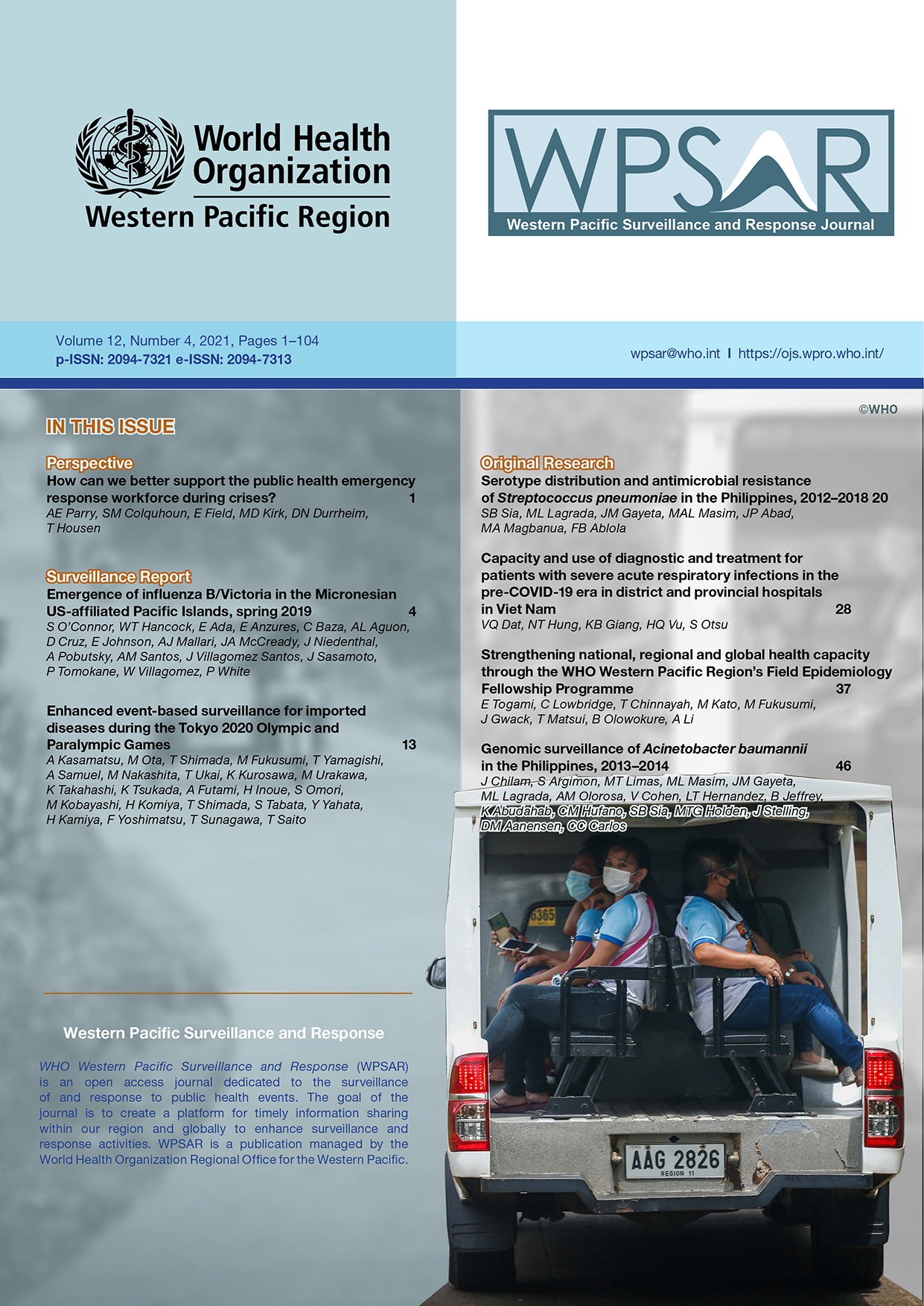 Downloads
How to Cite
Cortez, K. J. C., Demot, B. A., Bartolo, S. S., Feliciano, D. D., Ciriaco, V. M. P., Labi, I. I. E., Viray, D. D. M., Casuga, J. C. M., Camonayan-Flor, K. A. B., Gomez, P. M. A., Velasquez, M. E. N., Cajulao, T. P. T., Nigos, J. E., De Leon, M. L. F., Solimen, D. P., Go, A. G., Pizarro, F. M., Haya Jr., L. C., Aswat, R. P., Mangati, V. B., Palaganas, C. N. I., Genuino, M. N., Cutiyog-Ubando, K. M., Tadeo, K. C., Longid, M. L., Catbagan, N. B. C., Bongotan, J. B., Dominguez-Villar, B. A. T., & Dalao, J. B. (2021). Clinical characteristics and outcomes of COVID-19 patients in a tertiary hospital in Baguio City, Philippines. Western Pacific Surveillance and Response, 12(4), 11. https://doi.org/10.5365/wpsar.2021.12.4.852
Section
COVID-19: Original Research