COVID-19 outbreak at an aged-care facility in Selangor, Malaysia, March–April 2020
Abstract
Objective: Aged-care facilities are high-risk settings for coronavirus disease 2019 (COVID-19) outbreaks because residents have risk factors such as advanced age and multiple comorbidities. This report details a COVID-19 outbreak at an aged-care facility in Selangor, Malaysia during March–April 2020.
Methods: Epidemiological and environmental data were gathered via telephone interviews and field investigations. Swab samples were taken from all residents and staff for laboratory investigation. Possible contributing factors to the outbreak were explored.
Results: There were a total of 18 individuals at the institution: nine elderly residents and nine staff. The attack rate was 66.67% (6/9) among the elderly residents and 55.56% (5/9) among the staff. The most common symptoms reported were fever, cough, shortness of breath and diarrhoea. The fatality rate among COVID-19 cases was 18.18% (2/11). Both fatal cases occurred in people of advanced age (86 and 92 years old), who had comorbidities and had fever at presentation. The factors contributing to the outbreak included a delay in isolating symptomatic residents, the use of common facilities, caregivers providing support to more than one resident and a lack of natural ventilation.
Discussion: Prevention and control measures must be aggressively implemented in high-risk sites to significantly reduce the risk of morbidity and mortality during COVID-19 outbreaks. Specific guidelines should be developed detailing the management of outbreaks in institutions such as aged-care facilities.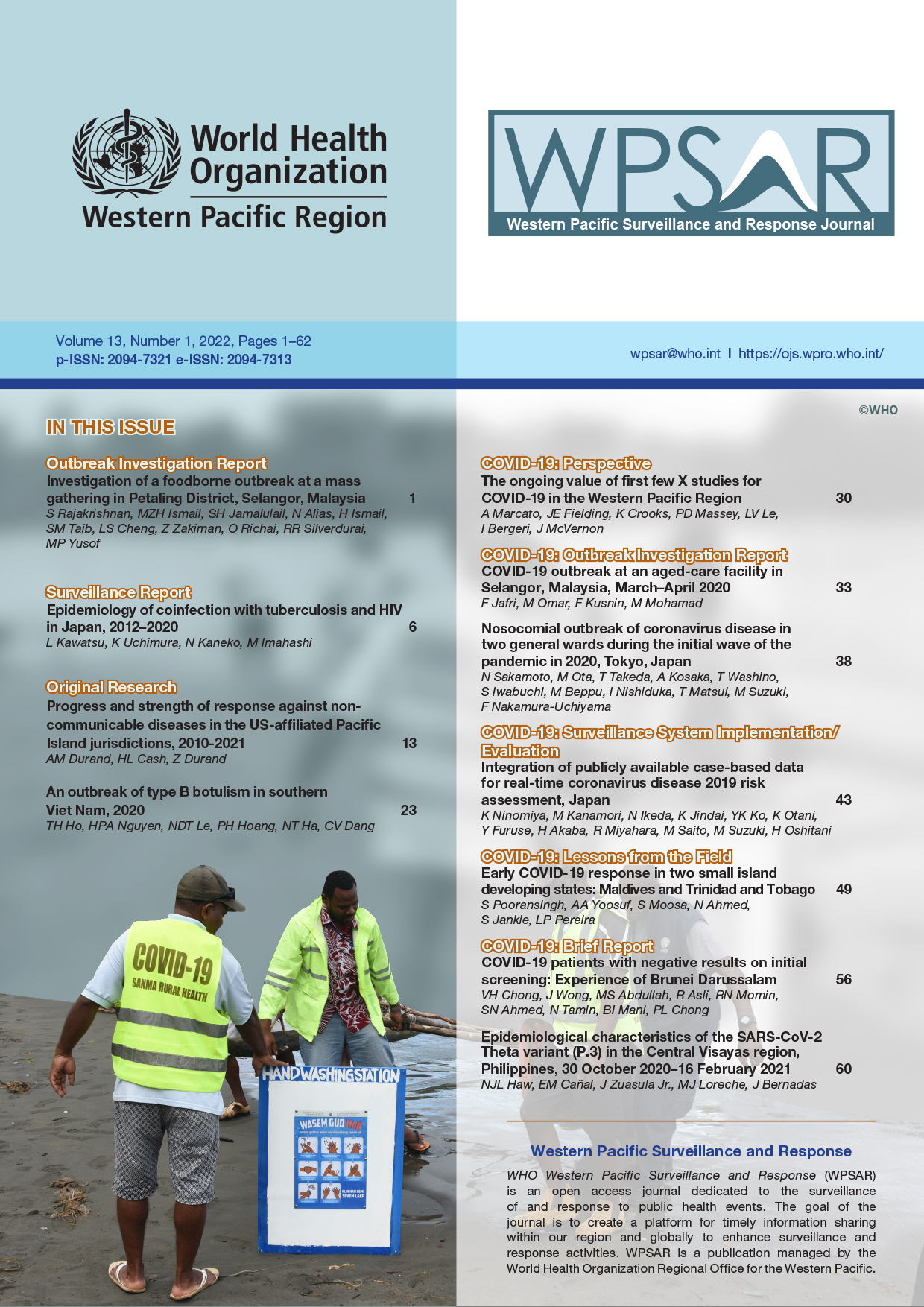 Downloads
How to Cite
1.
Jafri F, Omar M, Kusnin F, Mohamad M. COVID-19 outbreak at an aged-care facility in Selangor, Malaysia, March–April 2020. Western Pac Surveill Response J [Internet]. 2022 Jan. 25 [cited 2023 May 30];13(1):5. Available from: https://ojs.wpro.who.int/ojs/index.php/wpsar/article/view/839
Section
COVID-19: Outbreak Investigation Report