Prioritizing mosquito-borne diseases during and after the COVID-19 pandemic
References
Organization WH. Novel Coronavirus (2019-nCoV) situation reports. 2020; Available from https://www.who.int/emergencies/diseases/novel-coronavirus-2019/situation-reports.
Hoehl S, Berger A, Kortenbusch M, Cinatl J, Bojkova D, Rabenau H, et al. Evidence of SARS-CoV-2 infection in returning travelers from Wuhan, China. New England Journal of Medicine. 2020.
Cohen JM, Smith DL, Cotter C, Ward A, Yamey G, Sabot OJ, et al. Malaria resurgence: a systematic review and assessment of its causes. Malaria journal. 2012;11(1):122.
Tariq RM, Naqvi SN-H, Choudhary MI, Abbas A. Importance and implementation of essential oil of Pakistanian Acorus calamus Linn., as a biopesticide. Pak J Bot. 2010;42(3):2043-50.
Organization WH. Malaria https://www.who.int/news-room/fact-sheets/detail/malaria January 14, 2020. 2020.
Organization WH. Achieving the malaria MDG target: reversing the incidence of malaria 2000-2015: World Health Organization; 2015.
Kumar K, Pigazzini A, Stenson B. Financing for malaria elimination. San Francisco: Cambridge Economic Policy Associates and UCSF Global Health Group. 2013.
Shretta R, Avanceña AL, Hatefi A. The economics of malaria control and elimination: a systematic review. Malaria journal. 2016;15(1):593.
Gallup JL, Sachs JD. The economic burden of malaria. The American journal of tropical medicine and hygiene. 2001;64(1_suppl):85-96.
Wilson AL, Courtenay O, Kelly-Hope LA, Scott TW, Takken W, Torr SJ, et al. The importance of vector control for the control and elimination of vector-borne diseases. PLoS Neglected Tropical Diseases. 2020;14(1):e0007831.
Islam MN, ZulKifle M, Sherwani AMK, Ghosh SK, Tiwari S. Prevalence of malaria, dengue, and chikungunya significantly associated with mosquito breeding sites. The Journal of IMA. 2011;43(2):58.
Wikipedia c. 2019–2020 dengue fever epidemic. In Wikipedia, The Free EncyclopediaRetrieved April 14, 2020. 2020, April 14.
Wilder-Smith A, Ooi E-E, Horstick O, Wills B. Dengue. The Lancet. 2019;393(10169):350-63.
Organization WH. World malaria report 2019. 2019.
Anders KL, Hay SI. Lessons from malaria control to help meet the rising challenge of dengue. The Lancet Infectious Diseases. 2012;12(12):977-84.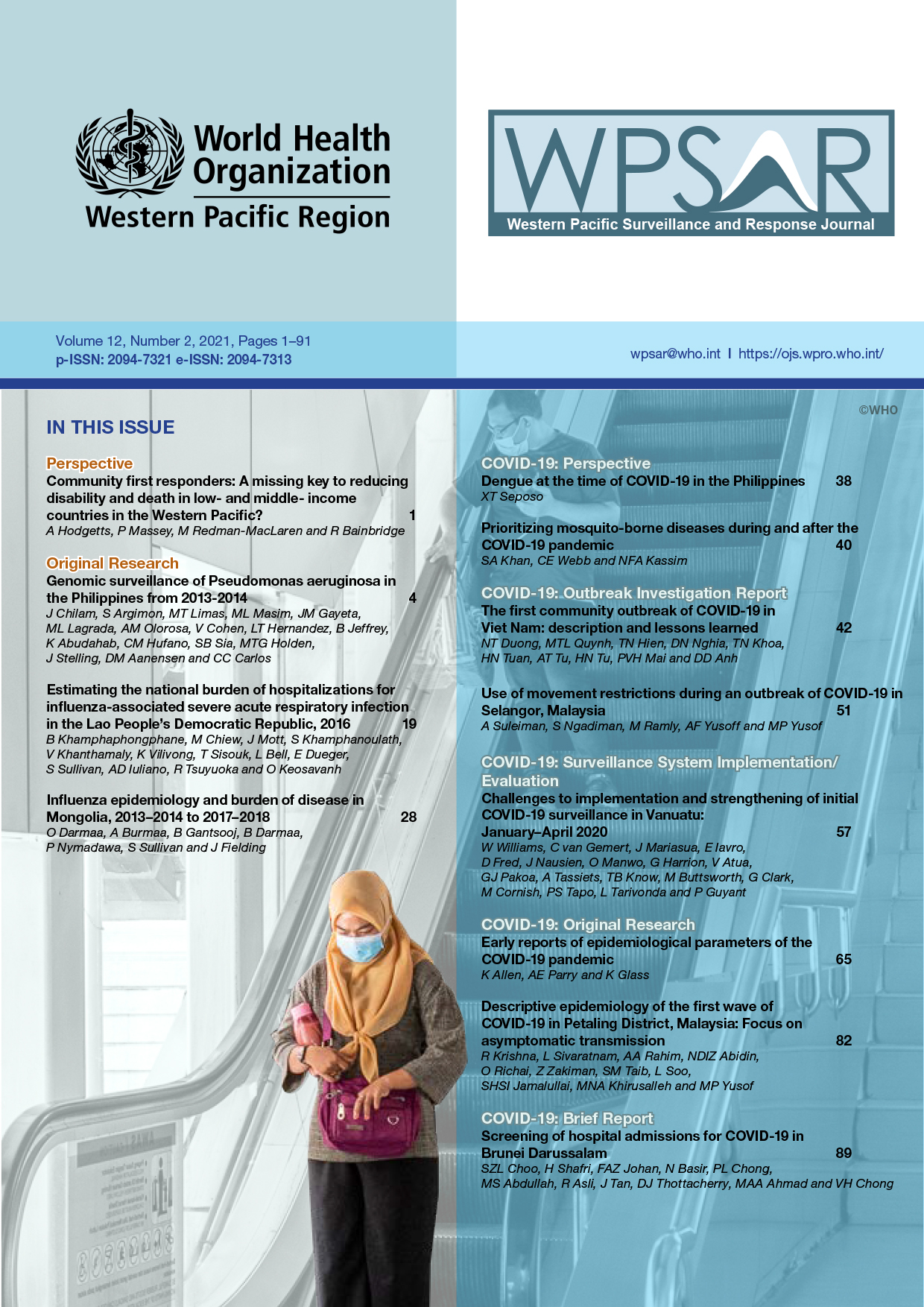 Downloads
Section
COVID-19: Perspective
License
© World Health Organization (WHO) 2018. Some rights reserved.
The articles in this publication are published by the World Health Organization and contain contributions by individual authors. The articles are available under the Creative Commons Attribution 3.0 IGO license (CC BY 3.0 IGO http://creativecommons.org/licenses/by/3.0/igo/legalcode), which permits unrestricted use, distribution and reproduction in any medium, provided the original work is properly cited. In any use of these articles, there should be no suggestion that WHO endorses any specific organization, products or services. The use of the WHO logo is not permitted.
Attribution
Please cite the articles as follows: [Author names]. [Article title]. Western Pac Surveill Response J. [Year]; [Volume] ([Issue]). [doi number] [pmid number]
For example, Hoy D, Saketa ST, Maraka RR, Sio A, Wanyeki I, Frison P, et al. Enhanced syndromic surveillance for mass gatherings in the Pacific: a case study of the 11th Festival of Pacific Arts in Solomon Islands, 2012. Western Pac Surveill Response J. 2016;7:3. doi:10.5365/wpsar.2016.7.1.004 pmid:27766181
License: Creative Commons BY 3.0 IGO
The World Health Organization does not necessarily own each component of the content contained within these articles and does not therefore warrant that the use of any third-party-owned individual component or part contained in the articles will not infringe on the rights of those third parties. The risk of claims resulting from such infringement rests solely with you. If you wish to re-use a component of the articles attributed to a third party, it is your responsibility to determine whether permission is needed for that re-use and to obtain permission from the copyright owner. Examples of components can include, but are not limited to, tables, figures or images.
Any mediation relating to disputes arising under this license shall be conducted in accordance with the WIPO Mediation Rules (www.wipo.int/amc/en/mediation/rules). Any inquiries should be addressed to publications@wpro.who.int.
License to publish
Western Pacific Surveillance and Response is an open access journal and requires each author of a contribution to grant the World Health Organization (the Publisher) a non-exclusive, worldwide, royalty-free license under the terms of the Creative Commons Attribution IGO License (http://creativecommons.org/licenses/by/3.0/igo/legalcode) for the term of copyright and any extensions thereof. This includes to publish, re-publish, transmit, sell, distribute and otherwise use the article in the Journal, in whole or as a part. This is done by signing the WPSAR License to publish form.
Disclaimer
The designations employed and the presentation of the information on this website do not imply the expression of any opinion whatsoever on the part of the World Health Organization concerning the legal status of any country, territory, city or area or of its authorities, or concerning the delimitation of its frontiers or boundaries.
The mention of specific companies or of certain manufacturers' products does not imply that they are endorsed or recommended by the World Health Organization in preference to others of a similar nature that are not mentioned. Errors and omissions excepted, the names of proprietary products are distinguished by initial capital letters.
Links to third-party websites
The World Health Organization does not warrant that the information contained on the website is complete and correct and shall not be liable whatsoever for any damages incurred as a result of its use.