Seroepidemiology of SARS-CoV-2, Yamagata, Japan, June 2020
Abstract
We conducted a seroepidemiological study in a northern Japanese prefecture where the incidence of identified COVID-19 cases was low. In June 2020, residual sera from 1009 outpatients were tested for antibody to SARS-CoV-2 by electrochemiluminescence immunoassay.  Five specimens (0.5%) tested positive, suggesting low prevalence of SARS-CoV-2 infections in this population.
References
Long QX, Tang XJ, Shi QL, Li Q, Deng HJ, Yuan J, et al. Clinical and immunological assessment of asymptomatic SARS-CoV-2 infections. Nat Med. 2020 Jun 18. doi: 10.1038/s41591-020-0965-6.
Bendavid E, Mulaney B, Sood N, Shah S, Ling E, Bromley-Dulfano R, et al. COVID-19 antibody seroprevalence in Santa Clara county, California. MedRxiv. April 30, 2020. https://doi.org/10.1101/2020.04.14.20062463
Sood N, Simon P, Ebner P, Eichner D, Reynolds J, Bendavid E, et al. Seroprevalence of SARS-CoV-2–specific antibodies among adults in Los Angeles county, California, on April 10-11, 2020. JAMA. 2020;323:2425-7.
New York State. April 27, 2020. Amid ongoing COVID-19 pandemic, Governor Cuomo announces phase II results of antibody testing study show 14.9% of population has COVID-19 antibodies. https://www.governor.ny.gov/news/amid-ongoing-covid-19-pandemic-governor-cuomo-announces-phase-ii-results-antibody-testing-study.
Havers FP, Reed C, Lim T, Montgomery JM, Klena JD, Hall AJ, et al. Seroprevalence of Antibodies to SARS-CoV-2 in 10 Sites in the United States, March 23-May 12, 2020. JAMA Intern Med 2020 July 21. Doi: 10.1001/jamainternmed.2020.4130
Pollán M, Pérez-Gómez B, Pastor-Barriuso R, Oteo J, Hernán MA, Pérez-Olmeda M, et al. Prevalence of SARS-CoV-2 in Spain (ENE-COVID): a nationwide, population-based seroepidemiological study. Lancet 2020 July 6. Doi: 10.1016/S0140-6736(20)31483-5
Stringhini S, Wisniak A, Piumatti G, Azman AS, Lauer SA, Baysson H, et al. Seroprevalence of anti-SARS-CoV-2 IgG antibodies in Geneva, Switzerland (SEROCoV-POP): a population-based study. Lancet. 2020 Jun 11. doi: 10.1016/S0140-6736(20)31304-0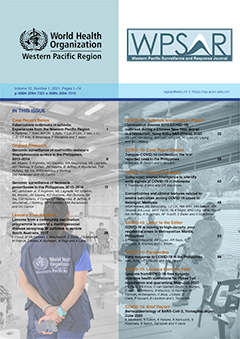 Downloads
How to Cite
1.
Morikane K, Satoh N, Hatano K, Kanouchi K, Kakehata S, Satoh S, Uyeki T, Ueno Y. Seroepidemiology of SARS-CoV-2, Yamagata, Japan, June 2020. Western Pac Surveill Response J [Internet]. 2021 Feb. 1 [cited 2023 May 30];12(1):3. Available from: https://ojs.wpro.who.int/ojs/index.php/wpsar/article/view/795
Section
COVID-19: Brief Report