Dengue at the time of COVID-19 in the Philippines
References
Yang X, Yu Y, Xu J, et al. Clinical course and outcomes of critically ill patients with SARS-CoV-2 pneumonia in Wuhan, China: a single-centered, retrospective, observational study. Lancet Respir Med 2020.
Johns Hopkins University. COVID-19 dashboard by the Center for Systems Science and Engineering (CSSE) at Johns Hopkins University (JHU). 2020. https://coronavirus.jhu.edu/map.html (accessed May 4, 2020.
UP COVID-19 Pandemic Response Team. Preparing for a Post-ECQ Scenario: Analysis and Recommendations University of the Philippines, 2020.
WHO-WPRO. Dengue Situation Updates 2019. 2019.
Wartel TA, Prayitno A, Hadinegoro SRS, et al. Three Decades of Dengue Surveillance in Five Highly Endemic South East Asian Countries:A Descriptive Review. Asia Pacific Journal of Public Health 2017; 29(1): 7-16.
Shepard DS, Undurraga EA, Halasa YA. Economic and Disease Burden of Dengue in Southeast Asia. PLOS Neglected Tropical Diseases 2013; 7(2): e2055.
Shepard DS, Undurraga EA, Halasa YA, Stanaway JD. The global economic burden of dengue: a systematic analysis. The Lancet Infectious Diseases 2016; 16(8): 935-41.
DOH. COVID-19 tracker: Philippines. 2020. https://ncovtracker.doh.gov.ph/.
Eric Lopez R, Kay MT, Christopher JG, et al. Co-infection with Dengue Virus and Pandemic (H1N1) 2009 Virus. Emerging Infectious Disease journal 2010; 16(5): 882.
Silarug N, Foy HM, Kupradinon S, Rojanasuphot S, Nisalak A, Pongsuwant Y. Epidemic of fever of unknown origin in rural Thailand, caused by influenza A (H1N1) and dengue fever. The Southeast Asian journal of tropical medicine and public health 1990; 21(1): 61-7.
Hussain R, Al-Omar I, Memish ZA. The diagnostic challenge of pandemic H1N1 2009 virus in a dengue-endemic region: A case report of combined infection in Jeddah, Kingdom of Saudi Arabia. Journal of Infection and Public Health 2012; 5(2): 199-202.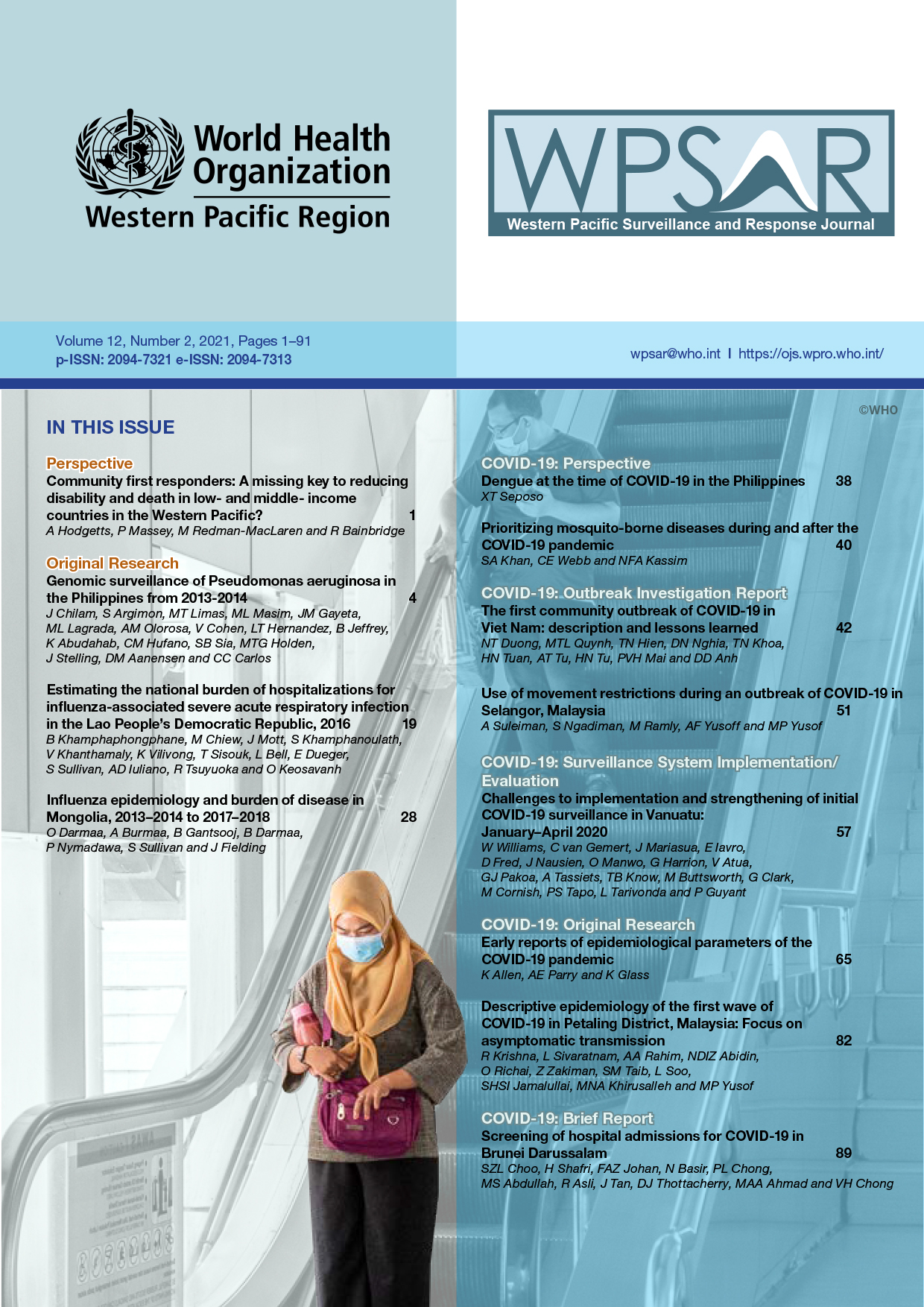 Downloads
How to Cite
1.
Seposo XT. Dengue at the time of COVID-19 in the Philippines. Western Pac Surveill Response J [Internet]. 2021 May 7 [cited 2023 May 30];12(2):2. Available from: https://ojs.wpro.who.int/ojs/index.php/wpsar/article/view/778
Section
COVID-19: Perspective