Dengue at the time of COVID-19 in the Philippines
References
Yang X, Yu Y, Xu J, et al. Clinical course and outcomes of critically ill patients with SARS-CoV-2 pneumonia in Wuhan, China: a single-centered, retrospective, observational study. Lancet Respir Med 2020.
Johns Hopkins University. COVID-19 dashboard by the Center for Systems Science and Engineering (CSSE) at Johns Hopkins University (JHU). 2020. https://coronavirus.jhu.edu/map.html (accessed May 4, 2020.
UP COVID-19 Pandemic Response Team. Preparing for a Post-ECQ Scenario: Analysis and Recommendations University of the Philippines, 2020.
WHO-WPRO. Dengue Situation Updates 2019. 2019.
Wartel TA, Prayitno A, Hadinegoro SRS, et al. Three Decades of Dengue Surveillance in Five Highly Endemic South East Asian Countries:A Descriptive Review. Asia Pacific Journal of Public Health 2017; 29(1): 7-16.
Shepard DS, Undurraga EA, Halasa YA. Economic and Disease Burden of Dengue in Southeast Asia. PLOS Neglected Tropical Diseases 2013; 7(2): e2055.
Shepard DS, Undurraga EA, Halasa YA, Stanaway JD. The global economic burden of dengue: a systematic analysis. The Lancet Infectious Diseases 2016; 16(8): 935-41.
DOH. COVID-19 tracker: Philippines. 2020. https://ncovtracker.doh.gov.ph/.
Eric Lopez R, Kay MT, Christopher JG, et al. Co-infection with Dengue Virus and Pandemic (H1N1) 2009 Virus. Emerging Infectious Disease journal 2010; 16(5): 882.
Silarug N, Foy HM, Kupradinon S, Rojanasuphot S, Nisalak A, Pongsuwant Y. Epidemic of fever of unknown origin in rural Thailand, caused by influenza A (H1N1) and dengue fever. The Southeast Asian journal of tropical medicine and public health 1990; 21(1): 61-7.
Hussain R, Al-Omar I, Memish ZA. The diagnostic challenge of pandemic H1N1 2009 virus in a dengue-endemic region: A case report of combined infection in Jeddah, Kingdom of Saudi Arabia. Journal of Infection and Public Health 2012; 5(2): 199-202.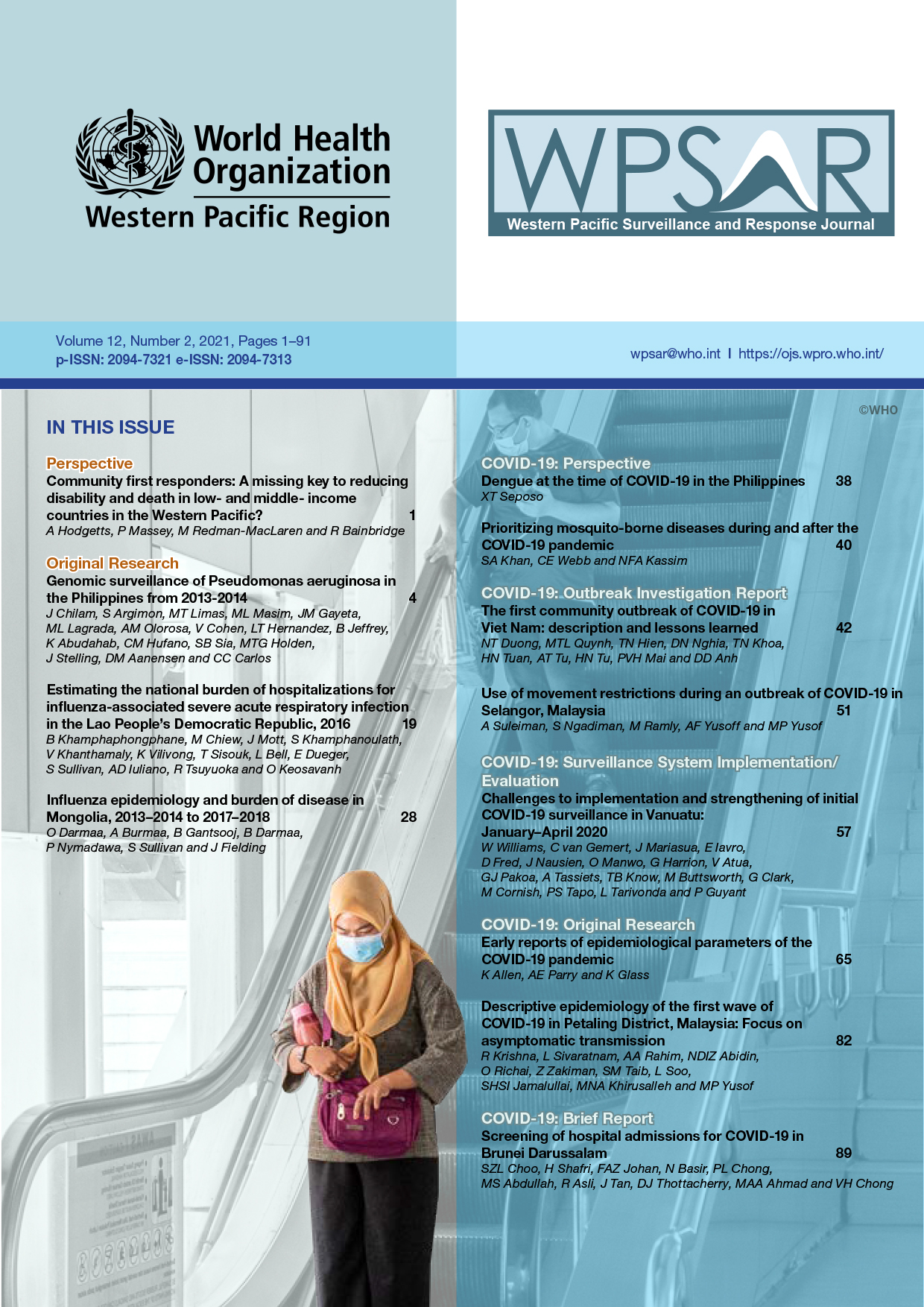 Downloads
Section
COVID-19: Perspective
License
© World Health Organization (WHO) 2018. Some rights reserved.
The articles in this publication are published by the World Health Organization and contain contributions by individual authors. The articles are available under the Creative Commons Attribution 3.0 IGO license (CC BY 3.0 IGO http://creativecommons.org/licenses/by/3.0/igo/legalcode), which permits unrestricted use, distribution and reproduction in any medium, provided the original work is properly cited. In any use of these articles, there should be no suggestion that WHO endorses any specific organization, products or services. The use of the WHO logo is not permitted.
Attribution
Please cite the articles as follows: [Author names]. [Article title]. Western Pac Surveill Response J. [Year]; [Volume] ([Issue]). [doi number] [pmid number]
For example, Hoy D, Saketa ST, Maraka RR, Sio A, Wanyeki I, Frison P, et al. Enhanced syndromic surveillance for mass gatherings in the Pacific: a case study of the 11th Festival of Pacific Arts in Solomon Islands, 2012. Western Pac Surveill Response J. 2016;7:3. doi:10.5365/wpsar.2016.7.1.004 pmid:27766181
License: Creative Commons BY 3.0 IGO
The World Health Organization does not necessarily own each component of the content contained within these articles and does not therefore warrant that the use of any third-party-owned individual component or part contained in the articles will not infringe on the rights of those third parties. The risk of claims resulting from such infringement rests solely with you. If you wish to re-use a component of the articles attributed to a third party, it is your responsibility to determine whether permission is needed for that re-use and to obtain permission from the copyright owner. Examples of components can include, but are not limited to, tables, figures or images.
Any mediation relating to disputes arising under this license shall be conducted in accordance with the WIPO Mediation Rules (www.wipo.int/amc/en/mediation/rules). Any inquiries should be addressed to publications@wpro.who.int.
License to publish
Western Pacific Surveillance and Response is an open access journal and requires each author of a contribution to grant the World Health Organization (the Publisher) a non-exclusive, worldwide, royalty-free license under the terms of the Creative Commons Attribution IGO License (http://creativecommons.org/licenses/by/3.0/igo/legalcode) for the term of copyright and any extensions thereof. This includes to publish, re-publish, transmit, sell, distribute and otherwise use the article in the Journal, in whole or as a part. This is done by signing the WPSAR License to publish form.
Disclaimer
The designations employed and the presentation of the information on this website do not imply the expression of any opinion whatsoever on the part of the World Health Organization concerning the legal status of any country, territory, city or area or of its authorities, or concerning the delimitation of its frontiers or boundaries.
The mention of specific companies or of certain manufacturers' products does not imply that they are endorsed or recommended by the World Health Organization in preference to others of a similar nature that are not mentioned. Errors and omissions excepted, the names of proprietary products are distinguished by initial capital letters.
Links to third-party websites
The World Health Organization does not warrant that the information contained on the website is complete and correct and shall not be liable whatsoever for any damages incurred as a result of its use.