Mongolia Red Cross Society, influenza preparedness planning and the response to COVID-19: the case for investing in epidemic preparedness
Abstract
Influenza preparedness planning by Mongolia Red Cross Society in 2019 has provided a strong foundation for engagement with COVID-19 preparedness and response. The experience underscores the importance and value of investing in epidemic preparedness, and the importance of doing so well in advance of disease outbreaks.
References
Iuliano AD, Roguski KM, Chang HH, et al; Global Seasonal Influenza-associated Mortality Collaborator Network. Estimates of global seasonal influenza-associated respiratory mortality: a modelling study. Lancet. 2018 Mar 31;391(10127):1285-1300. doi: 10.1016/S0140-6736(17)33293-2. Epub 2017 Dec 14.
Burmaa A, Kamigaki T, Darmaa B, Nymadawa P, Oshitani H. Epidemiology and impact of influenza in Mongolia, 2007-2012. Influenza Other Respir Viruses. 2014 Sep;8(5):530-7.
Ministry of Health Mongolia, National Center of Communicable Diseases, National Influenza Center. http://flu.mn/eng/ [accessed 10/10/19]
Global influenza strategy 2019-2030. Geneva: World Health Organization; 2019.
International Federation of Red Cross and Red Crescent Societies. Epidemic Control for Volunteers, A Training Manual. 2008.
Teasdale et al. Public perceptions of non-pharmaceutical interventions for reducing transmission of respiratory infection: systematic review and synthesis of qualitative studies. BMC Public Health 2014, 14:589
Burki T. Ebola in the Democratic Republic of the Congo: 1 year on. Lancet Infect Dis. 2019 Aug;19(8):813-814. doi: 10.1016/S1473-3099(19)30360-3. PubMed PMID: 31345457.
International Federation of Red Cross and Red Crescent Societies. 2019. From words to action: Towards a community centred approach to preparedness and response in health emergencies. Geneva, Switzerland.
Jacobsen KH. Will COVID-19 generate global preparedness? Lancet. 2020 Mar
;395(10229):1013-1014. doi: 10.1016/S0140-6736(20)30559-6. Epub 2020 Mar 18. PubMed PMID: 32199074.
International Working Group on Financing Preparedness. From Panic and Neglect to Investing in Health Security. Financing Pandemic Preparedness at a National Level. 2017. Washington, D.C. World Bank Group. http://documents.worldbank.org/curated/en/979591495652724770/pdf/115271-REVISED-FINAL-IWG-Report-3-5-18.pdf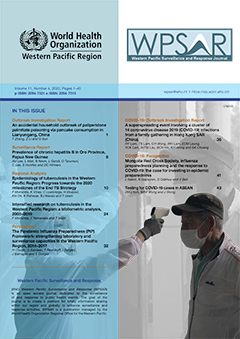 Downloads
Section
COVID-19: Perspective
License
© World Health Organization (WHO) 2018. Some rights reserved.
The articles in this publication are published by the World Health Organization and contain contributions by individual authors. The articles are available under the Creative Commons Attribution 3.0 IGO license (CC BY 3.0 IGO http://creativecommons.org/licenses/by/3.0/igo/legalcode), which permits unrestricted use, distribution and reproduction in any medium, provided the original work is properly cited. In any use of these articles, there should be no suggestion that WHO endorses any specific organization, products or services. The use of the WHO logo is not permitted.
Attribution
Please cite the articles as follows: [Author names]. [Article title]. Western Pac Surveill Response J. [Year]; [Volume] ([Issue]). [doi number] [pmid number]
For example, Hoy D, Saketa ST, Maraka RR, Sio A, Wanyeki I, Frison P, et al. Enhanced syndromic surveillance for mass gatherings in the Pacific: a case study of the 11th Festival of Pacific Arts in Solomon Islands, 2012. Western Pac Surveill Response J. 2016;7:3. doi:10.5365/wpsar.2016.7.1.004 pmid:27766181
License: Creative Commons BY 3.0 IGO
The World Health Organization does not necessarily own each component of the content contained within these articles and does not therefore warrant that the use of any third-party-owned individual component or part contained in the articles will not infringe on the rights of those third parties. The risk of claims resulting from such infringement rests solely with you. If you wish to re-use a component of the articles attributed to a third party, it is your responsibility to determine whether permission is needed for that re-use and to obtain permission from the copyright owner. Examples of components can include, but are not limited to, tables, figures or images.
Any mediation relating to disputes arising under this license shall be conducted in accordance with the WIPO Mediation Rules (www.wipo.int/amc/en/mediation/rules). Any inquiries should be addressed to publications@wpro.who.int.
License to publish
Western Pacific Surveillance and Response is an open access journal and requires each author of a contribution to grant the World Health Organization (the Publisher) a non-exclusive, worldwide, royalty-free license under the terms of the Creative Commons Attribution IGO License (http://creativecommons.org/licenses/by/3.0/igo/legalcode) for the term of copyright and any extensions thereof. This includes to publish, re-publish, transmit, sell, distribute and otherwise use the article in the Journal, in whole or as a part. This is done by signing the WPSAR License to publish form.
Disclaimer
The designations employed and the presentation of the information on this website do not imply the expression of any opinion whatsoever on the part of the World Health Organization concerning the legal status of any country, territory, city or area or of its authorities, or concerning the delimitation of its frontiers or boundaries.
The mention of specific companies or of certain manufacturers' products does not imply that they are endorsed or recommended by the World Health Organization in preference to others of a similar nature that are not mentioned. Errors and omissions excepted, the names of proprietary products are distinguished by initial capital letters.
Links to third-party websites
The World Health Organization does not warrant that the information contained on the website is complete and correct and shall not be liable whatsoever for any damages incurred as a result of its use.