Community first responders: A missing key to reducing the impact of injury and illness in low- and middle-income countries in the Western Pacific?
Abstract
This perspective article discusses the potential role community first responders could play in reducing injury and illness in low- and middle-income countries in the Western Pacific. Community first responders are reportedly making a difference in low- and middle-income countries in Asia and Africa in reducing injury and illness, and in disease surveillance and reporting. Efforts must be made to explore the appropriate and effective introduction of locally tailored community first responder programs in the Western Pacific.
References
World Health Organisation. Injuries in the Western Pacific. https://www.who.int/westernpacific/health-topics/injuries Accessed 06/03/2019
World Health Organisation. Human Resources for Health Country Profiles: Republic of Vanuatu. 2013.
World Health Organisation. WHO Country Cooperation Strategy for Vanuatu 2013-2017. 2012.
Sun JH, Wallis LA. The emergency first aid responder system model: using community members to assist life-threatening emergencies in violent, developing areas of need. Emerg Med J. 2012;29(8):673-8.
Olumide AO, Asuzu MC, Kale OO. Effect of First Aid Education on First Aid Knowledge and Skills of Commercial Drivers in South West Nigeria. Prehosp Disaster Med. 2015;30(6):579-85.
Murad MK, Issa DB, Mustafa FM, Hassan HO, Husum H. Prehospital trauma system reduces mortality in severe trauma: a controlled study of road traffic casualties in Iraq. Prehosp Disaster Med. 2012;27(1):36-41.
World Health Organisation. Global Status Report on Non Communicable Diseases 2010. 2011.
Johnson, J., Morris, S., Rutherford, D., Spencer, W. Treaty Village Resilience Program Annual Report 2016-2017. Reef and Rainforest Research Centre
Kuzma K, Lim AG, Kepha B, Nalitolela NE, Reynolds TA. The Tanzanian trauma patients' prehospital experience: a qualitative interview based study. BMJ Open. 2015;5(4):e006921.
World Health Organisation. Ebola Response: What needs to happen in 2015. http://www.who.int/csr/disease/ebola/one-year-report/response-in-2015/en/ Accessed 27/01/2019
Dickman P, Kitua A, Apfel F, Lightfoot N. Kampala manifesto: Building community-based One Health approaches to disease surveillance and Response-The Ebola Legacy-Lessons from a peer-led capacity-building initiative. PLoS Negl Trop Dis. 2018:12(4):e0006292
World Health Organisation. Sustainable Development Goals. https://www.un.org/sustainabledevelopment/development-agenda/ Accessed 27/01/2019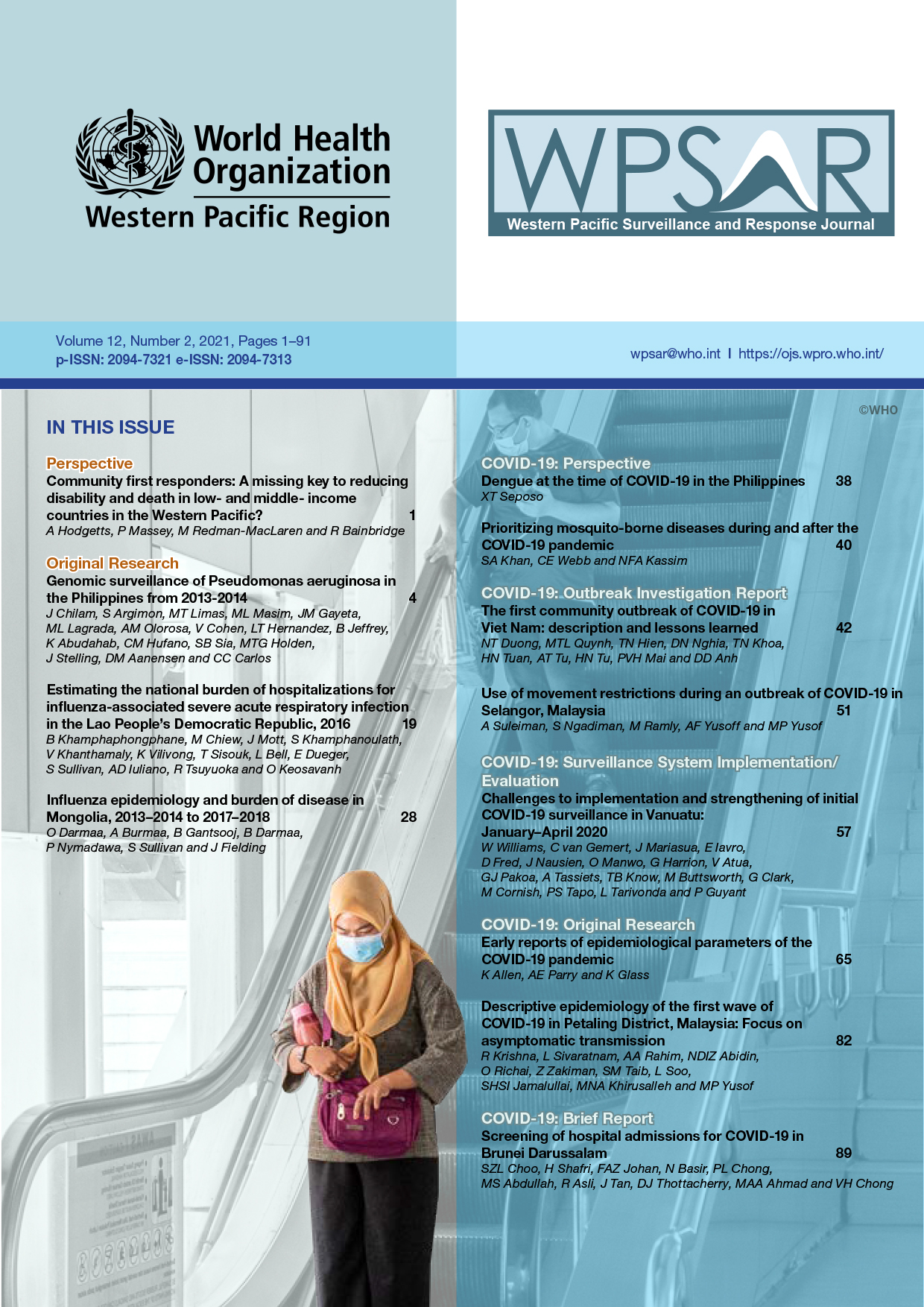 Downloads
License
© World Health Organization (WHO) 2018. Some rights reserved.
The articles in this publication are published by the World Health Organization and contain contributions by individual authors. The articles are available under the Creative Commons Attribution 3.0 IGO license (CC BY 3.0 IGO http://creativecommons.org/licenses/by/3.0/igo/legalcode), which permits unrestricted use, distribution and reproduction in any medium, provided the original work is properly cited. In any use of these articles, there should be no suggestion that WHO endorses any specific organization, products or services. The use of the WHO logo is not permitted.
Attribution
Please cite the articles as follows: [Author names]. [Article title]. Western Pac Surveill Response J. [Year]; [Volume] ([Issue]). [doi number] [pmid number]
For example, Hoy D, Saketa ST, Maraka RR, Sio A, Wanyeki I, Frison P, et al. Enhanced syndromic surveillance for mass gatherings in the Pacific: a case study of the 11th Festival of Pacific Arts in Solomon Islands, 2012. Western Pac Surveill Response J. 2016;7:3. doi:10.5365/wpsar.2016.7.1.004 pmid:27766181
License: Creative Commons BY 3.0 IGO
The World Health Organization does not necessarily own each component of the content contained within these articles and does not therefore warrant that the use of any third-party-owned individual component or part contained in the articles will not infringe on the rights of those third parties. The risk of claims resulting from such infringement rests solely with you. If you wish to re-use a component of the articles attributed to a third party, it is your responsibility to determine whether permission is needed for that re-use and to obtain permission from the copyright owner. Examples of components can include, but are not limited to, tables, figures or images.
Any mediation relating to disputes arising under this license shall be conducted in accordance with the WIPO Mediation Rules (www.wipo.int/amc/en/mediation/rules). Any inquiries should be addressed to publications@wpro.who.int.
License to publish
Western Pacific Surveillance and Response is an open access journal and requires each author of a contribution to grant the World Health Organization (the Publisher) a non-exclusive, worldwide, royalty-free license under the terms of the Creative Commons Attribution IGO License (http://creativecommons.org/licenses/by/3.0/igo/legalcode) for the term of copyright and any extensions thereof. This includes to publish, re-publish, transmit, sell, distribute and otherwise use the article in the Journal, in whole or as a part. This is done by signing the WPSAR License to publish form.
Disclaimer
The designations employed and the presentation of the information on this website do not imply the expression of any opinion whatsoever on the part of the World Health Organization concerning the legal status of any country, territory, city or area or of its authorities, or concerning the delimitation of its frontiers or boundaries.
The mention of specific companies or of certain manufacturers' products does not imply that they are endorsed or recommended by the World Health Organization in preference to others of a similar nature that are not mentioned. Errors and omissions excepted, the names of proprietary products are distinguished by initial capital letters.
Links to third-party websites
The World Health Organization does not warrant that the information contained on the website is complete and correct and shall not be liable whatsoever for any damages incurred as a result of its use.