Gap in measles vaccination coverage among children aged 9 months to 10 years in Ho Chi Minh City, Viet Nam, 2014
Abstract
Introduction: When Viet Nam launched the Expanded Programme on Immunization in 1981, it covered six vaccines, including measles. Subsequently, Viet Nam experienced a marked reduction in measles infections. A nationwide measles epidemic occurred in April 2014 and an investigation found that 86% of affected children aged 9 months to 10 years were not fully vaccinated; therefore, understanding the reasons for not vaccinating could improve vaccination coverage.
Methods: We performed a cross-sectional study to determine vaccination coverage and reasons for non-vaccination among children aged 9 months to 10 years in six districts in Ho Chi Minh City with the highest number of measles cases in 2014. Measles vaccination status of the youngest child in each household was determined and reasons for non-vaccination were investigated. A chi-squared test and multiple logistic regression were used to identify independent predictors of full vaccination.
Results: In total, 207 children were enrolled during the study period in 2014. Full measles vaccination coverage was 55% in these households, and 73% of parents were aware of the importance of measles vaccination to protect their children. We found that the father's education level (under high school versus high school and above) and the site where the survey was conducted were significantly associated with vaccination status.
Conclusion: The vaccination coverage was lower than the coverage reported by district preventive medicine centres of the seven study wards. Lack of the second vaccination was a key obstacle to eliminating the vaccination gap. A catch-up mass vaccination campaign or health promotion of measles vaccination directed towards parents should be considered to improve vaccination coverage.
References
The Regional Office for the Western Pacific WHO. Measles elimination field guide. 2013: 10-24 (http://www.wpro.who.int/immunization/documents/measles_elimination_field_guide_2013
.pdf, accessed on 20 Jul 2016)
BEAUBIEN J. National Public Radio. Measles Is A Killer: It Took 145,000 Lives Worldwide Last Year. 2015 (http://www.npr.org/2015/01/30/382716075/measles-is-a-killer-it-took-145-000-lives-worldwide-last-year, accessed on 1 Agu 2016)
Strategy JIC. Urgent supports against the outbreak of Measles in Viet Nam. 2014 (http://www.jica.go.jp/project/english/vietnam/017/news/general/140727.html, accessed on 20 Jul 2016)
Immunization VNEPf. Achievements of EPI. 2014 (www.tiemchungmorong.vn, accessed on 20 Jul 2016)
Provincial Preventive Medicine Centers DN. Preparedness for measles-rubella vaccination campaign. 2014 (http://syt.dongnai.gov.vn/Default.aspx?tabid=70&ctl=Detail&mid=443&
ArticleID=ARTICLE14100071, accessed on 20 Jul 2016)
Department of Health DN, Viet Nam. Situation of outbreaks. 2014 (http://syt.dongnai.gov.vn/Default.aspx?tabid=139&ctl=Detail&mid=599&ArticleID=ARTICLE14050040, accessed on 20 Jul 2016)
Phan TL NV, Ho VT, Phan CH, Vo NQ, Nguyen TPL, et al. Epidemiological characteristics of measles outbreak in southern part, Viet Nam, 2013-2014. Preventive Medicine Journals 2014; 3(152):19.
Johns Hopkins Bloomberg Shool of Public Health. Methods in sample surveys: cluster sampling. 2009.
Koumaré AK TD, Haidara F, Sissoko F, Traoré I, Dramé S, et al. Evaluation of immunization coverage within the Expanded Program on Immunization in Kita Circle, Mali: a cross-sectional survey. BMC International Health and Human Rights 2009; 14;9 Suppl 1:S13
Lawrence GL MC, Hull BP, McIntyre PB. Measles vaccination coverage among five-year-old children: implications for disease elimination in Australia. Aust N Z J Public Health 2003; 27(4):413-8.
Lilian Chepkemoi Maina SK, Janeth Kombich. Immunization coverage and its determinants among children aged 12 - 23 months in a peri-urban area of Kenya PanAfrican Medical Journal 2013.
L. O. OWINO GI, J. OLENJA and J. S. MEME. FACTORS INFLUENCING IMMUNISATION COVERAGE IN MATHARE VALLEY, NAIROBI. East African Medical Journal 2009; 86.
Marylène Dugas ED, Bocar Kouyaté, Aboubakary Sanou, Gilles Bibeau. Portrait of a lengthy vaccination trajectory in Burkina Faso: from cultural acceptance of vaccines to actual immunization. BMC International Health and Human Rights 2009.
Medicine GDoP. Percentage of mealse-rubella vaccination achieved over 95%. 2015 (http://vncdc.gov.vn/vi/tiem-vac-xin-soi-rubella-tre-1-14-tuoi/657/ty%CC%89-le%CC%A3-tiem-chu%CC%89ng-so%CC%89i-rubella-da%CC%A3t-tren-95, accessed on 20 Jul 2016)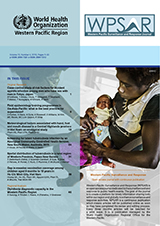 Downloads
How to Cite
Cuong, H. Q., Nguyen, H. X., Hau, P. V., Ha, N. L. K., Lan, P. T., Mounts, A., & Nguyen, T. M. N. (2019). Gap in measles vaccination coverage among children aged 9 months to 10 years in Ho Chi Minh City, Viet Nam, 2014. Western Pacific Surveillance and Response, 10(4). https://doi.org/10.5365/wpsar.2017.8.2.001
Section
Original Research
License
© World Health Organization (WHO) 2022. Some rights reserved.
The articles in this publication are published by the World Health Organization and contain contributions by individual authors. The articles are available under the Creative Commons Attribution 3.0 IGO license (CC BY 3.0 IGO http://creativecommons.org/licenses/by/3.0/igo/legalcode), which permits unrestricted use, distribution and reproduction in any medium, provided the original work is properly cited. In any use of these articles, there should be no suggestion that WHO endorses any specific organization, products or services. The use of the WHO logo is not permitted.
Attribution
The World Health Organization does not necessarily own each component of the content contained within these articles and does not therefore warrant that the use of any third-party-owned individual component or part contained in the articles will not infringe on the rights of those third parties. The risk of claims resulting from such infringement rests solely with you. If you wish to re-use a component of the articles attributed to a third party, it is your responsibility to determine whether permission is needed for that re-use and to obtain permission from the copyright owner. Examples of components can include, but are not limited to, tables, figures or images.
Any mediation relating to disputes arising under this license shall be conducted in accordance with the WIPO Mediation Rules (www.wipo.int/amc/en/mediation/rules). Any inquiries should be addressed to publications@wpro.who.int.
License to publish
Western Pacific Surveillance and Response is an open access journal and requires each author of a contribution to grant the World Health Organization (the Publisher) a non-exclusive, worldwide, royalty-free license under the terms of the Creative Commons Attribution IGO License (http://creativecommons.org/licenses/by/3.0/igo/legalcode) for the term of copyright and any extensions thereof. This includes to publish, re-publish, transmit, sell, distribute and otherwise use the article in the Journal, in whole or as a part. This is done by signing the WPSAR License to publish form.
Disclaimer
The designations employed and the presentation of the information on this website do not imply the expression of any opinion whatsoever on the part of the World Health Organization concerning the legal status of any country, territory, city or area or of its authorities, or concerning the delimitation of its frontiers or boundaries.
The mention of specific companies or of certain manufacturers' products does not imply that they are endorsed or recommended by the World Health Organization in preference to others of a similar nature that are not mentioned. Errors and omissions excepted, the names of proprietary products are distinguished by initial capital letters.
Links to third-party websites
The World Health Organization does not warrant that the information contained on the website is complete and correct and shall not be liable whatsoever for any damages incurred as a result of its use.