An outbreak of foodborne norovirus gastroenteritis linked to a restaurant in Melbourne, Australia, 2014
Abstract
Introduction: In May 2014 an outbreak of norovirus occurred among patrons of a restaurant in Melbourne, Australia. Investigations were conducted to identify the infectious agent, mode of transmission and source of illness, and to implement controls to prevent further transmission.
Methods: A retrospective case-control study was conducted to test the hypothesis that food served at the restaurant between 9 and 15 May 2014 was the vehicle for infection. A structured questionnaire was used to collect demographic, illness and food exposure data from study participants. To ascertain whether any food handlers had experienced gastroenteritis symptoms and were a possible source of infection, investigators contacted and interviewed staff who had worked at the restaurant between 9 and 16 May 2014.
Results: Forty-six cases (including 16 laboratory-confirmed cases of norovirus) and 49 controls were interviewed and enrolled in the study. Results of the analysis revealed a statistically significant association with illness and consumption of grain salad (OR: 21.6, 95% CI: 1.8–252.7, P = 0.015) and beetroot dip (OR: 22.4, 95% CI: 1.9–267.0, P = 0.014). An interviewed staff member who reported an onset of acute gastrointestinal illness on 12 May 2014 had prepared salads on the day of onset and the previous two days.
Discussion: The outbreak was likely caused by person-to-food-to-person transmission. The outbreak emphasizes the importance of the exclusion of symptomatic food handlers and strict hand hygiene practices in the food service industry to prevent contamination of ready-to-eat foods and the kitchen environment.
References
Ahmed SM, Hall AJ, Robinson AE, Verhoef L, Premkumar P, Parashar UD, et al. Global prevalence of norovirus in cases of gastroenteritis: a systematic review and meta-analysis. Lancet Infect Dis. 2014;14(8):725-30.
Robilotti E, Deresinski S, Pinsky BA. Norovirus. Clin Microbiol Rev. 2015;28(1):134-64.
Patel MM, Hall AJ, Vinje J, Parashar UD. Noroviruses: a comprehensive review. J Clin Virol. 2009;44(1):1-8.
Matthews JE, Dickey BW, Miller RD, Felzer JR, Dawson BP, Lee AS, et al. The epidemiology of published norovirus outbreaks: a review of risk factors associated with attack rate and genogroup. Epidemiol Infect. 2012;140(7):1161-72.
Atmar RL, Opekun AR, Gilger MA, Estes MK, Crawford SE, Neill FH, et al. Norwalk virus shedding after experimental human infection. Emerg Infect Dis. 2008;14(10):1553-7.
Rockx B, Wit Md, Vennema H, Vinjé J, Bruin Ed, Duynhoven Yv, et al. Natural History of Human Calicivirus Infection: A Prospective Cohort Study. Clin Infect Dis. 2002;35(3):246-53.
Teunis PFM, Sukhrie FHA, Vennema H, Bogerman J, Beersma MFC, Koopmans MPG. Shedding of norovirus in symptomatic and asymptomatic infections. Epidemiol Infect. 2015;143(8):1710-7.
Ozawa K, Oka T, Takeda N, Hansman GS. Norovirus Infections in Symptomatic and Asymptomatic Food Handlers in Japan. J Clin Microbiol. 2007;45(12):3996-4005.
Maritschnik S, Kanitz EE, Simons E, Hohne M, Neumann H, Allerberger F, et al. A Food Handler-Associated, Foodborne Norovirus GII.4 Sydney 2012-Outbreak Following a Wedding Dinner, Austria, October 2012. Food Environ Virol. 2013.
Friedman DS, Heisey-Grove D, Argyros F, Berl E, Nsubuga J, Stiles T, et al. An outbreak of norovirus gastroenteritis associated with wedding cakes. Epidemiol Infect. 2005;133(6):1057-63.
Mayet A, Andreo V, Bedubourg G, Victorion S, Plantec J, Soullie B, et al. Food-borne outbreak of norovirus infection in a French military parachuting unit, April 2011. Euro Surveill. 2011;16(30).
Chen M-Y, Chen W-C, Chen P-C, Hsu S-W, Lo Y-C. An outbreak of norovirus gastroenteritis associated with asymptomatic food handlers in Kinmen, Taiwan. BMC Public Health. 2016;16(1):372.
Nicolay N, McDermott R, Kelly M, Gorby M, Prendergast T, Tuite G, et al. Potential role of asymptomatic kitchen food handlers during a food-borne outbreak of norovirus infection, Dublin, Ireland, March 2009. Euro Surveill. 2011;16(30).
Boxman I, Dijkman R, Verhoef L, Maat A, van Dijk G, Vennema H, et al. Norovirus on Swabs Taken from Hands Illustrate Route of Transmission: A Case Study. J Food Prot. 2009;72(8):1753-5.
Stals A, Baert L, De Keuckelaere A, Van Coillie E, Uyttendaele M. Evaluation of a norovirus detection methodology for ready-to-eat foods. Int J Food Microbiol. 2011;145(2):420-5.
Bruggink LD, Dunbar NL, Catton MG, Marshall JA. Norovirus genotype diversity associated with gastroenteritis outbreaks in Victoria in 2013.Communicable Disease Intelligence Quarterly Report 2015;39(1):34-41
Food Standards Australia New Zealand. Australia New Zealand Food Standards Code. Standard 3 2 2 - Food safety practices and general requirements. Canberra, A.C.T: Food Standards Australia New Zealand; 2016.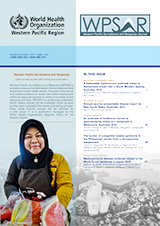 Downloads
How to Cite
Coutts, S. P., Sturge, K., Lalor, K., Marshall, J., Bruggink, L., Subasinghe, N., & Easton, M. (2017). An outbreak of foodborne norovirus gastroenteritis linked to a restaurant in Melbourne, Australia, 2014. Western Pacific Surveillance and Response, 8(2). https://doi.org/10.5365/wpsar.2017.8.1.008
Section
Outbreak Investigation Report
License
© World Health Organization (WHO) 2022. Some rights reserved.
The articles in this publication are published by the World Health Organization and contain contributions by individual authors. The articles are available under the Creative Commons Attribution 3.0 IGO license (CC BY 3.0 IGO http://creativecommons.org/licenses/by/3.0/igo/legalcode), which permits unrestricted use, distribution and reproduction in any medium, provided the original work is properly cited. In any use of these articles, there should be no suggestion that WHO endorses any specific organization, products or services. The use of the WHO logo is not permitted.
Attribution
The World Health Organization does not necessarily own each component of the content contained within these articles and does not therefore warrant that the use of any third-party-owned individual component or part contained in the articles will not infringe on the rights of those third parties. The risk of claims resulting from such infringement rests solely with you. If you wish to re-use a component of the articles attributed to a third party, it is your responsibility to determine whether permission is needed for that re-use and to obtain permission from the copyright owner. Examples of components can include, but are not limited to, tables, figures or images.
Any mediation relating to disputes arising under this license shall be conducted in accordance with the WIPO Mediation Rules (www.wipo.int/amc/en/mediation/rules). Any inquiries should be addressed to publications@wpro.who.int.
License to publish
Western Pacific Surveillance and Response is an open access journal and requires each author of a contribution to grant the World Health Organization (the Publisher) a non-exclusive, worldwide, royalty-free license under the terms of the Creative Commons Attribution IGO License (http://creativecommons.org/licenses/by/3.0/igo/legalcode) for the term of copyright and any extensions thereof. This includes to publish, re-publish, transmit, sell, distribute and otherwise use the article in the Journal, in whole or as a part. This is done by signing the WPSAR License to publish form.
Disclaimer
The designations employed and the presentation of the information on this website do not imply the expression of any opinion whatsoever on the part of the World Health Organization concerning the legal status of any country, territory, city or area or of its authorities, or concerning the delimitation of its frontiers or boundaries.
The mention of specific companies or of certain manufacturers' products does not imply that they are endorsed or recommended by the World Health Organization in preference to others of a similar nature that are not mentioned. Errors and omissions excepted, the names of proprietary products are distinguished by initial capital letters.
Links to third-party websites
The World Health Organization does not warrant that the information contained on the website is complete and correct and shall not be liable whatsoever for any damages incurred as a result of its use.