Newborn care practices and home-based postnatal newborn care programme – Mewat, Haryana, India, 2013
Abstract
Background:
In India, the Home-Based Postnatal Newborn Care (HBPNC) programme by Accredited Social Health Activists (ASHAs) under National Rural Health Mission was initiated in 2011 to reduce neonatal mortality rate (NMR).ASHAs get cash incentives for six postnatal home visits for newborn care. We studied newborn care practices among mothers in Mewat, Haryana having a high NMR  and  determined risk factors for unsafe practices and described the knowledge and skills of ASHAs during home visits.
Methods
A cross-sectional survey was conducted among mothers who had delivered a child during previous seven months using cluster sampling. We interviewed mothers and ASHAs in the selected subcentres using semi–structured questionnaires on  the six safe newborn care practices viz. safe breast feeding, keeping cord and eye clean, wrapping baby, kangaroo- care, delayed bathing and hand-washing.
Results
We interviewed 320 mothers, 61 ASHAs and observed 19 home visits. Overall, 60% mothers adopted less than three safe practices. Wrapping newborns(96%) and delayed bathing (64%) were better adopted  than cord care (49%), safe breast feeding (48%), hand washing (30%),  kangaroo care ,(20%) and eye care(9%). Besides illiteracy and religion, birth spacing ? two years (OR: 2.1, 95%CI 1.1-4.1) lack of antenatal care (OR: 2.3, 95% CI 1.3 -4.0), home delivery (OR: 1.3, 95% CI 0.8-2.1), no contact with ASHA (OR: 2.0, 95% CI 1.1-3.3) were risk factors for unsafe practices. Cultural beliefs and traditional birth attendants (TBA) influenced the change of mother's practices. The lack of supervision by Auxiliary nurse midwives (ANM) and delayed referral transportation were the other challenges.
Conclusions
Knowledge–practice gaps existed among mothers counseled by ASHAs. Poor utilization of RCH services decreased opportunities for ASHA–mother dialogue on safe practices. Recommendations included training ANMs, training TBA as ASHAs, innovative communication strategies for ASHAs and improved referral system.
Key words: home- based, newborn, practices, Mewat, ASHA, counseled.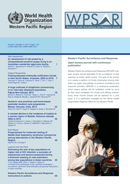 Downloads
How to Cite
Sinha, L. N., Kaur, P., Gupta, R., Dalpath, S., Goyal, V., & Murhekar, M. (2014). Newborn care practices and home-based postnatal newborn care programme – Mewat, Haryana, India, 2013. Western Pacific Surveillance and Response, 5(3). https://doi.org/10.5365/wpsar.2014.5.1.006
Section
Original Research
License
© World Health Organization (WHO) 2022. Some rights reserved.
The articles in this publication are published by the World Health Organization and contain contributions by individual authors. The articles are available under the Creative Commons Attribution 3.0 IGO license (CC BY 3.0 IGO http://creativecommons.org/licenses/by/3.0/igo/legalcode), which permits unrestricted use, distribution and reproduction in any medium, provided the original work is properly cited. In any use of these articles, there should be no suggestion that WHO endorses any specific organization, products or services. The use of the WHO logo is not permitted.
Attribution
The World Health Organization does not necessarily own each component of the content contained within these articles and does not therefore warrant that the use of any third-party-owned individual component or part contained in the articles will not infringe on the rights of those third parties. The risk of claims resulting from such infringement rests solely with you. If you wish to re-use a component of the articles attributed to a third party, it is your responsibility to determine whether permission is needed for that re-use and to obtain permission from the copyright owner. Examples of components can include, but are not limited to, tables, figures or images.
Any mediation relating to disputes arising under this license shall be conducted in accordance with the WIPO Mediation Rules (www.wipo.int/amc/en/mediation/rules). Any inquiries should be addressed to publications@wpro.who.int.
License to publish
Western Pacific Surveillance and Response is an open access journal and requires each author of a contribution to grant the World Health Organization (the Publisher) a non-exclusive, worldwide, royalty-free license under the terms of the Creative Commons Attribution IGO License (http://creativecommons.org/licenses/by/3.0/igo/legalcode) for the term of copyright and any extensions thereof. This includes to publish, re-publish, transmit, sell, distribute and otherwise use the article in the Journal, in whole or as a part. This is done by signing the WPSAR License to publish form.
Disclaimer
The designations employed and the presentation of the information on this website do not imply the expression of any opinion whatsoever on the part of the World Health Organization concerning the legal status of any country, territory, city or area or of its authorities, or concerning the delimitation of its frontiers or boundaries.
The mention of specific companies or of certain manufacturers' products does not imply that they are endorsed or recommended by the World Health Organization in preference to others of a similar nature that are not mentioned. Errors and omissions excepted, the names of proprietary products are distinguished by initial capital letters.
Links to third-party websites
The World Health Organization does not warrant that the information contained on the website is complete and correct and shall not be liable whatsoever for any damages incurred as a result of its use.