Use of prohibition order after a large outbreak of gastroenteritis caused by a norovirus among function attendees
Abstract
Introduction: In May 2011, an outbreak of acute gastroenteritis occurred among guests attending two functions (Function A and B) at a local function centre in Sydney, Australia. The Sydney South West Public Health Unit and the New South Wales (NSW) Food Authority sought to determine the cause of the outbreak and implement control measures.

Methods: A retrospective cohort study was planned. A complete guest list was unavailable, so guests who could be contacted were asked to provide details of other guests. Attendee demographics, symptom profile and food histories were obtained using a standard response questionnaire. Stool samples were requested from symptomatic guests. The NSW Food Authority conducted a site inspection.

Results: Of those interviewed, 73% of Function A guests and 62% of Function B guests were ill, with mean incubation times of 27 and 23 hours respectively. Diarrhoea was the most common symptom. Three stool samples and four environmental swabs were positive for norovirus. One food handler reported feeling ill before and during the functions. A prohibition order was used to stop food handlers implicated in the outbreak from preparing food.

Discussion: This outbreak strongly suggests transmission of norovirus, possibly caused by an infected food handler. Regulatory measures such as prohibition orders can be effective in enforcing infection control standards and minimising ongoing public health risk.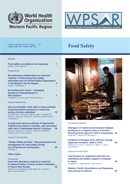 Downloads
How to Cite
Gunaratnam, P., Furlong, C., Hope, K., Jupta, L., Shadbolt, C., Shields, J., McCarthy, R., Boyd, R., Huhtinen, E., Norton, S., & Torvaldsen, S. (2013). Use of prohibition order after a large outbreak of gastroenteritis caused by a norovirus among function attendees . Western Pacific Surveillance and Response, 3(2). https://doi.org/10.5365/wpsar.2012.3.1.008
Section
Food Safety - Original Research
License
© World Health Organization (WHO) 2022. Some rights reserved.
The articles in this publication are published by the World Health Organization and contain contributions by individual authors. The articles are available under the Creative Commons Attribution 3.0 IGO license (CC BY 3.0 IGO http://creativecommons.org/licenses/by/3.0/igo/legalcode), which permits unrestricted use, distribution and reproduction in any medium, provided the original work is properly cited. In any use of these articles, there should be no suggestion that WHO endorses any specific organization, products or services. The use of the WHO logo is not permitted.
Attribution
The World Health Organization does not necessarily own each component of the content contained within these articles and does not therefore warrant that the use of any third-party-owned individual component or part contained in the articles will not infringe on the rights of those third parties. The risk of claims resulting from such infringement rests solely with you. If you wish to re-use a component of the articles attributed to a third party, it is your responsibility to determine whether permission is needed for that re-use and to obtain permission from the copyright owner. Examples of components can include, but are not limited to, tables, figures or images.
Any mediation relating to disputes arising under this license shall be conducted in accordance with the WIPO Mediation Rules (www.wipo.int/amc/en/mediation/rules). Any inquiries should be addressed to publications@wpro.who.int.
License to publish
Western Pacific Surveillance and Response is an open access journal and requires each author of a contribution to grant the World Health Organization (the Publisher) a non-exclusive, worldwide, royalty-free license under the terms of the Creative Commons Attribution IGO License (http://creativecommons.org/licenses/by/3.0/igo/legalcode) for the term of copyright and any extensions thereof. This includes to publish, re-publish, transmit, sell, distribute and otherwise use the article in the Journal, in whole or as a part. This is done by signing the WPSAR License to publish form.
Disclaimer
The designations employed and the presentation of the information on this website do not imply the expression of any opinion whatsoever on the part of the World Health Organization concerning the legal status of any country, territory, city or area or of its authorities, or concerning the delimitation of its frontiers or boundaries.
The mention of specific companies or of certain manufacturers' products does not imply that they are endorsed or recommended by the World Health Organization in preference to others of a similar nature that are not mentioned. Errors and omissions excepted, the names of proprietary products are distinguished by initial capital letters.
Links to third-party websites
The World Health Organization does not warrant that the information contained on the website is complete and correct and shall not be liable whatsoever for any damages incurred as a result of its use.