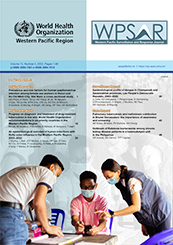 As of 29 January 2020, more than 6000 cases of 2019-nCoV have been confirmed, and over 130 people have died. So far, the majority of 2019-nCoV cases have occurred in the Western Pacific Region, predominantly China, and cases continue to be detected in the region and globally.
To support public health responders with information to act quickly, WPSAR invites articles on public health surveillance and response in the context of the novel coronavirus (2019-nCoV) in the Western Pacific Region.
Examples of articles include, but are not limited to:
Findings, analysis and interpretation of 2019-nCoV surveillance data
Reports of outbreak investigations and risk assessments
Case report and case management report related to 2019-nCoV
Description or evaluations of laboratory methodologies
Findings and lessons from infection prevention and public health measures aimed at reducing transmission of 2019-nCoV
Innovative approaches and new technologies
Perspectives or lessons learnt on any issue to do with 2019-nCoV

Authors should note the following changes to WPSAR submission in the context of the 2019-nCoV outbreak:
Articles submitted for 2019-nCoV will enter WPSAR's rapid publication process. This will mean rapid review and publication within 2 weeks of submission.
WPSAR will accept manuscripts as "preprints" to be posted online within 2 days of submission.

Submissions will undergo basic quality screening (see below) before posting online.
Submissions will be noted as pre-prints until formal review and publication is completed.
Links and resources
To submit your manuscript or pre-print: https://ojs.wpro.who.int/ojs/index.php/wpsar/login
Information for authors: https://ojs.wpro.who.int/ojs/index.php/wpsar/pages/view/ForAuthors
WPRO 2019-nCoV home: (https://www.who.int/westernpacific/emergencies/novel-coronavirus)
WHO 2019-nCoV home: (https://www.who.int/emergencies/diseases/novel-coronavirus-2019)
---
Manuscript and Preprint Screening
All manuscript pre-prints posted by WPSAR will undergo basic screening to exclude non-scientific, unethical and offensive content, as well any material that might pose a health risk. Only manuscripts related to nCoV will be included. WPSAR reserves the right to decline to post any preprint for any reason.
Preprint manuscripts will be clearly marked and tagged as 2019-nCoV pre-publication. This data will be available for broad public use, under the terms of the Creative Commons Attribution IGO License.
---
Manuscripts will at the same time be peer reviewed and a decision made on acceptance and publication in WPSAR journal.